8. Romantic Dining — Podcast
Our 16th Annual Best of the Best Selections
Best Romantic Dining
Duling Kurtz House & Country Inn
146 S. Whitford Rd., Exton
610-524-1830 / DulingKurtz.com
Aperfect choice for an anniversary dinner or a getaway weekend, Duling Kurtz mixes gracious hospitality with Old World charm. The menu includes such classic special occasion dishes as escargot, foie gras, rack of lamb, duck, filet mignon and crème brulee. Its eight period dining rooms and 13 guest rooms and suites let you customize your special celebration. Overnight packages—including a four-course dinner and continental breakfast—fit the bill. Have champagne in your room and plan a hot air balloon ride to make even more memories.
Best Scratch Cooking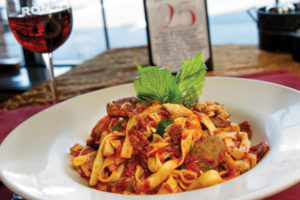 Ron's Original Bar & Grille
74 E. Uwchlan Ave., Exton
610-594-9900 / RonsOriginal.com
Welcome to Ron's Original Bar and Grille where you'll find food that's good and good for you. Go for the popular vegetarian lasagna. Or try a favorite: one of Ron's Ovals—think oblong pizza, regular or gluten free, without the sauce but piled with toppings like ham and cheese, cheesesteak, vegetarian Italian, Cha Cha Chicken or Red, White and Bleu (cheese). Appetizers, salad dressings and soups are made from scratch—say goodbye to MSG and artificial sweeteners. Enjoy meats without hormones or antibiotics. All great with beer, wine or cocktails in a relaxed atmosphere where you're treated like family.
Best Inland Seafood Restaurant
Ludwig's Grill & Oyster Bar
2904 Conestoga Rd., Glenmoore
610-458-5336 / LudwigsOysterBar.com
Some folks limit ordering seafood to restaurants with a sight-line to water. But if seafood is delivered to the kitchen seven days a week from a quality purveyor, you can tuck into seafood delights any time. For almost 30 years, Ludwig's Grill and Oyster Bar has been serving up seafood classics and more, including their Wednesday and Thursday Buck-a-Shuck specials, featuring oysters from both coasts and Canada. Choose from tuna tacos, lobster bisque, Philadelpha-style snapper soup, U Peel shrimp. There's shrimp and scallop etoufee to fish and chips (albeit with wild Icelandic cod) and organic Norwegian salmon.
Best Sides
Epicurean Garage
570 Simpson Dr., Chester Springs
610-615-5189 / EpicureanGarage.com
We do love the bowls, burgers and built-to-order entrees at Epicurean Garage. But it's the sides that add that extra something to your meals. Try Garage fries with toppings of dirty brown gravy or the popular yummy poutine. Or seven kinds of wings, from original jerk spice, Carolina BBQ to Tandoori. Something healthy like Brussels sprouts with bacon, grilled asparagus, roasted root veggies or hericot verts. For comfort sides choose mashed potatoes, mac 'n' cheese or cheddar grits. And there are more options. Just the place for when you want to make a meal just from those tasty side dishes.
Best Southern Flair
The Gables
423 Baltimore Pk., Chadds Ford
610-388-7700 / TheGablesAtChaddsford.com
There's Southern flair along with the hospitality at The Gables in Chadds Ford, in the southern part of Brandywine Valley. The influence comes from owner Ann Kolenick's Carolina roots and is enhanced by new executive Chef Darryl Butts, who describes the menu as upscale Southern with a European twist. Chef Butts is putting new twists on favorites, like signature shrimp and grits. Sample biscuits and gravy, pimento cheese dips, bourbon pecan pie—edible evidence of the region. Enjoy the welcoming vibe from the seasonal beer garden, stone patio, cozy bar and rustic yet elegant dining rooms in a place where the owner hopes diners "feel like guests in [her] home."
Best Southern
Scratch Cooking
The Social
117 E. Gay St., West Chester
610-738-3948 / TheSocialWC.com
Pass the brick sidewalk and outdoor tables, and step through the doorway on Gay Street into a little bit of Louisiana. The Social's polished dark wood bar and floors along with lights of wrought iron reminiscent of New Orleans' French Quarter provide just the right setting for Chef Dan Funk's Cajun-inspired scratch cooking and spirits. Go for gumbo or chili. Belly up to the bar and grab a Prohibition Era cocktail (how about a Whiskey Smash?) or craft beer and Cajun pierogies. Order up Nola fries—seasoned and mixed with crab—big enough to feed a slew of friends as you enjoy the Southern vibe.
Best Tacos
Estrella Tacos y Mas
202 E. Lancaster Ave., Downingtown
484-237-2423 / EstrellaTacoBar.com
Whether you're at a stool at the bar or a bench at a long table, you'll find bright colors and flavors of Southwest-inspired tacos as well as a good time at Estrella Tacos y Mas. A native Texan and a native Downingtonian teamed up to bring tasty signature tacos, comfort food, cocktails, craft beers and a community vibe to Lancaster Avenue two years ago. Breakfast, lunch or supper, you'll find something tempting wrapped in a tortilla or taco shell: Texas-style brisket, spicy shrimp, fried avocado, jalapen sausage, eggs and a variety of cheeses and sauces.
Best Takeout Dinner
Carlino's Specialty Foods
128 Market St., West Chester
610-649-4046 / CarlinosMarket.com
No time to cook? Follow happy customers to Carlino's Italian market. On the left, pick up crostini and divine house-made olivata. On the right, choose artichoke dip and delectable cheeses. Toward the center, select a family-sized Caesar or fresh arugula, fennel and tomato salad with pine nut vinaigrette. Mountains of entrees and sides are steps away. Will it be Mana's Lasagna, lobster ravioli or chicken piccata with string bean amandine? Back at the front, the bakery's bread and pastries beckon. Get pizzelles and a cup of coffee for your commute home before laying out the spread on your table. Buon appetito!
Best Tater Tots
Liberty Union Bar & Grill
325 Simpson Dr., Chester Springs. 484-359-4061
519 Kimberton Rd., Phoenixville. 484-927-4244
LibertyUnionBar.com
If the best things in life are free, then the best tater tots are also free, right? Get free tots for every table at Liberty Union's two locations—toasty, irresistible tots with a side of spicy ranch sauce. Or order loaded tots—cheese sauce, crumbled bacon, scallions and that same side of spicy ranch. But why not choose another tasty app on the menu—Philly cheesesteak eggrolls are a fave, or something lighter like Pacific Rim lettuce wraps? These lively spots for satisfying pub grub add an extra menu twist by featuring one of the 50 states each week, offering a themed sandwich, entrée and cocktail.
Best Tavern
Four Dogs Tavern
1300 W. Strasburg Rd., West Chester
610-692-4367 / TheFourDogsTavern.com
In what was the stable of the 1793 Marshalton Inn nestled in the historic district of Marshallton (that's no typo; check the website on number of Ls for each), is as charming and inviting a tavern as you'll find. Four Dog's Tavern's patio is the site of memorable brunches, complete with portable Bloody Mary bar. Cooler months draw crowds to the fireplace for Happy Hours and sliders du jour, crab nachos and more surprises from talented Chef David Cox. From scrambled egg sushi, twists on muffulettas, and skate wing with avocado, radicchio, cucumber and lime emulsion, the American brasserie menu tempts. Comfort food elevated.
Best Vegan Food
Phoenixville VegFest
Reeves Park, 401 Main St., Phoenixville
PhoenixvilleVegFest.com
Plant-based eaters have an expanding selection of dining options, but for a veritable smorgasbord of veg fun, try Phoenixville's Vegfest, a vegan food and street festival with live music and vendors. While Phoenixville touts its many vegan food options—from Gangster Vegan Organics to the less obvious Great American Pub—this August festival offers a chance to veg out, but in the most positive way. Mark your calendar now.
Best Wild Game Dinner
Terrain Cafe
914 Baltimore Pk., Glen Mills. 610-459-2400
138 Lancaster Ave., Devon. 610-59-4671
ShopTerrain.com
In 2018, Terrain had its first and in 2019, its second. Held in October, Wild Game dinner, as Terrain calls it, is a celebration of the harvest. Although not exactly too "wild"—they featured lamb tartare, rabbit ragu, and buffalo strip—the fare is nevertheless gourmet delicious, served with wines from Wayvine in Nottingham. The meal was prepared by Styers' head events Chef Robert Toland, and the meats supplied by D'Artagnan Meat Supply, based in Union, New Jersey. A grand tradition in the making. We look forward to 2020. 
Best Local Cookbook
Kimberton Whole Foods Cookbook
2140 Kimberton Rd., Kimberton
610-935-1444 / KimbertonWholeFoods.com
And other area locations
We salute the Kimberton Whole Foods Cookbook: A Family History with Recipes. Written by the store's co-owner Pat Brett, her son Colin and local writer Courtney Diener-Stokes, the cookbook delivers 60 recipes developed over 32 years and interwoven with family history and stories about local growers and makers. Seasonally inspired recipes range from Summer Rice Salad with Blueberries and Basil to Carrot Ginger Quinoa Soup. (More recipes, including Mac 'n' Cheese with Pecans and Pears, in County Lines' October 2019 Brandywine Table column online.) The commitment to local extends to printing—Hickory Grove Publishing is in Lancaster County. Copies at local independent bookstores and Kimberton Whole Foods Stores, not on Amazon.
Best Local Instagram Feed
FoodInJars
Philly blogger, cookbook author, new mom of twins—Marisa McClellan's multi-faceted life fills her FoodInJars Instagram feed (plus a cookbook of the same name). Posts of artful shots of figs, mixed with rows of filled Ball jars and tales of a tired mother. Get inspired to can, preserve and make a few things from scratch by photos of peach habanero hot sauce, nectarine jam and pinto beans cooked in an InstaPot. See the kitchen where the magic happens, complete with turquoise stove and counters that she shared with her 26.5K followers.
Best Local Podcast
Local Mouthful
Need a new half-hour foodie podcast? Join co-hosts Joy Manning (Edible Philly) and Marisa McClellan (Food In Jars) as they cover the food life in Philadelphia and beyond for obsessed home cooks everywhere. This five-star podcast has bushels of fans that come from far beyond our region. Segments are titled Food News, What's for Dinner, How'd You Make That and What We're Loving and are delivered in a warm, companionable tone. Learn about washing your avocadoes, chicken confit, making biscuits, cookbook dinners, sippable soups and more. Over 300 episodes and still cookin'.
back to top