For Advertisers
County Lines Magazine has enjoyed over 47 years of continuous monthly publication with a broad base of loyal, affluent readers with the buying power advertisers want.
Based in West Chester, PA, in the heart of Chester County, we serve an area steeped in history and tradition. And this area is also a wealthy, attractive, fast-growing region, situated at the prosperous suburban crossroads of Philadelphia and Wilmington.
As a magazine, our editorial focus is the fascinating culture and vibrant lifestyle of this very special region. More than 80,000 people trust and read our magazine each month in print, with more readers online and in our digital edition on Issuu.
Our readers are affluent, savvy, well educated and community minded. They are largely homeowners with families. They like to shop, dine and take advantage of all life has to offer, and have the means to do so.
As a business, our mission is to serve our community and advertisers who want to reach this readership. The coveted, long-standing relationship between County Lines and its loyal readers is unmatched.
We do the job our advertisers want us to do, cost effectively and imaginatively, bringing their message directly to the people they most want to target, using trusted, relevant, engaging content tailored for a local audience.
Circulation
15,000 copies printed monthly
2,000 copies by direct mail to select high-income, high-wealth households
6,000 copies circulated by placement at high-end shops, restaurants, B&Bs, hotels and motels, and area attractions, in greater Chester County and beyond
1,800 copies to the offices of doctors, dentists, attorneys, CEOs, and other business and community leaders
200 copies to new homeowners through "Welcome Neighbor" representatives and other newcomers groups
300 or more copies to area newsstands and bookshops (Wellington Square Bookshop, Main Point Book Store, Reads & Co.)
PLUS about 1,800 copies are distributed at select upscale area events, e.g., Radnor Hunt Races, Devon Horse Show, Willowdale Steeplechase, Chester County Day, Taste of Phoenixville, Brandywine Ballet, Chester County Restaurant Festival, Paoli Blues Festival and Chester County Antiques Show.
Advertising Rates
Ad rates in County Lines are cost effective and reasonable. We are committed to delivering value and serving small- and medium-size independent businesses of our area. Besides significant frequency discounts, we offer discounts to nonprofits and out-of-area businesses.
In addition to print display advertising, we offer sponsor content and Get To Know Profiles. Ads are also available on our website and our twice-monthly Events e-newsletter to over 28,000 recipients.
For more information, please call us at 610-918-9300 and ask to speak to your Account Executive or email Info@ValleyDel.com to learn more.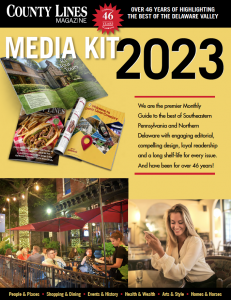 2023 Media Kit & Editorial Calendar
Testimonials
"We're proud of our town. We try to provide our customers with a sense of community and attachment, and County Lines is a big part of that. Our customers are always seeking a new copy to pick up."
Lydia Willits Bartholomew, Chairman of the Board, National Bank of Malvern
"Our customers … eagerly await each month's arrival of the new County Lines Magazine. … They comment on the exceptional quality of the publication and how they enjoy the articles and different offerings of "Things to Do" locally and beyond. We are pleased to be able to share this magazine with our community."
Mimi Liberi, Retail Manager, Wellington Square Bookshop, Exton
"County Lines Magazine is always a joy for our customers to be able to grab on their way out the door. It's a great publication and highlights local restaurants and arts as well as other businesses in the area. The publication plays an integral part in our community for this reason."
Danni Pinzone, General Manager, Pete's Produce Farm, Westtown
"Our clients and branch team love reading the magazine and look forward to reading it every month. … Many clients and team members are taking copies for themselves and their friends."
Ilene J Sussman, Assistant Vice President, BB&T Now Truist, West Chester
"We love having County Lines Magazine available … It gives our visitors a local taste of businesses around town and articles that are interesting and relevant to give them a look at all that the Delaware Valley region has to offer!
Kathryn Ombam, Chief of Staff, Tyler Arboretum, Media
"We distribute County Lines at our markets in Devon, Eagleview, Downingtown and Malvern. It goes well with the fresh fruit and vegetables! County Lines is universally welcomed and appreciated by our customers.
Christy Campli, Owner, Growing Roots Partners, West Chester
"County Lines is … a great community resource for our patrons, providing information such as upcoming events, the description of towns and communities and their history as well as the numerous restaurant reviews and shopping guides."
Monique Kolb, Public Relations Specialist, Chester County Library 
"Residents at Dunwoody Village enjoy reading County Lines! Everyone enjoys reading about the people and places that are featured each month. The copies disappear as soon as they arrive!"
Monica Knauss, , Dunwoody Village, Newtown Square
"Our customers look for the new County Lines issues when they come in. We give away more than 100 every month! I think readers like the articles, the histories, the recipes. The magazine does an excellent job of introducing newcomers to the county and bringing the community together."
Victoria Dow, Executive Director, West Chester Public Library
"County Lines … does a wonderful job of keeping subscribers informed of events and experiences to enjoy in all the towns and communities—from Wilmington to Phoenixville to Kennett to Media—always with a great theme. Great recipes, too! I read it from cover to cover… It's always in demand."
Anne Pounds, President, Welcome Neighbor, Chadds Ford
Playbills
ValleyDel Publications also publishes playbills for local theaters including Media Theatre and People's Light. Advertisers in the playbills are also entitled to discounts in County Lines Magazine. To find out more, visit our playbill website.
From our Advertisers
Our realty group has a long history of success advertising with County Lines. We get our message to the right audience in a publication that's stylish and appealing. We value County Lines as a unique advertising outlet with a long shelf-life and that's as community minded as we are.
Walter J Cook Jeweler has been advertising with County Lines for as long as I can remember. We have always counted on County Lines to place us in front of an audience we value. Many times over the years we have had customers make a special trip just to pick up the current issue. I cannot imagine not having County Lines as part of our advertising program.
Ball and Ball has advertised with you (County Lines) for many years – almost since you began! The quality of your magazine matches ours, and we are proud to have you in our showroom for our customers. You have become part of Chester County as we have in our 75 years of business, and we look forward to being a part of your advertising family in the years to come.
We have been a fixture on the back cover of County Linesfor many years. It is always a pleasure to visit local businesses and see the magazine proudly displayed. I have lost count of the many people who tell us they see our ads and how impressed they are with the high quality of the magazine.