For Advertisers
County Lines Magazine has enjoyed over 40 years of continous monthly publication. Based in West Chester, PA, in the heart of Chester County, the area it serves is steeped in history and tradition. This areas is also a wealthy, attractive, fast-growing region, situated at the prosperous suburban crossroads of Philadelphia and Wilmington.
As a magazine, our editorial focus is the fascinating culture and vibrant lifestyle of this very special region. More than 80,000 people read our magazine each month. In general, our readers are sophisticated, tasteful, community-oriented, well-educated and affluent. They are largely home-owners with families. They like to shop, dine, and take advantage of all life has to offer, and have the means to do so.
As a business, our mission is to serve our community and advertisers who want to reach this readership. The coveted, long-standing relationship between County Lines and its loyal readers is unmatched. We do the job our advertisers want us to do, cost effectively and imaginatively, bringing their message directly to the people they most want to target, using relevant, credible content tailored for a local audience.
Circulation
15,000 copies printed monthly
2,500 copies by direct mail to select high-income, high-wealth households
8,000 copies circulated by placement at high-end shops, restaurants, B&Bs, hotels and motels, and area attractions, in greater Chester County and beyond
1,800 copies to the offices of doctors, dentists, attorneys, CEOs, and other business and community leaders
250 copies to new homeowners through "Welcome Neighbor" representatives
300 or more copies to miscellaneous newsstands such as Wellington Square Bookshop, Chester County Bookshop, Wegmans, Paoli News Agency, Berwyn News Agency and the Bryn Mawr News Agency.
PLUS up to 3000 copies are distributed at select upscale area events, e.g., Radnor Hunt Races, Devon Horse Show, Willowdale Steeplechase, Chester County Day, Taste of Phoenixville, Brandywine Ballet, Malvern Blooms, Chester County Restaurant Festival, Paoli Blues Festival and Chester County Antiques Show.
Advertising Rates
Ad rates in County Lines are cost effective and reasonable. We are committed to delivering value and serving independent small- and medium-size businesses of our area. Besides significant frequency discounts, we offer discounts to non-profits and out-of-area businesses. For more information, please call us at 610-918-9300 and ask to speak to one of your Account Executives.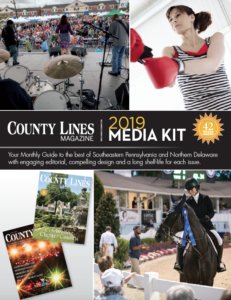 2019 Media Kit & Editorial Calendar
Playbills
ValleyDel Publications also publishes playbills for local theaters including Media Theatre and People's Light. Advertisers in the playbills are also entitled to discounts in County Lines Magazine. To find out more, visit our playbill website.
From our Advertisers
Pennsylvania Association of Independent Schools (PAIS) values its relationship with County Lines Magazine and member schools value the magazine's circulation. Advertising in County Lines helps the Association stretch its advertising budget; its distribution targets and reaches an audience who seek and appreciate the value of an independent private education – just the families and their students member schools hope to attract.
Walter J Cook Jeweler has been advertising with County Lines for as long as I can remember. We have always counted on County Lines to place us in front of an audience we value. Many times over the years we have had customers make a special trip just to pick up the current issue. I cannot imagine not having County Lines as part of our advertising program.
Ball and Ball has advertised with you (County Lines) for many years – almost since you began! The quality of your magazine matches ours, and we are proud to have you in our showroom for our customers. You have become part of Chester County as we have in our 75 years of business, and we look forward to being a part of your advertising family in the years to come.
We have been a fixture on the back cover of County Linesfor many years. It is always a pleasure to visit local businesses and see the magazine proudly displayed. I have lost count of the many people who tell us they see our ads and how impressed they are with the high quality of the magazine.