4. Al Fresco — TV Chef
Our 16th Annual Best of the Best Selections
Al Fresco Dining
Downtown West Chester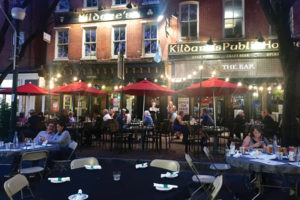 Gay St., West Chester
610-738-3350 / West-Chester.com
What's more appealing on a summer evening than dining by moonlight? Dining and drinking under twinkling stars or twinkle lights in West Chester at its new Al Fresco dining launch. With good reviews of local chefs and abundant fresh food at last September's debut, 2020 evenings are on the menu. Under consideration: four special evenings—two on the west side of town and two on the east—likely first Thursdays of June, July, August and September, with participating restaurants, strolling entertainment and sidewalk vendors. Watch for details as West Chester joins Media and Kennett Square with dining in the streets.
Historic Hospitality
General Warren
9 Old Lancaster Rd., Malvern
610-296-3637 / GeneralWarren.com
Celebrating 275 years of hospitality at the same location, offering memorable meals and lodging, the General Warren must be doing something right. (Inne is gone from the name, but not from the mission.) While the coat-and-tie, reservations-only times are gone, the classic American cuisine—beef Wellington, table-side bananas Foster—can still be found in the dining room. Now more casual options are available in the Warren Tavern (small plates, sharables, lighter fare, Happy Hour) and charming Spring House Terrace space (an al fresco space, plus a year-round level). Stay tuned for details about the upcoming 275th anniversary plans—specialty brewed beers, private labeled wines, food paring dinners and more. Congrats!
BBQ Dishes
Great American Pub
148 Bridge St., Phoenixville
610-917-3333 / TheGreatAmericanPub.com
First, regulars rave about the service. Friendly, timely, with a "real family feeling." A kind of everyone-knows-your-name place. Second, they'll gush over the location in the old Columbia Hotel, a grand old mansion reminiscent of New Orleans, with a fabulous courtyard outside. It quickly became the go-to place in Phoenixville, whether for lunch, dinner, late-night or brunch on weekends. Finally, they cite the food in general and the barbecue in particular, especially the smoked brisket, either as a sandwich, taco or open-face platter along with the pork, chicken or a slab of ribs. The vegan menu—particularly the impossible burger—also whets appetites and brings folks back for more.
British Brunch
The Whip Tavern
1383 N. Chatham Rd., West Marlborough
610-383-0600 / TheWhipTavern.com
After a scenic Chester County ride that evokes images of James Herriott country, pop into an authentic pub (riding boots optional). Tuck into your favorites—the rustic Whip Tavern serves the Brits' best menu options for brunch. Start with a Scotch egg, Welsh rarebit or lamb sausage rolls accompanied by a pint. Trade a bite of tradition, a Breakfast Bubble and Squeak—potato cakes with cabbage topped with bacon and fried egg—for a morsel of a friend's gravy-covered bacon cheddar scones. Feeling a bit rebellious? Order the southern American shrimp and grits. Finish with sticky toffee pudding. Cheers!
Homey Brunch
Roots Cafe
133 E. Gay St., West Chester
610-455-0100 / RootsCafeWC.com
Take a seat at a wooden table at Roots near the old marble fireplace façade lined with candles. Delight in comfortable charm. A drink arrives in a mason jar. Brunch of delicious lox Benedict or a burger with arugula and goat cheese is presented by friendly staff who engage with you in conversation about menu options, local cheese makers and the paintings on the wall. With Roots as a new extension of his studio, John Hannafin's paintings—scenes of West Chester buildings with whimsical angles and warm lighting—perfectly capture the spirit of the homey café.
Burger Variations
Righteous Tap House
1548 Shadyside Rd., West Chester
484-593-0850 / RighteousTapHouse.com
If the Sistine Chapel were in Pennsylvania, Michelangelo would have ended his week at the Righteous Tap House, where art with irreverent humor is on the house. Next to the portrait of a monk with a mug, stained glass with divine advice and a twist on Michelangelo's ceiling masterpiece, customers order from "a heavenly selection" of "devilishly good" food and beer. They rave about the Inquisition Burgers with bacon jam, fried egg and other condiments, and wings (fit for an angel). Have a Corona or a craft, domestic or imported beer. Two patios, live music, tucked among the trees just outside West Chester.
BYOB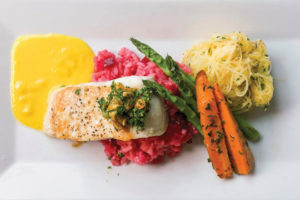 Spence Cafe
131 N. High St., West Chester
610-918-1272 / Spence.cafe
Spence has had a few incarnations since 1996, but its current location on North High and status as a BYOB help it enjoy a growing fan base. As always, the New American offerings, with an emphasis on highest quality and local sources, are superb, balancing strong seafood options (halibut, seafood lasagna) with full-bodied meat (short ribs, pork chops, filet). Comfortable fine dining means you can grab any bottle of wine or select a special bottle for that special occasion. You'll see anniversary celebrations alongside the pre-theater crowd and couples returning week after week—it's that kind of place. Plus easy parking out back.
Best Cakes
The Master's Baker
319 West Gay St., West Chester
610-436-9888 / TheMastersBaker.com
What began as a friend's birthday cake became a thriving business. The Master's Baker celebrates 50 years in 2020. Start with a flavor: extraordinary chocolate, hazelnut praline, orange velvet or pink champagne—"a party on a cake stand." Choose a filling, perhaps a layer of Belgian ganache, Oreo mousse, raspberry jam or mocha butter cream. Add the pièce de résistance. TMB's icing on the cake is edible art—frosting and adornment of icing rosettes, edible violets or flowers painted in butter cream for weddings, a castle for princess birthdays or your imagination's fancy to make any day a red-letter day.
Best Cat Café
The Black Cat Cafe
42 Berkeley Rd., Devon
610-688-1930 / TheBlackCatCafe.org
Try dining for a cause at the Main Line's only nonprofit cat café, where the proceeds support PALS (Pet Adoptions and Lifecare Society). Yummy and very affordable ($6.50 for 2 eggs, home fries and toast) breakfast and lunch in a charming cottage atmosphere with happy volunteers as staff. Try melty, gooey cheese panini, vegan options and the specialty three bean chili. Adoptable cats are available in the gift store. Isn't that so much better than a doggie bag?
Best Local Cheese
Doe Run Cheese
The Farm at Doe Run, 324 Hicks Rd., Coatesville
610-384-1900 / On Facebook
One of the prettiest and most sustainability-conscious farms in Chester County is home to sheep, goats, cows, people—and cheese. Doe Run Cheese, in fact. Hummingbird, St. Malachi, Seven Sisters and Blow Horn, to name just a few, are some of the creamiest, boldest, buttery-est, earthiest … well, best, you'll discover anywhere. Find them where you find foodies: upscale markets, restaurants and local wineries. Whether you're pairing, nibbling, baking or grilling, you'll discover the reasons Doe Run receives so many ribbons year after year from the American Cheese Society, Pennsylvania Farm Show, the World Cheese Awards and others.
Best Local TV Chef
Kristina Wisneski
Amis Trattoria
138 W. Lancaster Ave., Devon
610-590-4782 / AmisTrattoria.com
You don't have to be an insider on the reality television cooking show "Chopped" to taste the flavors served up by Chef Kristina Wisneski. Catching her culinary talents is as easy as going to Amis Trattoria in Devon. Wisneski won an episode of the TV contest with three courses: steamed wontons, roasted pheasant and mousse—each with its own adventurous ingredients, including water chestnuts, green tomatoes, tepache liqueur and moon drop grapes. Now she's delighting Main Liners at dinner with pear and arugula salad, swordfish, sage and orange-stuffed chicken and vegan sweet potato lasagna. Everyone's a happy winner at Happy Hour with avocado bruschetta, pizzas and meatballs.
back to top