3. Beer To Go — Shrubs
Our 16th Annual Best of the Best Selections
Beer To Go Spot
Pinocchio's Restaurant & Beer Garden To Go
131 E. Baltimore Ave., Media
610-566-7767 / PinPizza.com
Sipping craft beer at a brewery is a peak experience, but sometimes you want a selection to enjoy in the comfort of your home. That's when to head for Pinocchio's, Delco's first bottle shop with 25 rotating beers on tap and 1,000 specialty beers—with everything from local choices to a bevy of Belgians. So bring your growler, get a custom crowler (your choice on tap in a can), or mix and match a six-pack to satisfy the gang. New choices arrive everyday, and this busy shop has turnover to ensure the beers you buy are fresh.
Cold Beer
Kennett Winterfest
Kennett Square
610-444-8188 / KennettWinterfest.com
Despite the British preference for warm beer, here we love our beer cold. And some of the coldest can be found at Kennett Square's Winterfest, an annual outdoor celebration of beer, coming on leap day, February 29, 2020. This younger winter complement to October's Brewfest (8 years vs. 22), lets beer fans sample from 60-some craft breweries—local, national and emerging, plus ciders and meads. Using your little plastic tasting mug, you can sample to your hearth's content, drinking widely from breweries coast to coast or focusing on your faves—like porters. Tickets on sales now. Enjoy the beer bliss!
St. Paddy's Day Celebration
Molly Maguire's
Irish Restaurant & Pub
197 Bridge St., Phoenixville
610-933-9550 / MollyMaguiresPhoenixville.com
Among the great choices for celebrating St. Patrick's Day, being Irish or hanging with friends, Molly Maguire's should top your list. Owned by two folks from Ireland—Declan Mannion from Galway and Conor Cummins from Cork—this place starts celebrating when it opens for breakfast serving a limited traditional Irish menu (scrambled eggs, Irish rashers, white pudding, sausage, baked beans and toast). Three floors (if it's warm enough for the rooftop deck) plus a tented beer garden host Irish music, Irish dancing and spirited shenanigans. Plenty of Irish grub—boxty to shepherd's pie. Join in and be Irish for a day.
Wild / Sour Beers
La Cabra Brewing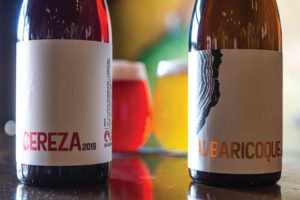 642 Lancaster Ave., Berwyn
610-240-7908 / LaCabraBrewing.com
Not everyone is a fan of sour beers. Many palates haven't developed a taste for those tart, funky, intense flavors—even among wine lovers. But when yet another hopped-up IPA fails to tickle your taste buds, it's time for the bright refreshing edge of sours. We suggest a brewer who makes some of the best—Dan Popernack at La Cabra Brewing. Touting sours' authenticity (often brewed with yeast in the brewery's air), long shelf life and food-friendliness, he turned out sours in his Aleatory series that made neighboring Nectar restaurant's beer list. At press time you could sip Cereze Kriek (sour cherry), Albaricoque (sour apricot) in bottles. Puckeringly yummy.
Orange Wine
Va La Winery
8820 Gap Newport Pk., Avondale
610-268-2702 / VaLaVineyards.com
Yes, orange wine. In view of rows of grapevines, find a captivating stone and wood barn turned wine-tasting room for Va La Vineyards. It's the perfect backdrop for sipping local orange wines—whites that have fermented in their skins to produce liquids from pale gold to pumpkin. Taste Va La's honey-colored La Prima Donna, a white blend, with homemade focaccia from the winemaker's grandmother's recipe. Or aromatic Zafferano—the color of deep butterscotch or saffron, as its name indicates. Beautiful on the table and on your palate.
Reason to Drink PA Wine
Penns Woods Winery
124 Beaver Valley Rd., Chadds Ford
610-459-0808 / PennsWoodsWinery.com
October was PA Wine Month, but we think you should give local wine a year-round chance. And Penns Wood Winery offers two compelling reasons to give them a try. First their wine club, which started with 50 members, now tops 550 and has a waiting list. Plus cool events like a members-only five-course harvest dinner in the vineyard, catered by John Serock. Second, no less than glittery Jean-Georges restaurant atop the Comcast Center pours Penns Woods' Chambourcin Reserve by the glass. Not for nothing: James Suckling awarded 96 points to the 2013 and 2015 Ameritage Reserve. Okay, three reasons.
Creative Wine Pairing
Vintner's Table
135 Bridge St., Phoenixville
484-408-6147 / Vintners-Table.com
Thanks to the Folino Estate Winery, from Berks County, Phoenixville has a tasting room reminiscent of a Tuscan enoteca. And thanks to the creativity of Mrs. Folino and staff, it held innovative pairings with different wines for events throughout its first year on Bridge Street. At wooden tables near the fireplace, patrons sampled Thanksgiving pies and Halloween candies. (As they said, why should kids have all the fun?) Mother's Day weekend featured a sweet tasting with cupcakes from Philly's Bredenbeck's Bakery. Summer brought cannoli, then gelato imported from Italy with wine including dolce bianco and sparkling red. Check their website for 2020 tasting events.
Wine Event
Brandywine River Museum of Art
1 Hoffman's Mill Rd., Chadds Ford
610-388-2700 / Brandywine.org
Looking for a date to share with your Irish red and white setter? Or perhaps golden retriever pooch? The Brandywine River Museum has events for you in the museum courtyard, debuted in 2019 to be repeated in 2020, for two- and four-footed friends. Wags and Wine features local wines, live music, menu created by Chef Mike Kline of the Millstone Café and entertainment. Barks and Brews boasts the same features—exchanging craft beers for wine—plus pups in Oktoberfest costumes. Sitters watch your setters while you tour indoor art exhibits. Next dates TBD.
Creative Cocktails
Black Powder Tavern
1164 Valley Forge Rd., Wayne
610-293-9333 / BlackPowderTavern.com
Black Powder Tavern has been one of our top go-to places for after-work drinks, with great apps, strong craft beer and wine selections. But the specialty and seasonal cocktails add another dimension. For fall, bar manager Thomas Deems spent three months developing 10 new cocktails—with help from Yelpers—with spices, seasonal ingredients and fun names. Fall featured Pumpkin Time Again (Pearl Vodka, Kahlua, pumpkin spice creamer, ground clove) and Pie Eagles Pie (Crown Apple, Crown Vanilla, ginger ale). Winter brings Peppermint and Chocolate Covered Cherry Martinis, plus Campfire (Sling Glenmorangie, maple syrup, Aztec chocolate bitters) and more. Find your favorite.
Cocktail Lab
Tavola Restaurant
400 W. Sproul Rd., Springfield
610-543-2100 / Tavolas.com
Much more fun than high school chem lab, Tavola's monthly Cocktail Lab leaves everyone smiling. On the first Tuesday of most months, reserve your space to learn how to craft the featured cocktail. Enjoy light nibbles, a spirits tasting to prepare for the interactive cocktail lab. Your teacher is an expert mixologist who will guide your experiment. November featured an Apple Jack with Jack Daniel's Tennessee honey, while December focused on a seasonal eggnog and rum inspired drink. No labs in January or February, but check social media for what's next on the syllabus.
Small Batch Distillery
Manatawny Still Works
320 Circle of Progress Dr., Ste 104., Pottstown
484-624-8271 / ManatawnyStillWorks.com
Crafting spirits should be fun, and the folks at Manatawny Distilling find ways to keep it new, interesting and excellent. This small batch distillery brought home a batch of awards from the American Craft Distilling Institute in four categories, including Best Of category trophies for PA Whiskey and Honey Whiskey. Other years they've released Maple Whiskey (yum) and Apple Brandy made with apples from Frecon Orchards, just six miles away. Last year their Coffee Whiskey was a surprise repeat (made possible by the government shutdown) and heralded a new 'port-folio' of spirits—rum, gin and whiskey finished in port casks, adding extra layers of flavor.
Frozen Drink
Más Mexicali Cantina
102 E. Market St., West Chester
610-918-6280 / MasMexicali.com
It might not be Cinco de Mayo but any day is a fiesta at Más Mexicali Cantina. Indoors or on the rooftop deck any hour is Happy Hour with hand-shaken margaritas: the classic favorite, black raspberry, El Diablo with muddled serrano peppers or Pepino with muddled cucumber. Even better, let it all go with a frozen margarita: blood orange, strawberry or the icy version of their signature. All with award-winning tequila, freshly squeezed lime juice and accompanied by tacos, fajitas, burritos and DJ music to make your tastebuds sing and your feet dance.
Recycling Program
Brandywine Branch Distillers
350 Warwick Rd., Elverson
610-901-3668 / RevivalistSpirits.com
We all need to do our part to save the planet, but there are extra points for creativity. As part of their grain-to-glass mission, Brandywine Branch Distilling takes extra steps to minimize their environmental impact. In addition to recycling cooling water from the distilling process, their spent grains get donated to local farmers, including Danny Messner of Bethany Farm, just five miles away in Glenmoore. Messner takes thousands of gallons of spent grain back to his farm to feed to his cattle. He reports that the cows might "get a little bit of a buzz" from it, but no complaints.
Shrubs
Tait Farm Foods
179 Tait Rd., Centre Hall, PA
814-466-3411 / TaitFarmFoods.com
You may have heard about cocktail shrubs or drinking vinegars, a newly popular tart/sweet cocktail and mocktail ingredient dating back to Colonial times. This fruit-vinegar-sugar combo comes in a concentrated syrup to add to club soda or spirits, sparkling wine and beer. How to explore this refreshing elixir that's also good for salads or marinades? You can DIY or try one of 16 shrubs from Tait Farm, credited with launching the modern shrub revolution. Located outside State College, they've been making shrubs since 1987, and offer varieties, from beet to wild blueberry. Available at local specialty food stores and online.
back to top