2. New Incarnations — Good News
Our 16th Annual Best of the Best Selections
New Incarnations
118 North
118 N. Wayne Ave., Wayne
610-971-2628 / 118NorthWayne.com
The big news is that Wayne's restaurant, bar and music club has partnered with the folks from Ardmore Music Hall, and more importantly, Ripplewood Whiskey and Craft. The Ripp, as it's called, earned three bells from Craig LaBan, with special raves for the double patty burger with fried Lebanon bologna that caught our attention last year. You'll find similar cleverly updated pub fare from Chef Biff Gottehrer, including a North Burger with American cheese, brie, onion jam and special sauce, plus lamb burgers and pork burgers. The menu is full of tempting comfort food—brisket dip, fried cheese curds, sublime garlic Parker House rolls, and another favorite, the Brookie (brownie/cookie combo).
Nui Nui Kitchen
301 Bridge St., Phoenixville
484-302-5141 / NuiNuiKitchen.com
Chef Nui Kullanna has redone Thai L'Elephant—and raised her ambitions—with the help of husband, Chef Francis Pascal of Birchrunville Store Café. The elegant new restaurant gets nothing but raves. Featuring Asian cuisine, fused with French inspiration, the menu features Thai classics—Tom yum soup, pad Thai, drunken noodles. The curries are simply sublime. Even more special are General Tso's Chilean seabass or hoisin pork rigatoni. The beautifully presented food is matched by the splendid service. Nui Nui is perfectly lovely.
Rye BYOB
112 W. State St., Media
610-565-5554 / LotusFarmToTable.com
Foodies are salivating in anticipation of upcoming Rye BYOB by former Lotus Farm to Table Chef Ryan Sulikowski and his wife, Brianne. With new American smaller plates to be tasted, savored and shared, the food sets the stage for the restaurant's design: a comfortable, never stuffy, environment and whimsical plating on dishes of varied shapes and colors to highlight sweet, salty, temperature and texture. Special Sunday night dinners—reminiscent of the owners' childhood family meals—bring staff, purveyors and the public together for wonderful food, relaxed service and great conversation. Can't wait? Taste-test and provide feedback at three Tyler Arboretum Chef's Tastings by reservation in January and February.
New Horizons
Avalon Bistro & Bar
818 W. Lancaster Ave., Bryn Mawr
610-520-9700 / AvalonBistroBM.com
The Main Line is embracing this latest offering from Chef John Brandt-Lee. We suggest you surprise the table and order the Avalon Burger: fine meat, caramelized onion, bacon and cheddar cheese on a brioche bun. Served rare, it's perfect. So were bacon-wrapped dates and an egg roll appetizer of short rib, onion and horseradish. For other entrees, try the Judy Foodie Pasta Special with shredded short ribs, mushrooms, caramelized onion and pappardelle, or lamb Bolognese, with ricotta and gemelli. We remembered the latter fondly from a Christmas past, at parent Bar Avalon in West Chester, which many enthusiastically recalled as the best Christmas party meal ever.
Brick & Brew Gastropub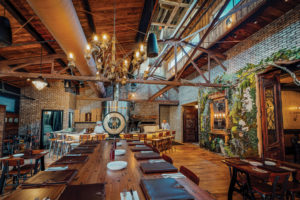 400 E. King St., Malvern
484-320-8688 / BrickNBrewPub.com
This Delco fave (Media, Havertown) arrived in Chester County in a big way this past summer. Brick & Brew transformed an old office building on Malvern's King Street into a huge hip 5,000-square-foot space (150 inside/70 patio) with steel beams, architectural salvage, a green wall, exposed brick and … brews. Twice the size of the other locations, the Malvern spot is different in décor but retains the same elevated gastropub menu, with variety in the weekly specials (for burgers, wings, flatbreads, soups). Enjoy fried pickles, burgers, pulled pork, brisket and wild boar sliders, plus 14 taps and creative cocktails. All Instagram-worthy. Big news: now taking reservations!
Sterling Pig Public House
113 W. Market St., West Chester
484-999-8026 / SterlingPig.com
Looking for The Snuffler? You'll find the IPA at the Sterling Pig Public House in West Chester. One of the most popular beers from Sterling Pig Brewery in Media, The Snuffler—as well as Le Cochon Noir, Shoat Pilsner and others—plus dishes like tender well-seasoned brisket with four sauces, buttery cornbread, baked beans and buttermilk spicy chicken sandwich have been in their newest home on Market Street since February 2019. With industrial chic exposed ceiling ducts and brick wall, the pub can host you, about 99 friends and "pigs" for all at long tables and the bar … without driving to Media.
Stove & Tap
245 Lancaster Ave., Malvern
215-393-8277 / StoveAndTap.com
Both Frazer and West Chester are getting branches of this popular, throwback American Landsdale dining spot from the Justin Weathers/Joe Monnich team behind Exton's Al Pastor and Ardmore's The Bercy. The Frazer location (in former Carrabba's; West Chester location later in 2020, in former Landmark Americana) delayed opening after being hit by a tar truck. It'll be more smokehouse/grill than American/Brit gastropub of the original. Look for chef-driven menus of comfort food—brisket, burgers, pot pie—accompanied by a strong drinks menu with American beers and wines, plus craft cocktails like Suburbia (with Lillet) and Cricket Club (Pimms #1). Enjoy patio seating for 50 with two fire pits and a signature taxidermied bear, à la Landsdale.
White Dog Cafe
981 Baltimore Pk., Glen Mills
484-842-1757 / WhiteDog.com
With the spring 2020 opening of a Glen Mills location, there's a fourth pup in the White Dog Cafe family. At the Shoppes at Brinton Lake, it joins other Fearless Restaurants known for great food and neighborhood feel. White Dog lovers look forward to farm fresh menu favorites, the same eye toward sustainability and community spirit, and playful signature art by James McClellan who painted dog portraits for the Philly, Wayne and Haverford restaurants. If there are spots left, commission your pooch's portrait to join the new café's celebrity canine gallery while helping support two dog-related nonprofits.
Good News
Byrsa Bistro
127 E. State St., Kennett Square
610-444-5050 / ByrsaLegacy.com
All you Mediterranean food lovers, there's another reason for a celebratory dinner. Byrsa Bistro now has two locations—the charmer by the picturesque train station in Glen Mills and an attractive new storefront location on State Street in Kennett Square, the town where they began. Dip into your old favorites from their previous menu—Byrsa's chicken tagine or paella. Raise a glass of wine or beer from Sterling Pig Brewery with Kennett mushrooms flatbread. Open for Happy Hour Monday, Wednesday, Thursday and Friday; dinner every night but Tuesday.
Portabello's
108 E. State St., Kennett Square
610-925-4984 / PortabellosOfKennettSquare.com
The name's the same but Portabello's new space on East State Street is four times as large and there's a liquor license (bye, BYOB), so prepare for porcini-infused whiskey in your Manhattan. As you'd expect from the name, the menu remains fungi-centric, even listing mushroom sources—To-Jo's, Philips, Lafferty, plus more—in changing, seasonal dishes described as "American food with international flair." Try Portabello fries, exotic mushroom crepe, mushroom fondue, roasted mushroom soup, pappardelle Forestiere, Stroganoff with crimini. Sip a seasonal cocktail (Naughty Autumn with pumpkin coffee rum) or specialty cocktails (Pomegranate Blood Orange Old Fashioned), or choose beer, cider or something from the wine list. And enjoy the music!
back to top