6. Duck — Hostess Gift
Our 16th Annual Best of the Best Selections
Best Duck
Margaret Kuo's
175 Lancaster Ave, Wayne
610-688-7200 / MargaretKuo.com
For those who love duck—and what's not to love—"Wednesday is for Duck" at Margaret Kuo's in Wayne. Order the Peking duck, smoked duck (at special prices), or perhaps the Mandarin braised duck or sautéed duck. And, while you're there, plan a return—say on Thursday—for the beef, chicken, pork, lamb, rabbit, shrimp, lobster, squid or fish. It's all excellent. Visit Kuo's in Wayne, Media, Malvern (the Mandarin) or take-out at the Lancaster County Farmer's Market in Wayne. The restaurants have won awards, including three bells from Craig Laban, the award of excellence from Zagat's, and from Philadelphia Magazine four times.
Best Eagles Viewing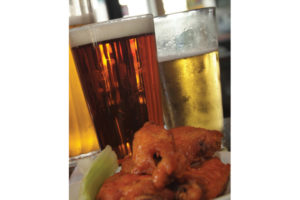 P.J. Whelihan's Pub & Restaurant
1347 Wilmington Pk.,West Chester
610-235-4200 / PJsPub.com
Also: Downingtown, Malvern, Newtown Square
Where to watch Carson Wentz and company? P.J. Whelihan's has lots of screens—over 40 in Malvern, more in West Chester, Downingtown, Oaks and Newtown Square. Check out the huge central bar, with plenty of local beers—Levante, Victory, Yards—and the other favorites like Guinness, Labatt's and Sam Adams. Plenty of apps, too—about a dozen varieties of wings, assorted styles of fries, five kinds of nachos. Too many to limit yourself to one. But save room for dessert, like Cookie Crunch Brownie Bomb or Salted Caramel Crunch Cookie. PJW Group has a sports bar near you. And maybe—just maybe—you'll watch the Eagles win.
Best Family Place
Christopher's
335 E. King St., Malvern. 484-568-4127
108 N. Wayne Ave., Wayne. 610-687-6558
ChristophersANeighborhoodPlace.com
Chris and Molly Todd wanted a very family-friendly restaurant. For the very young, order mac & cheese, a hot dog or ravioli. For the more precocious, there are more than a dozen appetizers and pizza too, with the pesto, prosciutto, chicken souvlaki or practically any other topping. Maybe mussels, if your kids are really adventurous. As long as they don't throw food at one another, the kiddos can party while you head over to the bar. The wine, beer and other spirits will put you in a more, well, patient mood. After all, you're a member of the family, too.
Best Field to Fork
SIW Vegetables
Hill Girt Farm
4317 S. Creek Rd., Chadds Ford
610-388-2700 / Brandywine.org/Conservancy
When virtually every restaurant claims to be farm-to-table, it's time for a new level. That's the field-to-fork dinners best enjoyed at the Haskell family's 17th-century barn at Hill Girt Farm, of SIW Vegetables, from July to early October. Wear jeans and boots to the rustic-chic, multi-course, seasonal family-style dinners cooked by guest chefs from Chester County to Philly—from Terrain, Stove & Tap, Banks Seafood, Pasta Labs. Experience where your food came from as you savor fig-stuffed spit-roasted pig and peach and blueberry buckle with corn crème Anglaise. Menus posted on the website for the Wednesday dinners. Around $75 to help sustain local farming. Plan for this summer.
Best Country French Dinner
La Maison
1470 Old Ridge Rd., Pottstown
484-680-2631 / MartinsKitchen.com
Be transported to the French countryside at one of 24 seats in the first-floor dining room in Martin Gagne's 300-year-old home, now La Maison. Multi-course, authentic French meals are served family style in an atmosphere described as eating with friends. Chef Gagne's storied resume—Food & Wine's 1990s Top Culinarian to Watch, relaunch of the Inn at St. Peter's Village—inspires meals at this auberge. Fans wax poetic about whole chicken braised in wine with locally foraged morels, black trumpets, pearl onions; rabbit braised in white Burgundy; cassoulet with confits of goose, duck and pork. Make reservations well in advance, await the e-mailed menu and bring cash.
Best Fungi Fun
Kennett Mushroom Festival
101 S. Union St., Kennett Square
610-925-3373 / MushroomFestival.org
How much fun is a festival devoted to fungi? With a community parade, dancing in the streets, fun runs, cook-offs, fried mushroom eating contests, cute-as-a-button (button mushroom) baby photo contest, and plenty of ways to taste and learn about mushrooms, what's not to love? Join 100,000 fungi fans and celebrate the Mushroom Capital of the World (and PA's top cash crop) at its 35th annual festival, September 12th and 13th. Souvenir options include festival t-shirts, cookbooks, artworks and the freshest mushrooms you'll ever taste. Michael Pollan and Andrew Weill can't be wrong about fantastic fungi.
Best Game Day Grub
Appetites on Main
286 Main St., Exton
610-594-2030 / AppetitesOnMain.com
What do you crave on game day? Wings of all flavors and heats. Crispy fries with bacon and cheese. Potato skins with cheese, sausage or pepperoni. Pretzel dogs, cheesesteak rolls, tacos, fried pickles. The list goes on and on. Apps on Main also has several dozen brews, seltzers and ciders, not to mention wines, martinis and other cocktails. In the warm months, you can have a sandwich on the patio with your pup. But, every month, there are TV screens all over. What would game day be without a week's worth of calories, at least to tempt you?
Best Goat Dish
Miss Winnie's
211 E. Market St., West Chester
484-266-0508 / MissWinnies.com
Miss Winnie's is a family affair, dedicated to Winnifred Johnston, who emigrated from Jamaica. Today her jerk seasoning is kept alive by Head Chef Bert Johnston and their son Nick. Together they capture the fire and aroma of their island roots with their spicy jerk seasoning (though their curry seasoning is divine as well). The meals are simple. Burgers, chicken, wings, pork, plantains, rice and beans pulse with rhythm of reggae. But go for goat (Fridays and Saturdays). Try the Curry Goat Platter with slow cooked seasoned goat served with cabbage, plantains and rice. And cool down with plantain tarts or guava cake. Lick your fingers. Miss Winnie's rocks.
Best Happy Hour
Limoncello
9 N. Walnut St., West Chester. 610-436-6230
499 E. Uwchlan Ave., Chester Springs
610-524-3112 / LimoncelloRestaurant.com
While the $12.95 lunch buffet continues to draw for its variety and value, Happy Hour at Limoncello's two locations is another great reason to visit on weekdays from 4 to 6:30. Seasonal and specialty drinks (salted caramel black Russian, pineapple mojito, blood orange cosmo), martinis (with limoncello) and pizzas (so many varieties and gluten-free, too) are popular, along with other tempting options at Happy Hour prices. When you're looking to brighten the end of a winter weekday, or dreaming of summer afternoons on the well-appointed West Chester patio, this is the place for a quintessential celebration of the end of the workday.
Best Homey Meals
House Restaurant
110-114 S. Jackson St., Media
610-566-2505 / EatAtHouse.com
Under the prettiest green gables and between evergreen trimmed windows, enter the door to House, a charming restaurant on Jackson Street in Media. In a comfortable, unpretentious space, take a corner table by windows on two walls to watch the snow fall or people chat as they stroll along the sidewalk. Dip grilled cheese into a beautifully presented creamy tomato soup. Try vegetarian celery soup decorated with paprika or a salad of greens, nuts and fruit. Whether you're hankering for eggs at breakfast, specialty lunchtime paninis or suppertime stew, House is your home away from home for comfort food.
Best Hostess Gift
Éclat Chocolate
24 S. High St., West Chester
610-692-5206 / EclatChocolate.com
You've just been invited to a special dinner party and need a gift for the hosts that's as memorable as the evening they've prepared for you. Éclat Chocolate has a solution that shines. A signature assortment. Caramels. A wine lover's box that includes Mollydooker Shiraz truffles and more. The beer lover's box with truffles infused with local Victory Brewing Company's Hop Devil and others. Looking almost too good to eat, the chocolates come in a pretty gift box. They're so irresistible, you might need to order one for yourself.
back to top