1. Major Star — Bread & Cheese
Our 16th Annual Best of the Best Selections
Major Star
Andiario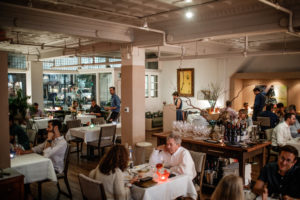 106 W. Gay St., West Chester
484-887-0919 / Andiario.com
Yes, yes, yes. Experience Andiario. Let's count the ways this star has brightened our culinary sky. It's on all the "Best" lists—Craig LaBan's, Philly Mag's, James Beard semifinalist, and our own Best Of 2019. Surely you've listened to friends recount their dinner there or called to learn the long wait for a table. But persevere, for this sophisticated, "adaptive Italian" fine restaurant fills the void created by Gilmore's 2012 closing, just down Gay Street. Consider the pasta-bilities of the divine doughy confections from the kitchen—both egg and water pastas—filling the second slot, our favorite, of the Beginnings, Pastas, Protein, Dessert menu. The changing, seasonal menu continues to reflect the network of local providers, including wine from Va La and Galen Glen. Check the website for the latest creations from the open kitchen so you can spin your own tales of delight.
Shining Star
Verbena BYOB
102 E. State St., Kennett Square
484-732-7932 / VerbenaBYOB.com
At Verbena BYOB, the food is as perfect on the eye as it is on the tongue. The six-course chef's tasting menu allows you to try several items from options that change with what's in season, as well as for sampling flavors you've been waiting for all your life. From a warm, rich charred apple soup that highlighted fruit notes of Brunello wine to a mille feuille dessert—layers of puff pastry filled with tea-whipped Chantilly cream and blackberries—every taste was a wonderful sensation. Other gems: tangy scallops, crispy-skinned succulent salmon with micro greens for a hint of color and boneless beef rib with beans. The simple, relaxing candlelit ambiance along with the creative combinations brought out conversation and the assertion we'd all be back. Stellar!
Buzzworthy
ChopHouse Grille
301 N. Pottstown Pk., Exton
484-875-6700 / ChopHouseGrille.com
Hard to believe Exton didn't have a true steakhouse. Welcome the ChopHouse Grille, courtesy of the PJW Group (Pour House, P.J. Whelihan's), which opened last summer. People gush over the interior design—open air, high ceilings, industrial chic—the central bar and, in summer, outside bar and fire pit. The service is friendly and happy. But the serious raves are reserved for the steaks—filet mignon or Kona-crusted strip, in particular—complemented with intriguing starters, crispy Brussels sprouts, calamari or blistered shishito peppers. With about a dozen custom cocktails and 20-some by-the-glass wines, it's a perfect place for a birthday or date night.
The Refectory
862 E. Lancaster Ave., Villanova
610-519-5786 / TheRefectoryGrill.com
Villanova University has a sophisticated-yet-casual restaurant on campus that's open to the public and located in the new Commons residence hall, across from the Performing Arts Center (opening soon) and close to Nova basketball games. Zavio Hospitality Group (Enoteca Tredici in Bryn Mawr) created an American bar and grill serving "elevated classics" ranging from sandwiches, salads, sushi and raw bar to 20-oz. ribeye steaks. A horseshoe-shaped bar, marble tabletops and wood banquettes give an upscale feel to the 150-guest dining room plus wine vault for smaller groups. Sip a Wildcat (Bluecoat gin, lemon, agave, blackberry), order your Villanova Tomato Salad and see if anyone at your table knows what refectory means.
Rosalie
Wayne Hotel
139 E. Lancaster Ave., Wayne
610-687-5000 / WayneHotel.com
The iconic Wayne Hotel is getting a new onsite restaurant, replacing posh Paramour. The Fearless Restaurant Group—Moshulu, White Dog, Autograph—is working on a new dining destination to open in early 2020. Rosalie will feature Italian soul food, described by Executive Chef Merick Devine as "Italian cuisine, deeply rooted in tradition, heritage and technique, adapted to the local landscape with a gentle contemporary approach." Look for brunch, lunch and dinner daily. Here's hoping they make the most of that great veranda!
People Are Talking About
Bodega by La Cabra

810 Glenbrook Ave., Bryn Mawr
610-526-2337 / BodegaByLaCabra.com
We were sorry to see Biga Pizza close, but we're more than happy with its replacement. Bodega by La Cabra (from the Berwyn beer folks) is a no-nonsense barbecue place, with brisket "to die for"—slow-cooked, tender, blackened on the outside. The ribs are meaty and aromatic. The wings served whole, with a spicy rub very different—and better—than the conventional hot red, barbecue-sauced or deep-fried approach. And the spicy greens and baked beans laced with pork and just enough poblano to wake up your tongue, will not be forgotten. All can be washed down with a selection of La Cabra's brews.
BOMBA Tacos & Rum
10 Liberty Blvd., Malvern
BombaTacos.com
BOMBA, a premium casual taco + more spot opening mid-January from the Ohio-based group behind Paladar in KOP, is about choice. Start with a flight of exotic rums: Gosling's Old Family and Don Q Gran Reserve are among the selection of over 100 varieties—more than there are islands in the Caribbean. Then build a guacamole, adding mango, candied pumpkin seeds, pickled jalapeños or about ten other ingredients to fresh avocados. Choose your salsa—mango, grilled pineapple—and truly fresh tortilla chips. Then pick one of a dozen or so tacos, from smoked barbecue pork to blackened fish. That is, if you can resist the Cuban sandwich. So many choices.
Sedona Taphouse
131 Bridge St. #5, Phoenixville
484-302-5714 / SedonaTaphouse.com
Arriving in Phoenixville last March, the Sedona Taphouse was a nearly instant sensation. It's still buzzing with food and fun. Inside or on the deck, the chain that hardly seems like a chain serves up Southwest-inspired cuisine, specialty cocktails and, of course, beer—bottle, can or draft. Start with Desert Fire Jalapeños or Canyon Crab Flatbread. Continue with burgers, sliders, salads or Devil's Pass pasta. Grab a beer—names are as entertaining as they are good: Scarecrow wheat, These Pretzels are Making Me Thirsty lager or Sculpin IPA. With fire pits, televisions and outdoor bar, good times are always on tap.
GG Italian
1110 Baltimore Pk., Glen Mills
610-358-2676 / GGItalian.com
You don't need to be an out-of-towner staying at the Comfort Inn and Suites in Glen Mills to enjoy the new sleek black, white and red GG Italian restaurant. On the north side of the hotel, enter at the awning bearing its name. Authentic Italian dishes abound. For smaller bites, try pizzas and salads. For bigger appetites, start with scrippelle soup—crepes, shaved Parmesan and chicken broth—and continue on to veal Oscar with jumbo lump crab, asparagus, Parmesan risotto. End with honey ricotta cheesecake or cappuccino tiramisu. Make reservations for Friday or Saturday nights—food fans have already found it.
Places to Watch
The Blue Elephant
152 E. High St., Pottstown
484-949-9084 / BlueElephantBar.com
Take in the glorious setting in a former Pottstown bank building: vaults, brass, 30-foot quartz bar, soaring ceilings, huge fountain, with chairs and velvet curtains of imperial blue—the latest from Win Signature Restaurants (Teikoku, Azie). In this setting, Executive Chefs Juan and Felipe Calixto serve an eclectic Asian fusion menu—Italian-Thai with Japanese and French influences. From the Thai side, drunken noodles and green curry lobster linguine. From Japan, choose from five different sushis and tempuras, including kanikazi, shrimp tempura with salmon, asparagus, and eel sauce. Quite a range, but it works.
Bua Loy Cuisine
300 W. Lancaster Ave., Devon
610-341-8162 / BuaLoyCuisine.com
Bua Loy means "floating lotus" and represents Chef Bualoy's emigration from Laos to America, seeking a better future for her family. We hope she's found it. Based on the cuisine of Laos, Thailand and Vietnam, the food is authentic and good. The aroma is soft and unmistakable: Laotian sausage, a host of satays and curries, dumplings, sticky and crispy rice, glass noodles, coconut milk, lemongrass, pad Thai, pho …. Don't be put off by the strip mall location. Inside, it's cozy, quiet and intimate. Listen closely. You'll think you hear the Mekong River.
Café de Thai
420 W. Cypress St., Kennett Square
610-924-2828 / CafeDeThai.us
There's now a good Thai restaurant in Kennett Square. Chef Jaruwanee Primo, who trained at the Wandee Culinary Art School in Bangkok—plus 17 years at restaurants in Lake Tahoe, LA, San Bernadino and Pittsburgh—visited Longwood Gardens and fell in love. Last March, she opened Café de Thai, focusing on the cuisine she grew up with, married to our local foods. Try Kennett Pad Thai or Fish Longwood. These are but flourishes to an authentic cuisine and extensive menu including pho, noodles, curries and ramens, leaning heavily on basil, mushrooms, scallions, ginger and coconut, and complemented with duck, chicken and seafood. The tastes, sublime.
Mama Wong
268 Eagleview Blvd., Exton
484-713-8888 / BestMamaWong.com
Located in a shopping center and focusing on Szechuan cuisine, this restaurant, alas, has no Mama Wong. Meet instead Chef Hongbin Luo, formerly of Han Dynasty, and co-owner Song Li, biotech businessman and force behind the venture, who built Mama Wong to remind his Exton-based employees of home. And they do remember! Striving for genuine and authentic, the cuisine is overall hot, with some concessions to Americans' palates, but the many dumplings, dan dan noodles, dry pepper chicken wings, cumin lamb chop, smoked duck, flounder and striped bass are all declared by diners to be "amazing" and "fantastic." Craig Laban agrees, awarding two bells.
Bread & Cheese
Brandywine Valley Bread
3941 Lincoln Hwy., Downingtown
484-698-8172 / BrandywineValleyBread.com
While man may not be able to live by bread alone, life without bread may not be worth living. So say fans of this simple pleasure. For those, a trip to Fran McLaughlin's Brandywine Valley Bread brick-and-mortar store is a must. Having recently celebrated the one-year anniversary of the store, the baker-in-chief still makes the rounds to area farmers markets bringing samples of his naturally leavened goodness (no packaged yeast required). Pullman loaves of ancient grains, spelt and sourdough, classic baguettes, everything bagels, rosemary olive focaccia. Even morning buns, vegan croissants and cherry walnut cookies. It's why "sold out" notices go up on Facebook.
Di Bruno Bros.
Strafford Shopping Center
Lancaster Ave., Wayne / DiBruno.com
Cheese glorious cheese and more are coming to the Kitchen Kapers spot in the Strafford Shopping Center, near the Lancaster County Farmer's Market. Gourmet food market Di Bruno Bros., long a favorite at Ardmore's Farmer's Market and harking back to 1939 at South Philly's Italian Market, is bringing their fresh pasta and bread, antipasti bar and prepared foods to Wayne. And so much more—coffee, caviar, chocolate, cookies, condiments and, of course, cheese. With options from award-winning to stinky and funky cheese plus the planned liquor license, Di Bruno's will satisfy your cheese pairing dreams.
back to top