5. Chester County Classic — New Donuts
Our 16th Annual Best of the Best Selections
Best Chester County Classic
The Kimberton Inn
2105 Kimberton Rd., Kimberton
610-933-8148 / KimbertonInn.com
Couples visit for anniversaries, others go for special occasions, and still others for the many receptions, banquets and events. All enjoy a bit of history in the 1796 building with its quintessential Chester County ambiance. Open Table diners voted it one of the most romantic restaurants in PA in 2019—maybe it's the five fireplaces and many private rooms. After its 25+-year chef left, former sous chef and new head Chef Tom Wolter (Le Bec Fin, Ritz Carleton) has kept the stellar ratings. The menu is evolving—more small plates, sharables, rotating entrees—but the classics remain with salmon, pork chops, liver and onions and "The Best Salad" still getting raves.
Best Chili
Saloon 151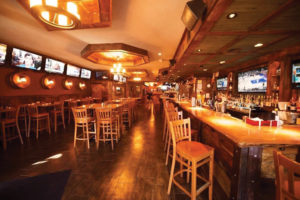 151 W. Gay St., West Chester
610-701-8489 / Saloon151.com
When you're hankering for fries, wings or a quesadilla, maybe with a bowl of award-winning chili (West Chester Rotary 2019 winner), along with a burger, brisket or roast pork sandwich, head for a saloon that's oozing with the hearty, rugged goodness of the Old West—that's Saloon 151. Order one of the whiskeys on the special menu—there are countless bottles and brands behind the bar. Or a beer. Settle in. There are 20 TV screens set to the sports channels. Owner Frank Herron set out to fill a "hole in the market." He filled it with a good one.
Best Coffee Drink
Philter
111 W. State St., Kennett Square
610-444-7687 / PhilterCoffee.com
Sun streams through the front windows. Patrons' smiles and conversation—of millennials, boomers and everyone between—are as warm and vibrant as the art on the walls. What's cooler than cool at Philter are the seasonal espresso milkshakes. The smooth blend of espresso and vanilla ice cream, served in metal mixing cups to be ecologically friendly as well as fun, is superb. Enjoy one with a freshly made egg and salmon sandwich, mushroom soup or a boutique chocolate bar. If you're a tad sad when winter weather sets in, order a mocha latte and sit in the sunny window. Bliss.
Best Corn on the Cob
Pete's Produce Farm
1225 E. Street Rd., West Chester
610-399-3711 / PetesProduceFarm.com
Afriend from Texas said the best reason to cross the Mississippi was to eat Pennsylvania's sweet corn on the cob. Surely, he was referring to Pete's Produce Farm. Steamed, boiled or grilled, then buttered and salted, nothing makes a great summer picnic or meal on the deck like peak season corn. Hands at Pete's pick ears seasonally at 7 a.m. each morning. Varieties include Glacial White or Bicolor, Seminole Gold, Kate and Rosie (who knew?). A treat raw, right off the stalk or cooked and cut from the cob combined with Pete's heirloom tomatoes. How sweet it is!
Best Country Elegance
Catherine's Restaurant
1701 W. Doe Run Rd., Unionville
610-347-2227 / CatherinesRestaurant.com
If you're looking for a touch of country elegance, look no farther than Catherine's. The old Unionville home among trees and flowers—in window boxes, bursting from the patio gardens and on tables—is casual and classy. Enjoy unparalleled mushroom soup with crab and eggs Benedict with local Canadian bacon under a patio umbrella, in season, where a rustic blue table and lanterns conjure up Provence. Inside among antique country furniture, glowing candlelight and white tablecloths, enjoy a meal of goat cheese salad, blackened tuna or pork tenderloin. Linger over coffee or head back out to horse country, thoroughly contented.
Best CSA
Rushton Farm
Willistown Conservation Trust
911 Delchester Rd., Newtown Square
610-353-2562 / WCTrust.org
Rushton Farm's CSA (Community Supported Agriculture) is almost too good. For 24 weeks, May to October, fresh, seasonal, pesticide- and chemical-free vegetables and fruits are available to fee-paying members. At your farm pick-up, walk the fields, chat with the farmer, pick herbs and flowers. Or just grab your share—your membership portion of what's grown that week—and go. Clean, chop and create meals with your bounty. Oh, and enjoy. From arugula to zucchini, with celeric, kohlrabi, okra and more in between. Extras go to West Chester's Food Cupboard. Plus fun tastings and a harvest celebration. The bad news is they're such a great CSA, there's a waiting list for membership.
Best Diner
Miss Oxford Diner
233 S 3rd St., Oxford
610-932-2653 / MissOxfordDiner.com
Pull up by the neon sign and Old Glory. The entrance clock says one thing but the time is 1955. Welcome to Miss Oxford Diner, where Tuesday is chicken pot pie night and Thursday means meat loaf and mashed potatoes. Built in 1953, the silver diner is now a classic as are its cheeseburgers, fries in plastic baskets, root beers and vintage vinyl 45s, Coca-Cola ads and Corvette photos lining the shelf. How it got its name is a matter of legend. Pam, the friendly owner, says she was never Miss Oxford, just sometimes Miss-Taken. Go—it's the living end.
Best Dinner With a View
Kitty Knight House
14028 Augustine Herman Hwy., Georgetown, MD
410-648-5200 / KittyKnight.com
Kitty Knight, niece of a member of the House of Representatives, savior of Georgetown, Maryland, in 1812, saved what became known as the Kitty Knight House from British torches. Kitty bought the place after the war and protected much of Georgetown and its residents from disaster. Today, viewing the Chesapeake scenery, sun setting over water, we imagine her there. From the sunset deck or dining room, overlooking a stately marina and watercraft, beyond the manicured lawn and garden, taking in the Eastern Shore landscape, we'll raise a glass and enjoy the hospitality and inviting menu balancing favorites from land and sea—seared duck to crab cakes. And enjoy the view!
Best Apple Cider Donuts
Highland Orchards
1000 Marshallton-Thorndale Rd., West Chester.
610-269-3494 / HighlandOrchards.net
One bite and you're hooked forever. Take Highland Orchards' fall hayride among the colorful leaves and pumpkins, see the cider press and finish with the tastiest part of fall: apple cider donuts. Highland Orchards picks apples from their trees, turns them into cider with their press on premises and makes the hot cinnamon sugar-covered donuts in the on-site kitchen. The best news is that their apple cider donuts are made fresh almost every day year round … so you can enjoy them on Memorial Day, Christmas Eve and even next Saturday if you like.
Best New Donuts
Factory Donuts
845 N. Jackson St., Media
610-627-2224 / FactoryDonuts.com
Welcome to Factory Donuts, where some of the fun is watching. Place your order, then watch dough flow into the fryer and emerge onto a plate as a donut. From there, it's decorated to your specifications. The hardest part is choosing—a signature chocolate coconut dream, cookies and cream, maple bacon explosion—or your custom combination. The best part is eating—warm, light cake inside and slightly crispy outside, glazed, gooey chocolate-frosted, drizzled with peanut butter or covered in nuts, sprinkles and more. Started in Philly when owner Heather's friends couldn't get enough; open since July 2019 in Media. Now we can't get enough.
back to top