Visit Wilmington/ More Delaware Highlights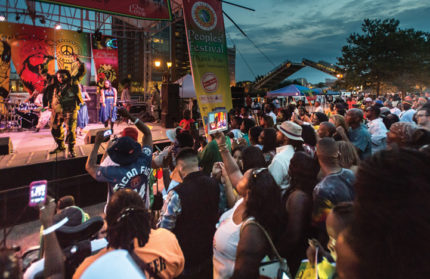 Next, on to Delaware, with a first stop in Wilmington, a city that's growing and evolving at a rate not seen in decades. Cultural attractions, the burgeoning Market Street district, Art Loop, Riverfront—plus restaurants, brewpubs, a meadery, theater row, a music scene and tax-free shopping—make it a top tourist destination.
Summer Fun
Wilmington makes the most of the summer weather by hosting a full calendar of summer fun. From the 24th annual People's Festival tribute to Bob Marley, July 28, to the Delaware Burger Battle, August 25. Find more events in our "Wilmington's Big City Revival" article.
Delaware Art Museum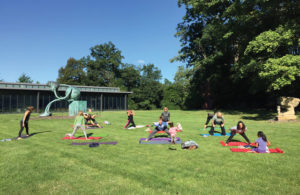 Start with one of Wilmington's crown cultural gems, the Delaware Art Museum, set on 12 acres that include the outdoor Copeland Sculpture Park and Labyrinth. Although you can browse the world-class permanent collections online—from Pre-Raphaelites to contemporary pieces—this right-size museum set in a leafy neighborhood is worth a visit IRL.
Summer exhibits include "Impermanence: Mystery, Transformation, Light," through Aug. 5; "African American Art: Migration and Modernism," through Sept. 2; and "Danny Lyon: Memories of the Southern Civil Rights Movement," through Sept. 17.  Plus there's yoga in the garden on first and third Saturdays through August. Open Wed.–Sun. 2301 Kentmere Pkwy. DelArt.org.
Riverfront Wilmington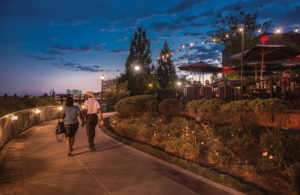 A visit to Wilmington without a stop at the Riverfront would be … well, a mistake. Stroll the 1.3 mile Riverwalk, enjoy drinks or dinner on a restaurant patio or deck, play mini-golf, catch the River Taxi, tour the tall ship Kalmar Nyckel or kick back at the Constitution Yards beer garden for a brew and round of corn hole.
Museum lovers can visit The Delaware Contemporary, 200 S. Madison St. DEContemporary.org, and The Delaware Children's Museum, 550 Justison St. DelawareChildrensMuseum.org, while nature lovers will head for DuPont Environmental Education Center on the 212-acre Russell W. Peterson Urban Wildlife Refuge, home to bald eagles, beavers, dragonflies, turtles, butterflies and other wildlife. 1400 Delmarva Ln. DuPontEEC.org.
Sports fans will enjoy Daniel S. Frawley Stadium, home to the Wilmington Blue Rocks, a top minor league baseball club, and to the Delaware Sports Museum & Hall of Fame. Check website for schedule and special theme nights. 801 Shipyard Dr. BlueRocks.com/Stadium; DESports.org.
Delaware Museum of Natural History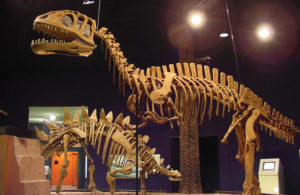 A  few stops outside downtown Wilmington will round out the tour of the First State. Want to see the state's only permanent dinosaur collection and the second largest birds eggs collection in North America? Then head for the Delaware Museum of Natural History. Discover the natural world and see science in action as you explore investigation labs.
The summer's special exhibit, "Mystery of the Mayan Medallion," encourages visitors to solve a Mayan mystery by following video clues left by a team of missing archaeologists that disappeared from an excavation site in Palenque, Mexico. Through Sept. 3. Open Mon.–Sun. Extended hours on Thurs. Rt. 52, S. of Centreville, DE. DelMNH.org.
Hagley Museum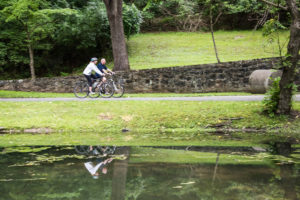 Many sights in this area are connected with the du Pont family, in addition to Longwood Gardens and Winterthur mentioned earlier. We suggest two more stops.
Hagley Museum is the site of the first du Pont black powder mills and home to generations of the family. Learn some history of American industry, the du Pont family and DuPont corporation (inventors of nylon, Teflon and Kevlar) through exhibits and working models. Explore French-style and Italianate gardens along the Brandywine River or join the "Bike & Hike & Brews" tours every Wed. through Aug. 29. Bring your canine companion on June 27, July 25 and Aug. 29 for Dog Days of Summer. Sept. 16 is the Hagley Car Show, with 500 antique and restored cars. Open daily. 200 Hagley Rd., Wilmington (for GPS). Hagley.org.
Nemours Mansion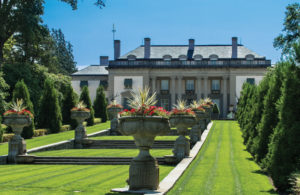 Nemours Mansion is a 300-acre country estate that Alfred I. du Pont (1864-1935) had built for his second wife in the late 18th-century style. With almost a hundred meticulously preserved rooms on five floors filled with fine antique furniture, art from many periods, and bric-a-brac, the interior is a stunning showcase of a bygone lifestyle. The grounds are equally impressive, housing the largest formal French gardens in North America, with features such as the long walk, reflecting pool, temple of love and the maze. A chauffeur's garage houses an impressive collection of vintage cars. Open Tues.–Sun. 850 Alapocas Drive, Wilmington. NemoursMansion.org.
Delaware Park Casino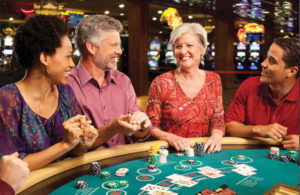 Winning is always in play says Delaware Park Casino, home to live thoroughbred racing on the track and slot machines and table games (blackjack, roulette, craps, poker) in the casino, plus online gaming, well, online. You'll find live entertainment and dining choices for all tastes, and even a world-class 18-hole championship golf course at the White Clay Creek Country Club. 777 Delaware Park Blvd., Wilmington. DelawarePark.com.
back to top