Wilmington's Big City Revival
The city is growing and evolving at a rate not seen in decades.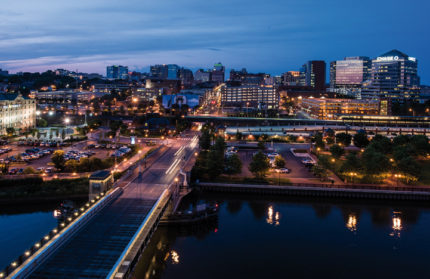 There's a new vibration in the air in Downtown Wilmington—subtle, but as palpable as the first breeze of a coming season. Restaurants, music venues, taprooms and upscale residences are popping up, evolving and growing at a rate not seen for decades.
No longer a backwater town by-passed on the way to Philadelphia or Baltimore, Wilmington is now a destination with a unique story and a new flavor. This burgeoning city is poised to join the family of its larger Northeastern metropolitan kin.
On Wilmington's transformation, Chris Buccini of the Buccini/Pollin Group said in a "Technically Delaware" article "I think Wilmington is a part of a global trend towards urban transformation. The hardest parts of it are behind us. Walk up Market Street and it's different from five years ago. The transformation is well underway. Like Philadelphia, the change is exponential."
Transformation in The Making
At downtown events, like the 43rd annual St. Patrick's Day parade, the spirit of the city is on sharp display. As Irish dancers twirl and bag pipers march, all ages—each with differing connections to the city—are well represented along the parade route. In the background, there's ample evidence that developers are investing in the growing metro economy, while local politicians and businesses are focused on improving the city's future.
In his 2019 fiscal year state-of-the-city address in early March, Wilmington's Mayor Purzycki gave further support for plans for growth, as he detailed budgeted improvements to beautify and enhance the city and boasted that more than half of all Fortune 500 companies call this city their corporate home. Wilmington is indeed the corporate, financial and governmental hub of the Delaware region.
According to the mayor's recent report, Wilmington has some of the most promising startups—like Live Nation at The Queen Theatre and The Wilmington Brew Works—and celebrated new economy retraining programs anywhere. Another mark of the future: three new hotels add to Wilmington's reputation as a destination—the just-completed downtown Marriot Residence Inn at 13th and Market Streets and two hotels scheduled next year for the Christina Riverfront.
This focus on growth and development is designed to make Wilmington an even more livable and appealing center of commerce, arts, culture, finance and technology.
Market Street Dawns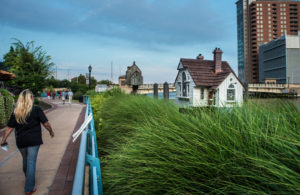 Downtown Market Street is particularly abuzz with new luxury apartments where once only businesses were located. This growing population has spawned a collection of eateries and pubs to satisfy scores of residents and visitors alike.
A prime example of the downtown revival on Market is newly opened Stitch House Brewery, Wilmington City's first brewery/restaurant. According to Stitch's Karen Nallie, "We opened our doors on March 17th to a fully packed house of Wilmington residents and visitors of all ages. And just behind us will be more than 50 luxury apartments with parking."
Just a few doors down on Market Street, The University of Delaware Creamery opened last May to appreciative locals, offering fresh made-in-house ice cream and dairy products direct from the cows at their programs in Newark.
Yet another new Market Street addition, the Farmer and the Cow, an upscale burger bar with a strong drinks and cocktail menu, opened on March 22nd in the wake of one of our several rogue snowstorms.
One of the owners, Mike Day observed, "So far, we've opened the doors and they showed up. They loved the food, they loved the atmosphere, they loved the renovations, and they loved the beer and bourbon selections." He continues, "There's a lot of business getting ready to open here. … The more business you have open, the more restaurants and bars and places you have to bring people downtown. It gives everybody more business."
Another anticipated development is the new 2.3-acre Wilmington Brew Works, opening later this year in northwest Wilmington. Craig Wensell, an owner/brewer formerly with Bellefonte Brewing, described the current plans, "The brews will be on draft at the brewery, and the beers will eventually be available at liquor stores and restaurants." Expect fresh beer in the tasting room, live music and perhaps a restaurant on the site. Look for the building, which will retain the iconic Spanish colonial-style look and red tile roof.
"We're proud to be a part of the continued revival of the city and bring new life to Wilmington. We're going to make history. We're the first production brewery to package and deliver off-site in Wilmington in 64 years," says Craig. "Our products will be unique and will embody our attitude of 'Playfully Pretentious and Easily Enjoyed.'"
Family Fun
Playful is also an apt description for the Riverfront Walk, Rockford Park and Brandywine Park, all providing natural beauty along the walking trails that double as bike trails. There's more space to play at the Brandy-wine Zoo, dating back to 1905.
The Riverfront has special attractions for warm weather family fun. You'll spot the bright yellow Delaware Children's Museum next to the Riverside Walk miniature golf course. And Constitution Yards' beer garden includes backyard games like corn hole, bocce and badminton.
Ride the Riverboat Queen or tour on the River Taxi. There's big boating fun when the tall ship, the Kalmar Nyckle, is in port.
Art lovers of all ages will enjoy the eclectic displays at the Delaware Contemporary, just a short jog from the Riverfront Riverwalk.
Dining Around the City
If you work up an appetite, you'll find dining options at every turn. The Riverfront restaurants—like Chef Dave Banks of Banks' Seafood Kitchen (formerly Harry's Seafood), Big Fish Grill and the Farmer's Market—offer a fitting fresh catch menu.
Veteran fine dining restaurants—like the Columbus Inn, Domaine Hudson, Walter's Steakhouse, and Tonic Bar and Grill—are known for extensive menus and old-school ambiance.
More casual options—like Ernest and Scott, The Taproom, Kelly's Logan House and Chelsea Tavern—also offer a side of music, inspiration and distinctive character.
Meanwhile, the Trolley Square area mixes a bit of art and entertainment with its dining choices. You'll find sustenance for the soul at the Delaware Art Museum and handcrafted art and gifts at the Blue Streak Gallery. Nearby are old guard restaurants—like Gallucio's, The Oyster Bar, the Tap Room, Kid Shelleen's and more—all producing a buzz in the neighborhood.
Of course, the crown jewel of Wilmington dining is the historic Hotel DuPont's Green Room with its world-class dining and Old World traditions. You may just spot a wedding party posing for photos outside the iconic hotel façade.
Small, niche businesses are also thriving and contributing to the city's revival. Trolley Square is also home to the crunchy Delaware Food Exchange and Honey Bee Seasonal Kitchen and Market, both dedicated to locally sourced food that even vegans can love. For something with a French sensibility and plenty of butter, head for De La Coeur Café, a pastry shop where a husband and wife team recently expanded to a second location and are working to make a regional brand come alive.
Long Live the Queen … And Music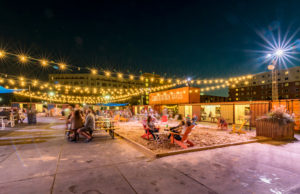 Excitement surrounds the new chapter for The Queen Theatre, as the entertainment venue will be part of Live Nation House of Blues division, but will operate under its own royal name. For those who don't know, House of Blues was started in 1992 by Hard Rock Cafe founder Isaac Tigrett, actor Dan Aykroyd and Judy Belushi, wife of the late comedian John and was later purchased by Live Nation in 2006. According to Chris Buccini, "That's big city stuff. We're pumped!"
The Queen's new reign is just part of the rich musical heritage in Wilmington. Renown Wilmington native Cab Calloway, a 1930s musician and orchestra leader, is the namesake of a school focusing on the arts and music. George Thorogood, a blues and rock musician and songwriter famous for songs like "Bad to the Bone," also hails from Wilmington.
As does David Bromberg, a singer and songwriter of bluegrass, blues, folk, jazz, country and western, and rock and roll. Multi-instrumentalist Bromberg occasionally performs at Wilmington's Grand Opera House and is a major donor to the local New World Café Live.
There's plenty more music to be found around Wilmington at the Baby Grand, Candlelight Theatre, The Delaware Theatre Company, We Kids Rock, Accent Music, The Music School of Delaware and The Playhouse on Rodney Square.
Big City/Small Town Community
The consensus is that Wilmington's future looks promising. The city government and residents have developed a citywide, citizen-driven comprehensive plan—Wilmington 2028—that will orchestrate growth for the next decade, covering infrastructure, safety, education, training and employment. Developers have approximately 1000 new housing units planned or under construction in the Downtown District.
Wilmington's revitalization has caught the eye of national investors in both residential and commercial growth. More apartment buildings are opening each year.
The future is also bright for Rodney Square, the city's main public park, with a public/private partnership planning renovations to improve the attractiveness of this urban oasis for visitors and residents to enjoy.
The growing demand for urban living also augers well for Wilmington. According to Robert Hererra, founder of The Mill, a successful co-working center in Downtown Wilmington, there's a demographic shift happening as more millennials arrive, helping local businesses as renters, consumers and employees.
Although it's difficult to fully predict the amount of change underway, there are clear signs of growth in all directions.
And for those seeking harder data: if home and rental prices are an indication, the families attracted to Wilmington are betting on a good return on investment and a strong cultural environment to call home.
The excitement is indeed palpable.
Wilmington Summer Events
Through June
Delaware Children's Museum Speedway. Experience the thrill of physics in the "DCM Speedway," where moving the handlebars from side to side propels kids around the track. 550 Justison St. Tues–Thurs, 10 to 3; Fri, 10 to 8; Sat–Sun, 10 to 5. $8.75. 302-654-2340; DelawareChildrensMuseum.org.
Through September 2
The Delaware Art Museum. Through Sept. 2, "African American Art: Migration and Modernism." June 30–Sept. 9, "Danny Lyon: Memories of the Southern Civil Rights Movement;" "The Montgomery Bus Boycott: Drawings by Harvey Dinnerstein and Burton Silverman." 2301 Kentmere Pkwy. Wed, 10 to 4; Thurs, 10 to 8, free after 4; Fri–Sun, 10 to 4. $6–$12, free on Sun. 302-571-9590; DelArt.org.
Through 2019
Winterthur Museum, Garden & Library. Through 2019, "Follies: Architectural Whimsy in the Garden," garden structures. Through Aug. 5, "Truths of the Trade: Slavery and the Winterthur Collection." 5105 Kennett Pk. Tues–Sun, 10 to 5. $6–$20. 800-448-3883; Winterthur.org.
Ongoing
Delaware Park. A multi-faceted gaming facility offering live seasonal thoroughbred racing, table games, over 2,300 slot machines, Keno, casual and elegant dining options and an 18-hole championship public golf course. 777 Delaware Park Blvd., Wilmington. 800-417-5687; DelawarePark.com.
June & August, First Fridays
Art Loop in Wilmington. Monthly, self-guided art exhibits at galleries, studios, museums and alternative art spaces in and around Wilmington. 5:30 to 9 pm. Free. 302-576-2100; ArtLoopWilmington.org.
June 1
Backyard Bash at Delaware Art Museum. Food trucks, art activities, arts vendors, lawn games and bar service. 2301 Kentmere Pkwy. 6 to 10. $5–$10. 302-571-9590; DelArt.org.
June 5–9
Annual Greek Festival at Holy Trinity Greek Orthodox Church. It's a bit of Greece as you enjoy food, dancing, music and culture at this popular festival. 808 N. Broom St. Daily 11 to 11. 302-654-4446; GreekFestDE.com.
June 6–August 29, Wednesdays
Bike & Hike & Brews at Hagley Museum & Library. Stroll, jog or cycle the three-mile loop then, on selected evenings, enjoy Dogfish Head craft beers. Bring a picnic or dine at the Belin House Organic Cafe. Rt. 141. 5 to 8 pm. $3. 302-658-2400; Hagley.org.
June 8–9
Bromberg's Big Noise Festival. Enjoy a Mid-Atlantic Americana festival with the feel of a private party. Tubman Garrett Riverfront Park, Rosa Parks Dr. Fri, 7 to 10 pm; Sat, 12 to 10 pm. $28–$125. BigNoiseFestival.com.
June 9, 23
DE Museum of Natural History. June 9, World Ocean Day Celebration, 9:30 to 2; June 23, Family Fun Day in the great outdoors with hands-on activities, live animals, trail hikes, 9:30 to 2. Through Aug., $3 Thursdays. Mon–Sat, 9:30 to 4:30. 4840 Kennett Pk. $7–$9. 302-658-9111; DelMNH.org.
June 10–17
St. Anthony's Italian Festival. Rides, food, entertainment. 9th & DuPont St. Check website for times. $5. Benefits the elementary school. 302-421-2790; StAnthonysFestival.com.
June 20–23
Clifford Brown Jazz Festival. The largest, free, outdoor jazz festival on the East Coast celebrates the legacy of Wilmington's own trumpeter, Clifford Brown. Rodney Square, 10th & Market Sts. 302-576-2139; CliffordBrownJazzFest.com.
June 23–24
New Castle County Ice Cream Festival. Enjoy sunshine in the park with vendors, music, food, crafts and delicious ice creams. Rockwood Museum & Park, 4651 Washington St. Extension. Sat, 10 to 7; Sun, 10 to 5. $5; children, free. 302-690-5555; RockwoodIceCream.com.
July 7, August 25–September 2
Kalmar Nyckel. July 7, Wilmington Pirate Festival, pirate and maritime-themed activities, 10 to 4; Aug. 25–Sept. 2, Kalmar Nyckel sails out of Historic New Castle and anchors at the New Castle Pier. 1124 E. 7th St. 302-429-7447; KalmarNyckel.org.
July 13–29
Delaware Shakespeare Festival at Rockwood Museum & Park. Bring a blanket, pack a picnic and enjoy Much Ado About Nothing. 4651 Washington St. Ext. Wed–Sat, gates open 6:30; Sun, at 4:45. $13–$17. 302-415-3373; DelShakes.org.
July 20–21
Ladybug Music Festival. All-day block party with lots of entertainment and great fun at 2nd & Loma. Free. TheLadyBugFestival.com.
July 28
23rd People's Festival—Tribute to Bob Marley. A celebration of music and arts to honor Bob Marley's legacy. Tubman-Garrett Riverfront Park, Rosa Parks Dr. 12 to 10 pm. PeoplesFestival.com.
July 28–29
PA Guild of Craftsmen Fine Craft Fair. 200 crafts
people participate. Chase Center on the Riverfront, 815 Justison St. Sat, 10 to 6; Sun, 10 to 5. $8. 717-431-8706; PACrafts.org.
August 3–5
Riverfront Blues Festival. The blues are back! An outdoor music festival at Tubman-Garrett Riverfront Park, Rosa Parks Dr. Check website for info. 302-576-2139; RiverfrontBluesFest.com.
August 25
Delaware Burger Battle 2018. Delaware's top chefs put their best burgers forward. Benefits Ministry of Caring's Emmanuel Dining Room. Cauffiel House, 1016 Phiadelphia Pk. Noon to 3. Tickets good for all restaurant booths. DEBurgerBattle.com.
August 26
The August Quarterly Festival Celebration 2018. The nation's oldest African-American festival celebrating freedom of religion and speech and the right of assembly. Tubman-Garrett Riverfront Park, Rosa Parks Dr. 302-655-5231; AugustQuarterly.org.
September 8–9
Brandywine Festival of the Arts. Arts and crafts from all over the country. 1001 North Park Dr. $5. 302-419-6648; BrandywineArts.com.
back to top