Visit Wilmington
Now on to Delaware. Midway between New York City and Washington, D.C., Wilmington's cultural attractions, trendy LOMA district, Art Loop, Riverfront district, restaurants, theater and music scene—there's a Theater Row and plenty of summer concerts—plus tax-free shopping, make it a tourist destination.
Summer Entertainment
Summer means non-stop festivals and fun in Wilmington—from the 23rd Annual People's Festival tribute to Bob Marley to Riverfront Blues! For more events, see "Wilmington's Riverfront."
Although the theater season resumes in earnest in September—highlighted by a Broadway experience at The Playhouse on Rodney Square—you can still catch a few performances at The Grand, located in The Grand Opera House and every bit as impressive as its name. Music from Jerrod Nieman, July 6, comedy from John Mulaney, July 23, and '60s and '70s nostalgia from the Happy Together Tour, Aug. 7. 818 N. Market St. TheGrandWilmingtonDE.org.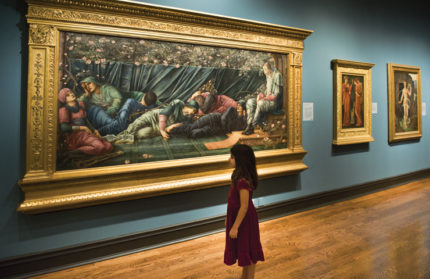 Delaware Art Museum
Next, a visit to one of Wilmington's cultural gems, the Delaware Art Museum, located in a lovely leafy neighborhood and set on 12 acres that include an outdoor Sculpture Park and Labyrinth. Check out Craig Colorusso's meditative installation in the gardens, "Sound + Light" with Sun Boxes and Cubemusic (you need to see the online video), along with yoga, tai chi, artist chats and more.
The world-class permanent collections include treasures from Howard Pyle's America's Golden Age work to Dale Chihuly's contemporary glass artistry and a stunning pre-Raphaelite collection—a draw in themselves.
Summer exhibits include "The Cover Sells the Book: Transformations in Commercial Book Publishing," through Aug. 27; "Assemblage: A Regional Collection of Women Artists," through Sept. 3; and "The Original Mad Man: Illustrations by Mac Conner," through Sept. 17, featuring the lively work of one of America's original "Mad Men." Open Wed–Sun. 2301 Kentmere Pkwy. DelArt.org.
Riverfront Wilmington
Although we covered the waterfront, so to speak, along the banks of the Christina River in our June issue, Riverfront Wilmington merits a few more words here. Walk the 1.3 mile Riverwalk, have drinks or dinner at the many restaurants—all with great patios and decks—play some mini-golf, catch the River Taxi, sail on the tall ship Kalmar Nyckel, or check out a museum—Delaware Center for the Contemporary Arts, 200 S. Madison St. TheDCCA.org, and The Delaware Children's Museum, in the big yellow building along the Riverfront, 550 Justison St. DelawareChildrensMuseum.org.
Nature lovers will head for DuPont Environmental Education Center on the 212-acre Russell W. Peterson Urban Wildlife Refuge, home to bald eagles, beavers, dragonflies, turtles, butterflies and other wildlife. 1400 Delmarva Ln. DuPontEEC.org.
The Riverfront also sports (sorry) a ballpark and the Delaware Sports Museum & Hall of Fame. Daniel S. Frawley Stadium is home to the Wilmington Blue Rocks, a top minor league baseball club affiliated with the Kansas City Royals, hosting 70 home games a year. Check website for schedule and special theme nights. 801 Shipyard Dr. BlueRocks.com/Stadium; DESports.org.
Delaware Museum Of Natural History
Outside Wilmington, on Scenic Route 52—which is worth a detour—is a special interest museum, the Delaware Museum of Natural History. Discover the natural world through exhibits and special programs, including a walk over the Great Barrier Reef and in a Dinosaur Gallery. The summer exhibit, "In the Dark," sheds light on some of the mysteries of plants and animals adapted to living in darkness from caves, the deep sea, forests at night and underneath the ground. "Game of Thrones" lovers should come back September 30 for the special exhibit, "Here Be Dragons," exploring human/dragon culture. Open Mon–Sun. Rt. 52, S. of Centreville, DE. DelMNH.org.
Marshall Steam Museum
Another worthwhile stop sure to delight kids of all ages is the Marshall Steam Museum at Auburn Heights Preserve, home to the world's largest collection of operating steam cars and a 1/8-size live steam railroad on the 250-acre grounds, which are part of the DE State Park system.
Visit this fall for the Invitational Historic Auto Display, when the spotlight is on roadsters and runabouts, Sept 24. Or visit on one of their "Steamin' Days," first Sundays through November, to climb into an antique automobile or board a train and experience turn-of-the-20th-century travel. Open mid-March–Dec. 3000 Creek Rd., Yorklyn, DE. AuburnHeights.org.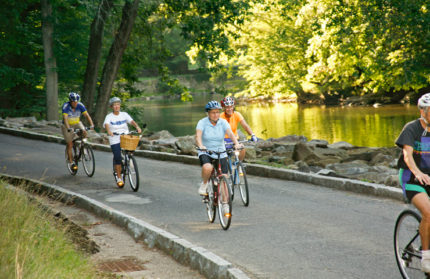 Hagley Museum
Northwest of Wilmington is where the du Pont story began—a story integral to the history of Delaware. On 230 acres along the Brandywine River are the Hagley Museum, site of the first du Pont black powder mills, and Eleutherian Mills, the 1803 manor house and home to five generations of du Ponts.
Learn more about the history of American industry, the du Pont family and DuPont corporation (inventors of nylon, Teflon and Kevlar, among other things) through exhibits and working models. Mill buildings and a workers' community recall life in mid-19th-century America's largest black powder works. A French-style garden and an Italianate garden are just a sample of the places to explore on the walkable grounds.
Join the popular "Bike and Hike" tours on Wednesdays, 5 to 8 pm, through Sept. 13, plus "Bike, Hike and Brews" on July 12, Aug. 2 & 16, which include craft beer from Dogfish Head Brewery. Sept. 19 is the Hagley Car Show, with 500 antique and restored cars. Open daily. 200 Hagley Rd., Wilmington (for GPS). Hagley.org.
Delaware Park Casino
Are you feeling lucky? Southwest of Wilmington is where you'll find Delaware Park Casino, home to live thoroughbred racing on the track and slot machines and table games (blackjack, roulette, craps, poker) in the casino. There's also live entertainment and dining, plus a world-class 18-hole championship golf course at the White Clay Creek Country Club. 777 Delaware Park Blvd., Wilmington. DelawarePark.com.
back to top