Wilmington's Riverfront
If you build it along the riverfront, they will come.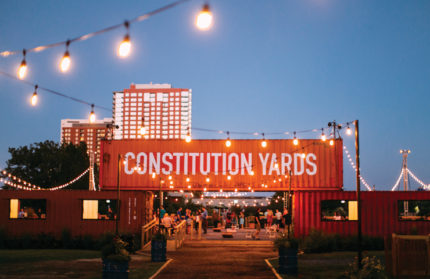 It's said that great cities are built on rivers. And it follows that smart cities develop their riverfronts—think of what Baltimore created at Inner Harbor.
Yet the 20-plus-year transformation of a polluted industrial wasteland into a thriving destination along Wilmington's Christina River has still not been discovered by enough day-trippers and families in our area. We think that needs to change … and no later than this summer.
Head for Wilmington's Riverfront and discover diverse restaurants, trendy retail and a wildlife refuge as you watch tall ships, river taxis and rowing sculls. Come for the sports and entertainment, museums and food, including the newish beer garden at Constitution Yards.
Or visit just to stroll along the Riverwalk on your way to the concerts, festivals and community celebrations that fill the summer calendar. Your choice. (See the Events page, following this article.)
Sports and Entertainment Options
Whether you're a spectator or participant, you'll find plenty of fun on the Riverfront. Check out Riverwalk Mini-Golf for a chance to putt 18 holes, all with water views. Try your skill on the course (wacky balls are available for extra fun), then reward yourself with a visit to the Golf Shack for ice cream or water ices.
To get your heart rate up, head for Altitude Trampoline Park, which got an upgrade to the facilities and excitement. The wall-to-wall trampolines offer a special challenge, as do the obstacle course, extreme dodge ball games, and climbing wall. You can even live your fantasy of slam dunking a basketball, with a little help from the trampoline bounce.
Armchair athletes can nab their choice of the 6500 seats at Frawley Stadium, one of the first destinations making its home along the Riverfront about 20 years ago. Home to the Wilmington Blue Rocks, a Class A affiliate of the Kansas City Royals baseball team, the ballpark hosts about 70 home games each year, and more if there are playoffs.
Like many other minor league baseball parks, Frawley Stadium keeps it loose with plenty of theme nights, Friday fireworks, Sunday Family Fundays, and the popular Cowboy Monkey Rodeo scheduled for July 24 and 25 (ask a fan to explain). For more fun, be part of the High Five tunnel the players run through going to the field, get pre-game autographs from players and a post-game thrill of running the bases.
For indoor entertainment, choose the Penn Cinema, home to Delaware's only IMAX theater. You can catch the latest from the Fast & Furiousfranchise or the biggest summer blockbuster.
For a bit of culture, there's the Delaware Theatre Company, the first arts and culture organization to locate along the Riverfront. This resident professional theater company produces the classics, plus contemporary options in an intimate venue, complete with Talkback sessions after select performances and acting classes for those with the bug. They're back next season, starting September 13 with Something Wicked This Way Comes.
All Kinds of Boats
Though you'd expect boats along a river, would you expect a tall ship? See for yourself at the south end of Riverwalk. The Kalmar Nyckel is a hand-built replica of the ship that brought early settlers from Sweden centuries ago. Check out the ship's ten-story mast and the intricate carved, gilded figurehead on the bow—Leo the Lion.
You can walk the decks to test your sea legs, go on a short cruise, or return for a special pirate sail when you join the salty crew, hoist the Jolly Roger and perfect you nastiest "Arrrrr." The Pirate Festival, July 8th at Fort Christina and Kalmar Nyckel Shipyard, will feature pirate re-enactors plus demos, ship tours, contests, music and more. In Delaware through October 12, the ship will begin sailing July 28th between the Kalmar Nyckel Shipyard, Cape May-Lewes Ferry Terminal and Historic New Castle—its first time sailing out of New Castle in over 10 years.
If a smaller scale vessel is more to your taste, hop aboard the 29-passenger River Taxi at one of its six stops along the Riverfront. Plan on a Family Night cruise on Tuesday or Thursday—family karaoke on Tuesday and an environmental focus on Thursdays. Other options include Wednesday on the Water Wine cruise or a history cruise to learn more about the Riverfront as you see the sights from a new perspective.
Another option, for those who want to row their own boat, is to join the Wilmington Rowing Center, housed a bit east of Riverwalk in their new boathouse. Welcoming racers and recreational rowers alike, the rowing center has called the river home for 30 years. Sign up for their Learn-to-Row classes that start indoors on rowing machines and in a tank, then graduate to rowing in an 8-person shell with experienced rowers on the river. Or admire the shells and sculls as they flit along the surface of the water.
Oh, and the Riverboat Queen, once the site of all-you-can-eat crab fests, can be chartered for private events, paddlewheel included.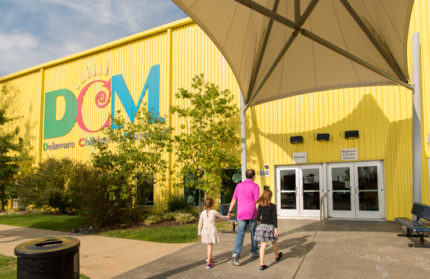 Three Museums
Kids, art fans and nature lovers all have reasons to make the Riverfront a destination.
The big yellow building with 37,000 square feet of interactive, hands-on fun is home to the Delaware Children's Museum. This eye-catching landmark is known for playful learning with indoor and outdoor activities, highlighted this summer by a "kiddie car wash" and an Oobleck pool—get out your Dr. Seuss books to find out more. Exhibits range from the 30-foot Stratosphere climbing structure to the Bank On It finance corner.
A block or so off the river is the Delaware Contemporary, which describes itself as "a non-collecting museum of contemporary art and a dynamic gathering place for the exploration of new ideas at the intersection of art, design and technology." Built in a former railroad passenger car factory, the industrial chic space houses changing exhibits in seven galleries, 30 artists' studios and a fantastic museum shop.
The city, marsh and river meet at the south end of Riverwalk and the edge of the 212-acre Russell W. Peterson Urban Wildlife Refuge, home to the DuPont Environmental Education Center, along with bald eagles, turtles, beavers and dragonflies. You'll find a 10-acre ornamental garden, quarter-mile pond loop, and four-story environmental center that host events like Paint and Sip (June 1), geocaching (June 9), and canoeing on the Christina River (June 24).
Food on the Riverfront
And of course there are dining options galore along Riverwalk—from national chains like Joe's Crab Shack to Delaware institutions like Harry's Seafood Grill, Big Fish Grill and Iron Hill Brewery, to newer arrivals like Ubon for Thai food and Del Pez, a Mexican gastro pub with a bar scene that's also family friendly.
In a historic warehouse, The Riverfront Market is a smaller version of Philly's Reading Terminal Market, with local farm produce and vendors serving up casual eats.
Last year's star addition was Constitution Yards, a community beer garden named for the former shipping yards. This eat-drink-relax outdoor space mixes food, drink and outdoor games for all ages—sandboxes to giant Jenga. Choose from draft beers, others in cans, plus wine, frozen drinks and spirits, with casual dining options served from repurposed shipping containers under strings of lights. This pop-up morphs into an ice skating rink in winter. 
To plan your trip, visit RiverfrontWilm.com.
---
Wilmington Events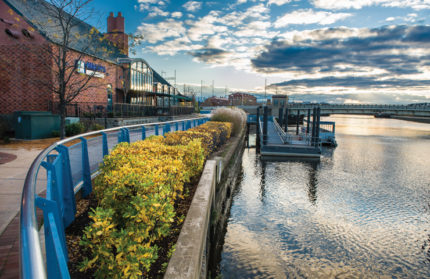 THROUGH JUNE
Delaware Children's Museum. Speedway, Experience the thrill of physics in the "DCM Speedway," where moving the handlebars from side to side and using physics propels kids around the track. 550 Justison St. Tues–Thurs, 10 to 3; Fri, 10 to 8; Sat–Sun, 10 to 5. $8.75. 302-654-2340; DelawareChildrensMuseum.org.
THROUGH JULY 23
The Grand Opera House. June 3, R&B Funk Soul Comedy Jam; June 9, Joe Jackson "Fast Forward Tour;" June 24, Dance4Life performs "Inventions;" July 23, John Mulaney: Kid Gorgeous. 818 N. Market St. 302-652-5577; TheGrandWilmington.org.
THROUGH OCTOBER
Sail on the Kalmar Nyckel. A wide array of sailing opportunities are available—haul lines, set sails, become a "pirate" with the crew or just take a day sail or river cruise. 1124 E. 7th St., Wilmington. 302-429-7447; KalmarNyckel.org.
JUNE 3–SEPTEMBER 17
The Delaware Art Museum. June 3–Aug. 27, "The Cover Sells the Book: Transformations in Commercial Book Publishing, 1860-1920"; June 24–Sept. 17, "The Original Mad Man: Illustrations by Mac Conner"; July 14–23, "Craig Colorusso: Sound + Light." 2301 Kentmere Pkwy.Wed, Fri–Sun, 10 to 4; Thurs, 10 to 8. $6–$12. 302-571-9590; DelArt.org.
JUNE 6–10
Annual Greek Festival at Holy Trinity Greek Orthodox Church. It's a bit of Greece as you enjoy the wonderful food, dancing, musical entertainment and culture at this popular festival. 808 N. Broom St. Daily 11 to 11. 302-654-4446; GreekFestDE.com.
JUNE 7–SEPTEMBER 13, Wednesdays
Bike and Hike at Hagley Museum & Library. Stroll, jog or cycle the three-mile loop then, on selected evenings, enjoy Dogfish Head craft beers and Woodside Farm Creamery ice cream. Rt. 141. 5 to 8 pm. $2. 302-658-2400; Hagley.org.
JUNE 8
An Evening Celebrating Wilmington's Public Gardens. Enjoy a progressive picnic supper hosted by Wilmington's public gardens. Wine and cheese at Goodstay Gardens, light fare in the Jasper Crane Rose Garden, dessert at the DCH gardens in Trolley Square. 5 to 8:30. $15. Rain date, June 9. 302-658-6262; TheDCH.org.
JUNE 8–SEPTEMBER 4
DE Museum of Natural History. June 24, Family Fun Day, celebrate the great outdoors, focusing on fun in nature with lots of hands-on activities, live animals, trail hikes and more, 9:30 to 2; June 24–Sept. 4, In The Dark, discover the mysteries of the dark via electronic, mechanical and computer interactives. Mon–Sat, 9:30 to 4:30. 4840 Kennett Pk. $7–$9. 302-658-9111; DelMNH.org.
JUNE 9
Summer Music Festival at Delaware Art Museum. The Museum is hosting an outdoor festival with live reggae, Latin, hip hop, and dance performances. Local food trucks, artist demonstrations, cocktails, art activities and craft vendors. 2301 Kentmere Pkwy. 6 to 10. $5–
$10. 302-571-9590; DelArt.org.
JUNE 11–18
St. Anthony's Italian Festival. Rides, fabulous food and entertainment. 9th & DuPont St. Check website for times. $5. Benefits the Elementary School. 302-421-2790; StAnthonysFestival.com.
JUNE 21–24
Clifford Brown Jazz Festival. The largest, multi-day, free, outdoor jazz festival on the East Coast celebrates the legacy of Wilmington's own trumpeter Clifford Brown. Rodney Square, 10th & Market Sts. Free. 302-576-3095; CliffordBrownJazzFest.com.
JUNE 24–25
New Castle County Ice Cream Festival. Vendors, music, food, crafts and delicious ice creams. Rockwood Museum & Park, 4651 Washington St. Extension. Sat, 10 to 7; Sun, 10 to 5. $5; children, free. 302-690-5555; RockwoodIceCream.com.
JULY 14–30
Delaware Shakespeare Festival at Rockwood Museum & Park. Bring a blanket, pack a picnic then enjoy Henry V. 4651 Washington St. Ext. Wed–Sat, gates open 6:30; Sun, gates open 4:45. $13–$17. 302-415-3373; DelShakes.org.
JULY 20–21
Ladybug Music Festival. The line-up is coming soon for this all-day block party with lots of entertainment and great fun at 2nd & Loma. Free. TheLadyBugFestival.com.
JULY 29
23rd Annual People's Festival—Tribute to Bob Marley. A celebration of music and arts, held to preserve and honor the legacy of Bob Marley. Tubman-Garrett Riverfront Park, Rosa Parks Dr. Noon to 10 pm. PeoplesFestival.com.
JULY 29–30
PA Guild of Craftsmen Fine Craft Fair. Almost 200 craftspeople participate. Chase Center on the Riverfront, 815 Justison St. Sat, 10 to 6; Sun, 10 to 5. $8. 717-431-8706; PACrafts.org.
AUGUST 4–6
Riverfront Blues Festival in Wilmington. The blues are back! This outdoor music festival is held at Tubman-Garrett Riverfront Park, Rosa Parks Dr. Check website for line-up and tickets. 302-576-3095; RiverfrontBluesFest.com.
AUGUST 20–27
The August Quarterly Festival Celebration 2017. The nation's oldest African-American festival celebrating religious freedom, freedom of speech and the right of assembly. Tubman-Garrett Riverfront Park, Rosa Parks Dr. 302-655-5231; AugustQuarterly.org.
AUGUST 26
Delaware Burger Battle 2017. Delaware's most competitive chefs will put their best burgers forward. Benefits Ministry of Caring's Emmanuel Dining Room, which meets the immediate needs of Wilmington's hungry Cauffiel House, 1016 Phiadelphia Pk. Noon to 3. Ticket of admission good for all restaurant booths. DEBurgerBattle.com.
back to top