Eastern Shore
A world away in under two hours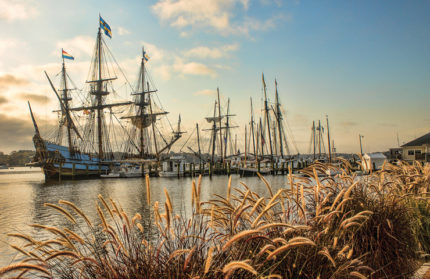 Summer weekend, about 5 p.m., we're in the car, top down, and headed south on Delaware's Route 1. At the twin golden peaks of the Chesapeake & Delaware Canal bridge—officially, the Senator William Roth Bridge—we begin to feel free. We're ready for a quick visit to Maryland's Eastern Shore.
By 6:30, we're in Chestertown, headed for Rock Hall and the Osprey Point Inn, about 20 minutes southwest on Route 20. In Chestertown, we stop. The air off the Chester River is fresh, warm and welcoming. We breathe in. In the harbor, a sloop is dropping it sails and then its anchor.
It feels like we're many, many miles from home.
Checking Out Chestertown
We have reservations at a local favorite for dinner, Blue Heron Café, but we're early and decide to check out what's new in town. O'Connor's Pub, we note, features Irish food, as well as favorite Chesapeake fare. Cafe Sado offers sushi and Thai food. Luisa's Cucina Italiana has outstanding reviews, especially for its Mediterranean seafood … All look tempting. We'll save them for another visit.
The Blue Heron Café is outstanding. We order Blackened Scallops and Clams Casino to start, then Soft-Shelled Crabs and the Duckling. We decide to drink local and order a 2014 Clovelly Rosé, Chestertown's own.
On to Rock Hall
Our room at Osprey Point is lovely. Four-poster bed, sitting room, view of the harbor. Couldn't ask for better after our drive. We're comfortable. It's nearly midnight, but we're wide awake and enjoy the moonlight view over the water.
In the morning, we take a stroll to the Bay. Another warm, sunny, breezy day. A crab boat is returning to the docks. A yacht is taking off. Gulls and, aptly enough, osprey are diving and calling. Geese, swans and ducks are on the water.
After breakfast, we're off. The Eastern Neck Wildlife Refuge is about 15 minutes away. We follow the paths, looking for osprey nests, young eagles learning to fly, flocks of bluebirds and more. I spot a heron and see swarms of swallowtail butterflies and several leopard frogs.
In the afternoon, we visit the Waterman's Museum in Rock Hall. The Chesapeake life of oystering and crabbing, sadly, was indeed hard. We're drawn to the antique photos, the carvings, and a full-size, though tiny, shanty.
As the day wanes, we check out Haven Harbour Marina, a different kind of B&B—Bed & Boat, a marina and resort. We talk with a relaxed-looking couple, returning their boat from a week-long charter on the Chesapeake Bay. They offer wine. I check out a list of boats to charter. And start to dream.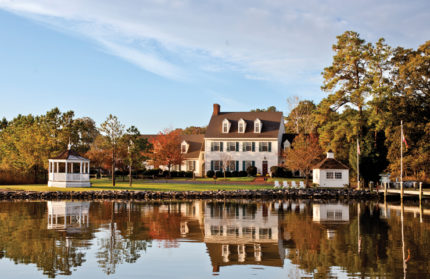 Feasting on Crab
Timed for the sunset, dinner is at the Waterman's Crab House, at a table on the deck overlooking the Bay Bridge. A local rock band bangs out hits as we enjoy a Waterman's ale (brewed in Delaware, but local enough). Next, we tuck into a steamed crab pot: crabs, shrimp, clams, mussels, red skin potatoes and corn on the cob. I'm sated and satisfied as we head back to the Inn.
We plan to sleep late. The waterfowl don't. We watch as they swim and dive.
Return to Chestertown
After a light breakfast at the Inn and a swim in the pool, we pack up and head back to Chestertown, taking the long way, up the coast around Fairleigh Creek, over to Great Oak Manor. What a view! We check out the bicycles and kayaks. Our next getaway!
On to Chestertown. First stop is the Historical Society of Kent County, in an 18th-century home. Its collections of writings and photos are impressive. I linger over the antique maps.
Afterwards, we walk through downtown, wandering among galleries that have sprung up and added to the growing reputation as an art center. The RiverArts Studio, Carla Massoni Gallery, the Artists Gallery: all have enchanting displays, mostly of local wildlife, primarily by local artists.
We also pass the Garfield Center at the Prince Theater, but skip the matinee.
The Chesapeake Wine Trail … on the Way Home
It's getting late and we've planned another stop—Crow Vineyard, on Route 213 in Kennedyville. A half hour later, we're tasting their award-winning wines—a sauvignon blanc and rosé. Mmmm. Not too much: we still have a drive ahead. So we purchase several bottles and tuck them in the trunk, together with grass-fed steaks.
I realize we're on the Chesapeake Wine Trail. BAD Alfred's Distilling and Clovelly Vineyards are back in Chestertown. Tilmon's Island Winery is back in Sudlersville. But Broken Spoke Winery in Earleville—a lovely quaint location tucked in among the farm's sheep, cattle and vines—and Chateau Bu-De Vineyard & Winery in Chesapeake City—with expansive views of the Bohemia and vines that flow to the water—are both on Route 213. Not open, but we look at their facades. Perhaps we'll catch these, as well as the Turkey Point Vineyard in North East and Dove Valley Winery in Rising Sun next time around.
We're back home by 7, savoring a full weekend. And, making plans for the next visit.
More at KentCounty.com.
---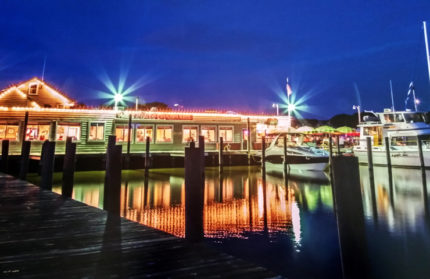 KENT COUNTY EVENTS
July 1–4
Celebrate July 4th in Kent County. A beach party, Waterman's Day, fireworks, parade and more. Visit website for details.
July 8 & 22, August 5 &19
Music in the Park Summer Concert Series. Fountain Park, Chestertown.
7 to 8:30.
July 20–22
Kent County Fair. Great food, arts, tractor pulls, rides, more. Kent Ag Center, 21349 Tolchester Beach Rd., Chestertown.
August 5
Betterton Day. Parade starts at 10:30 down Main St. followed by rides, crafts, food and vendors at Betterton beach.
August 11–13
Pirates & Wenches Fantasy Weekend. Rock Hall's theme party with a sea shanty sing-along, rum tasting, decorated dinghy contest, a Buccaneer's Ball and more.
September 7–10
Chestertown Jazz Festival. A collection of performers gather in multiple venues in Kent County in Chestertown and Rock Hall.
For more about tevents in Kent County, visit KentCounty.com/events/annual.
back to top