Local Student Athletes Win on a Big Stage
The best head for Oregon, Penn State, Duke and other top colleges.
What an incredible season! Josh Hoey of Bishop Shanahan's track team set a national record in the 800 meter race! The Villa Maria Academy Hurricanes swam for their 16th straight district title! And Malvern Prep's Michael Beard finished the wrestling season with 144 wins and 0 losses!
Track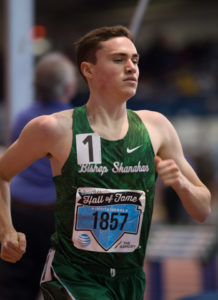 Track is a solitary, unforgiving sport. It lacks the camaraderie of football or soccer. There are few winners. First place gets gold. Second place, though only by hundredths of a second, barely gets mentioned.
Josh Hoey, on the other hand, gets mentioned. The Bishop Shanahan senior ran 1:47 in the 800 meters—considered by many as track's toughest event—a national high school record by more than a second and a half! He's previously won the mile at the Millrose Games this year and at the Penn Relay Carnival the year before. Next year, he'll attend the University of Oregon.
If you're wondering, the world record for running 800m is 100 seconds … plus 91 hundredths of a second. Hoey is now at 107 seconds.
Wrestling
Malvern Prep senior Michael Beard's record is 53-0. He's won his last 144 matches. Straight! What's left to say? He's won National Preps, Prep States, Beast of East, Ironman, Escape the Rock … and is committed to Penn State.
And the Friars' wrestling dynasty doesn't end with Beard. Seniors Chris Hisey, All-American, recently earned his 200th career win; PJ Crane, finished 4th at National Preps and was the Prep State champ; and Brendan Devine, All-American, was 4th at National Preps. All three will go the Naval Academy next year. Mark Salvatore was 2nd at Prep State, 3rd at National Preps and committed to Franklin & Marshall. The Friars topped the Inter-Ac for the 4th straight year and were ranked 15th in the country.
In Delaware, Tower Hill was the Delaware Independent Schools Conference team champion, with a 9-2 dual meet record. Their seniors, Luke Frietz and William Borda, however, will be playing football next year at Johns Hopkins and Grinnell, respectively.
Wilmington Friends was 10-2 for the season. Senior captains were John Blackwell (10-2), headed for Connecticut College to play lacrosse, Jack Coons (12-13), who's undecided, and Dalton Ramsey (10-5), committed to Cabrini College for baseball. All three are Delaware All-State wrestlers.
Boys' Basketball
Ranked 3rd among independent schools in Pennsylvania, Westtown School dominated the Friends League (10-0) for the second year. This year, forward Cam Reddish, next year headed to Duke, led the team, scoring 26 ppg (points per game). Jake Forrester, small forward, averaging 12 ppg and 10 rpg (rebounds per game), will go to the University of Indiana.
At the Hill School, the Rams finished 17-6 for the season, helped by top scorer, forward Nick Alikakos (13 ppg, 8 rpg). He has several offers but has yet to sign. The second leading scorer, with 12 ppg, was senior guard Chase Audige, who's committed to William & Mary.
Girls' Basketball
Girls' basketball was big in Delaware. The Sanford Warriors were 10-0 in the Delaware Independent Schools Conference. Lauren Park-Lane, senior point guard, averaged 16 ppg and had 9 apg (assists per game). Kanisa Tucker, shooting guard, scored over 1,000 points and averaged 18 ppg. And Allie Kubek, a junior, shot 66% at forward and averaged 17 ppg, 11 rpg. All have drawn interest from Division 1 schools.
Tatnall followed Sanford closely in the regional standings, ending the season at 13-5. The Hornets were led by two seniors, point guard Kennedy Brown and forward Shelby Bailey-Smiley. Brown was the Hornets' primary ball handler, averaging 13 ppg and will play at Rowan University. Bailey-Smiley averaged 14 ppg with 9 rpg, and had 13 double-doubles this year. She's still undecided.
Squash
Agnes Irwin won its first Inter-Ac title in squash since 1995, headed by Lily Zelov and Rose Lawrence. Zelov is ranked #16 in U19 in the U.S. and will be off to Cornell next year. Lawrence is ranked #45 in U19 and has committed to Drexel.
The Baldwin School was 3rd in the National Championship, though Meghna Sreedhar, its number one player, is only a sophomore. Its senior co-captains, Sara Syed and Grace Steelman, will head to Brown and Harvard next year.
The two top players at Tower Hill—squash teams are co-ed in Delaware—were Ben Schiltz and Jennifer Cleary. Both sophomores, Cleary has already been recruited by the University of Virginia on a golf scholarship. Schiltz was the school's MVP, playing the number one position for the entire season. The team's one senior, Bo Anderson, is heading to Washington University in St. Louis on a baseball scholarship.
Swimming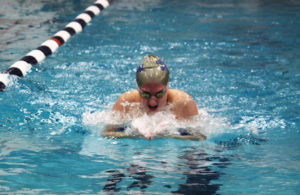 16 straight! Villa Maria Academy scored it 16th straight district title in the PIAA AA Girls State Championship. Katherine Fronczak, Kaitlyn Agger and Alexa Turco finished 1-2-3 in the 500 freestyle. Senior Kira Buchler was 1st in 100 backstroke. Agger, the Hurricanes' senior captain, will attend Wingate University next year, while Nina Smith, the other senior captain, who finished 2nd in the 50-yard freestyle, will go to Bucknell. Next year, the team will contend for their 17th straight, with Turco, who's only in 11th grade, and Fronczak in 10th.
Episcopal Academy's girls' swimming and diving team had a 5-1 dual meet record, highlighted by their performance at the Inter-Ac and Eastern Prep Championships. There, sophomore Chelsey Liu won in the 50 freestyle, sophomore Hadley DeBruyn won in the 100 backstroke, and senior Wren Sablich, who heads to Bowdoin College, won in 1-meter Diving. At Eastern Preps, Sablich won again in 1-meter diving, as did Alex Sumner, headed to UC Berkley, in the 100 backstroke. Maia Golub came in 2nd in 1-meter diving and is going to Tufts. The team finished 2nd in a field of 50 from all over the country.
The boys' swim team at Episcopal was 3-2 in dual meets this season, but finished 5th of 50 at Eastern Preps. Key to the team was junior Ivan Puskovitch, who won 2 individual Inter-Ac championships in the 200 individual medley and 500 freestyle. Sophomore brother, Vlad Puskovitch, a diver, junior Theo Vadot, and several underclassmen—Cole Whitsett, Ben Wesley, Sam Welsey, Jack Christian—also turned in key performances, shattering 6 school records over the course of the season. Coach Brian Klein called the performance of the young team "nothing short of spectacular."
A great summary of the performances and prospects of local independent school athletes this past season.
back to top