School Sports Recap
Competing for Self, Team, School ... and College
Independent Schools Field Top Athletes and Top Scholars in Spring The private schools in County Lines country shined this spring in lacrosse, baseball and softball. Many star athletes were also scholars recruited by top colleges.
Ranked #1 in PA and DE Boys' Lacrosse
Led by seniors, Malvern Prep was #1 in Pennsylvania in boys' lacrosse. Top scorer Billy Coyle, with 49 goals and 47 assists, also had a 3.96 GPA and will attend Cornell next year. Mike Fay, with 45 goals and an All-American as a junior, had a 3.93 GPA and will attend Notre Dame. Three defensemen—Sean Christman, Ray Baran, Mac Updike—rounded out the team's effort. Christman, with a 4.15 GPA, will attend Boston University; Baran, Richmond Univeristy; and Updike, the Naval Academy.
At 15-0 and #1 in Delaware, the Wilmington Friends Quakers completed a triumphant season. Junior Eric Pincus, with 67 goals and 24 assists, led all scorers, and senior Matt Tornek garnered 47 goals and 18 assists. Tornek's GPA is over 4.0 and taking him to Penn.
Salesianum's Sallies finished 15-3, ending at #2 in Delaware. Seniors Mike Drake will go to Notre Dame, Taylor Witherell to Washington & Lee, Jimmy Blaszkow to Merrimack, and Jamie Hobbs to Alabama.
Although senior defenseman Conner Delaney from Episcopal Academy was selected a lacrosse MVP of Inter-Ac conference, he'll play basketball at Johns Hopkins next year. Churchmen teammate Jake Martellucci scored 21 goals and is headed to Maryland, while starting goalie Jake Floyd Jones will play for Lafayette.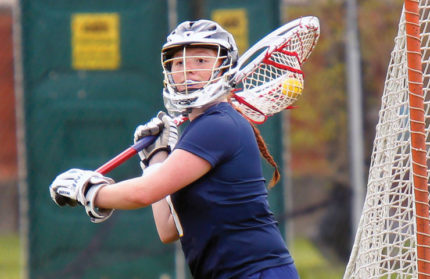 Top Girls' Lacrosse Teams
Ranked #3 among all girls' lacrosse teams in Pennsylvania, the Agnes Irwin Owls were 19-4 overall. Senior Lila Barker, headed for Virginia, led with 65 goals and 35 assists, while senior goalie Hailey Andress, with 164 saves, will attend Cornell. Junior midfielder Maria Pansini, who had 70 draw controls and set a school record for takeaways and interceptions, is committed to Princeton. All three are All-Americans.
The Episcopal Academy girls' team had a 21-5 record and several top players. Taylor Lucey, attending Virginia Commonwealth next year, recorded 48 goals and 53 assists. Junior Katie Croger, with 79 goals, committed to Georgetown. Sophomore defender Izzy Rohr had 126 draw controls, 83 ground balls and caused 62 turnovers. She's committed to Penn.
With an overall record of 15-2, the Archmere Academy Auks had several standouts. Senior Maggie Malloy, with a 4.0 GPA, will be at Pittsburgh next year. Juniors Sydney Yanick and Olivia Baldi had 58 and 38 goals, respectively.
Undefeated in the Catholic Academies (AACA) conference, Villa Maria Academy earned a 17-3 record. Midfielder Audrey Fantazzia had 74 goals, 21 assists and 52 draw controls. She'll play at UMass next year. Annina Iacobucci—54 goals, 44 assists—is going to LaSalle, and Bri Bamber—44 goals, 23 assists—to West Chester University.
Scoring #5 Spot in Boys' Baseball
Malvern Prep earned the #5 spot for baseball in Pennsylvania, compiling a 25-6 record. Sophomore Chris Newell, committed to Virginia, had .468 batting average, stole 17 bases, drove in 34 runs and scored 20 times. Junior Billy Corcoran pitched 41 innings, had a 1.18 ERA, and committed to Pittsburgh. Senior Jimmy Kingsbury, with a 1.53 ERA, will attend Villanova.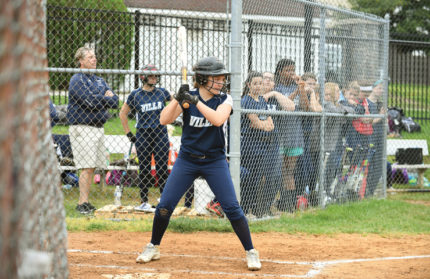 Best in Girls' Softball
In the Tri-County league, Renaissance Academy clinched the championship for the second year in a row. Top player and senior pitcher Alexis Hicks, who was 9-2 for the season, will start a joint program at Nazareth College and Syracuse University of Law.
Not only winners in lacrosse, Villa Maria Academy also aced the AACA softball title. Senior second baseman Brianna Wright had a .353 batting average and will attend Loyola. Sophomore pitcher Alyssa Viscardo had 163 strikeouts in 127 innings, while batting .328. She's verbally agreed to play for Wagner University.
And Academy of Notre Dame de Namur's girls, with an overall 18-9 record, fought to second place in the Inter-Ac. Freshman pitcher Grace Jackson won 9 games, with a 0.95 ERA and 196 strike-outs. Third baseman Marissa Mycek batted .390. Catcher Anita Bilotta batted .423, while her sister, Michele, played first base and batted .377. Shortstop Sophia Marlino batted .406 and had "a gun for an arm," according to the coach.
And that's a wrap for the spring season.
back to top