Fall School Sports Recap
Team Stars Head to Top Colleges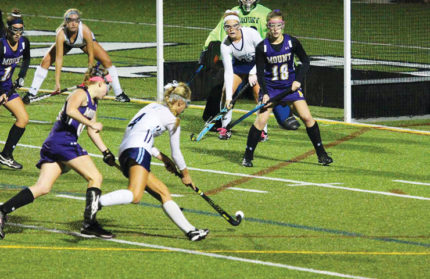 In County Lines country, the independent schools fielded excellent teams this fall season. Some of the athletes with strong academic records have already committed to leading colleges. Here are some highlights.
Boys' Soccer
The Salesianum School boys' soccer team had a stellar 18-1 season. It was ranked by MaxPreps as #1 in Delaware and #7 in the country, and was led by forwards, Bryce Wallace and Gavin Ford, the #1 and #2 players in the state, who scored 37 goals between them. Wallace was a "tremendous player," according to Coach Scott Mosier. Of Ford, he said, "His ability on the ball and craftiness to wrong foot defenders is second to none." Both are contemplating Division 1 colleges. Next year, the team looks to juniors Tommy McGrail, Jack Leonard and Casey Kurlej—all made Delaware's First Team.
The Hill School Rams were MaxPrep's #3 in Pennsylvania. Leading the team were seniors midfielder Phillip Bell and forward Greg Zimmerman with junior center back Euan Forrest. Zimmerman has been recruited by Hamilton College, while Bell is awaiting news from Centennial Conference schools. Forrest, a top student, according to Coach Christopher Drowne, is attracting interest from Divisions I, III and other top universities.
Girls' Soccer
The girls' soccer team at Episcopal Academy scored 13 shutouts in 21 matches to finish 17-4, thanks in large part to senior goalkeeper Hannah Moriarty. According to Coach Andrew Fraggos, Moriarty allowed only 16 goals all season, but is not pursuing soccer at the college level. Olivia Dirks and Anna Salvucci, however, with 16 and 7 goals, have committed to Penn State and South Carolina.
Field Hockey
Villa Maria had a fantastic field hockey season. Coach Daan Polders reports a 24-1 record and titles at the Catholic League, Districts and States. Seniors Danielle Acuna, goalkeeper, with an 85% save percentage has committed to American University, while Emily Doyle, with 40 goals, will play for Bucknell. Also committed to Bucknell, Erin Zielinski, senior defender, who has a 4.0 GPA. Two other senior defenders, Brianna Deitz and Ryan Doran, have committed to Siena and to Catholic University. Lindsay Dickinson, senior midfielder, with 17 goals, 29 assists and a 4.0 GPA, is on her way to Connecticut College, while junior Adele Iacobucci with 18 goals, 15 assists, and a 4.0 GPA, has committed to U. of Virginia. Two juniors—Hannah Miller, forward, with 45 goals, and Mary Harkins, defender—will head to Duke University.
In Delaware, Tower Hill ruled, scoring 14-0-1 in league play—the sole loss, by one goal, in the championship. Coach Robin Adair reports their 4-year varsity player Isabelle Pilson, committed to Stanford, "has been outstanding in every way" and "never stops hustling or playing." Natalie Hobbs, the "great play maker and communicator" will take her skills to Amherst, while Allison Smith's "explosiveness and toughness" are headed for Columbia University.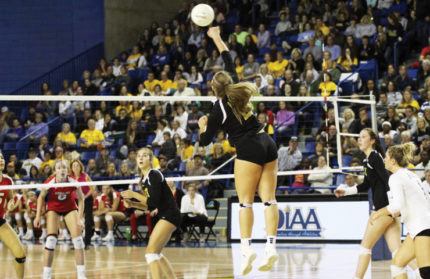 Volleyball
Coach Lauren Disabatino is very proud of Padua Academy, with an 18-1 record, ranked #1 in Delaware and #12 nationally. Their senior captain and outside hitter Emily Jarome set the state record with 1166 kills and was selected Delaware Player of the Year—again! Jarome will attend Towson University. Emma Lucey, also a senior captain, was named President of the National Honors Society, while two others—Jessica Molen and Katie McGonigal—were named to the All State team. McGonigal will play for the Huskies at Bloomsburg University.
With a record of 25-0, Bishop Shanahan's Eagles were favored to capture their second state title in program history. They'd been ranked #1 in the PA Volleyball Coaches Association poll since preseason. Sadly, they lost in the finals, finishing #2. Senior setter Renee Shultz had 46 aces, 105 kills, 699 assists and 46 blocks. Outside hitter, Tess Elder, also a senior, had 276 kills and 60 blocks.
Water Polo
In water polo, Malvern Prep's Friars finished their best season in history, according to Coach Jay Schiller, with a 24-1 record and winning the 33rd Eastern Prep Water Polo Championship for the first time! Isaac Salinas, scoring 17 goals in the tournament, was named Eastern Prep MVP. Contributing to the seaon, Stephen Salle had 6 goals and 14 assists, Andrew Knaus had 11 goals, and goalkeeper Griff Delaney had 62 saves: each was named to the All Eastern tournament First Team. Salle and Salinas both played in the All-Star game at the Naval Academy.
Football
Malvern Prep's football team was undefeated in the Inter-Ac after experiencing what Coach David Gueriera described as "ups and downs" in non-league play. Several stars nevertheless emerged. Senior O'Shaan Allison was a 1000-yard rusher who's committed to Ohio University. Junior Keith McGuire played linebacker and is getting a lot of offers—from Army, Duke, Vanderbilt, U. of Virginia and other schools. And Quincy Watson, also a junior, plays all over on offense, and linebacker on defense, and has interest from, among others, Temple, Rutgers and Villanova.
Cross-Country
Episcopal Academy's Elias Lindgren was triumphant this year in men's cross-country. He won the Briarwood Invitational (16:35), the Inter-Ac (16:26) and Pennsylvania Independent School Championship (16:24). An excellent student with a 4.25 GPA with 19 AP and honors classes under his belt, he's also an "exceptional competitor and leader" with an "incredible work ethic," says Coach James Farrell. Williams, John's Hopkins, Swarthmore and Haverford College think so, too—they're recruiting him.
The PA Independent Schools championship was the highlight of the season for the Friends' Central girls' team, according to Coach Venetia Ricketts, where sophomore Rebecca Wusinich, senior Gabrielle Wilkinson and sophomore Lydia Russell finished 4th, 5th and 6th. Wilkinson signed a letter of intent with the University of Florida in late November, saying it's "where the magic happens."
back to top