In the Good Ole Summertime
Wilmington is a top destination for summer fun!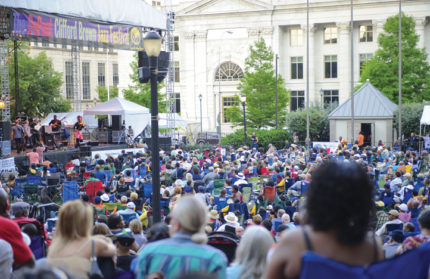 There's no better time for a tune than summer and no better place for timeless fun, festivals and fairs than Wilmington.
Where else will you find romance, false love letters, threats of a duel, scoundrels, con artists and fairies this summer? Delaware Shakespeare brings "The Merry Wives of Windsor" to Rockwood Park July 12–28, which promises to leave "Desperate Housewives" and "Don Juan" in the dust. The plot's unfolding twists and unraveling conspiracies will have you sitting at the edge of your picnic blanket.
If you prefer battles over duels, the Delaware Burger Battle, August 24 at Rockford Tower, is for you. Leave your white shirt at home—so much ketchup!— and pack a whopping appetite because one price covers all burgers and beverages at all booths.
"It's the ultimate foodie event," says Laura Stimson, Wilmington native. "You'll find every combination of condiments: ketchup, pickles, mustard and then pork belly and fried green tomatoes. I'm impressed every year." She knows. The Burger Battle is her annual birthday bash. To celebrate her 30th this year, she and friends will divide burgers to sample all offerings, taste beers, dance to DJs' tunes and repeat.
Warm Days, Cool Notes
Ten seconds into Clifford Brown's "Joy Spring" you understand why it was his signature piece, and his legacy lives on at the Clifford Brown Jazz Festival. At 13, Brown received a trumpet from his father, and then Wilmington was forever changed. Brown's career was cut short by a fatal car accident, but his music and recordings continue. This year the festival at Rodney Square, June 19–22, spotlights trumpet players.
For those who can't wait, take a ten-minute walk from Rodney Square to the Clifford Brown Listening Garden the Sunday before the festival for a concert of fine local talent. Any day, enjoy sculpture and a mosaic trumpet. Motion sensors detect visitors who are then treated to recordings of Brown's music.
Gayle Dillman might not be a trumpeter, but she has every reason to toot her own horn as cofounder, with Jeremy Hebbel, of the Ladybug Festival. She and Hebbel bring Market Street to life with amazing acts, vendors and people having a good time. The free festival has showcased original music—soloists to bands—and all-female lineups of musicians ages 12 to 70+ since it began in 2012. Each year its popularity grows.
The Ladybug Festival, July 18–19 this year, spotlights a new Bug Crawl on the second afternoon. Starting at the new and novel DECO food hall, festival-goers can flit from restaurant to restaurant, catching musical acts at each one, as they wind their way down Market Street. Be the first to try the new Ladybug Beer, crafted for the crawl.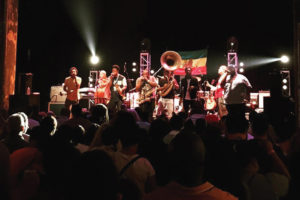 Score classical music, blues and Marley songs at other events. July 4th the Delaware Symphony Orchestra celebrates the 50th anniversary of Apollo 11's first moonwalk with a free community concert at Tubman-Garrett Riverfront Park. August 3rd and 4th, at the same park, the Riverfront Blues Festival hosts two stages with blues, food trucks and beverages.
Celebrating peace, love and unity, as well as Bob Marley's choice of Wilmington as home outside of Jamaica, the People's Festival 4 Peace offers a July 20th free family-friendly tribute to the reggae pioneer, singer and songwriter.
Strolling Through a Shady Lane
If you're hankering for a stroll, hand-in-hand with your baby, there are options for that, too.
The Delaware Art Museum offers a variety of choices. Take Magnolia Walk through the Copeland Sculpture Garden to discover a labyrinth created from Delaware River rocks in the old reservoir. Open each day for meditative wandering until sundown, it's perfect for experiencing the summer solstice, June 21st.
Rise to a giant Jenga game and spectacular performances of West African drums, dancing and stilt walkers at the Delaware Art Museum's Backyard Bash, May 31. The food and family atmosphere at one of Wilmington's most beautiful spots make it a must. Missed it? Add it to your 2020 calendar now.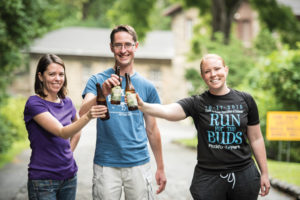 On pretty Wednesday evenings, June 5–August 28, travel trails along the Brandywine River at the Hagley Museum during Bike & Hike & Brews, presented by Dogfish Head Craft Brewery. Visit an old powder mill. Stay or supper—Asian-style dumplings and homemade sauces by the new caterer Wandering Chef—at Belin House Café or carry fresh poke, Hawaiian-style raw fish, to the new picnic pavilion. On the last Wednesday each month, bring your well-behaved, leashed pup.
Stroll back in time at the Old-fashioned Rockwood Ice Cream Festival, June 29. Back to its original name and purpose as fundraiser for Rockwood Park, the festival offers historical society demonstrations, music, antiques and fun on the south lawn of the mansion. Thanks to local creameries, the combinations—cones, dishes, toppings, longtime favorite flavors and unique creamery concoctions—for ice cream are practically limitless.
And Art
Buy unique jewelry, furniture, pottery and fine art from presenting artists and artisans at the Summer Fine Craft Fair, Chase Center on the Riverfront, July 27–28. Setting the PA Guild of Craftsmen's show apart from others' is that artists are present to show and sell only their work. Choose stunning fused glass calderas—bowls named after volcano-formed hollows—by Wilmington artist Marcie Tauber. Select a hand-sewn journal from Zurn Perry. Journaling for as long as she remembers, Perry helps others engage by creating kids' journals with attached pen and mini journal—a cute backpack charm or keeper of happy little messages from Mom.
At the fair meet Martin Moon, who realized his passion for metalsmithing when he left his first college metalworking class five-and-a-half hours after it ended. A couple more courses, an art history trip to Turkey and two years later he became an apprentice learning 3,000-year-old coppersmith motives and techniques in Gaziantep, Turkey. Moon started a Chester County studio in 2014 and, five years later, will offer a range of iconic and contemporary designs in intricately crafted pitchers and plates at the show.
Want more? Each First Friday, hop aboard the free shuttle at the Riverfront's Delaware Contemporary—with its own gem of a gallery—or create a self-guided tour of Wilmington's ArtLoop. With dozens of choices of visual and performing arts, there's something for everyone.
Time to go! Wilmington and your Tootsey-Wootsey await.
For more Summer Fun in Wilmington, go to VisitWilmingtonDE.com/Events.
Some Photos used Courtesy of GWCVB
---
Wilmington Events
Through August 4
Delaware Art Museum. "The Loper Tradition: Paintings by Edward Loper, Sr. and Edward Loper, Jr." 2301 Kentmere Pkwy. Wed, 10 to 4; Thurs, 10 to 8, free after 4; Fri–Sun, 10 to 4. $6–$12, Sun, free. 302-571-9590; DelArt.org.
Through January 5, 2020
Winterthur Museum, Garden & Library. "Costuming The Crown," 40 iconic costumes from the award-winning TV drama. 5105 Kennett Pk., Winterthur, DE. Tues–Sun, 10 to 5. $15–$30. 302-888-4600; Winterthur.org.
Ongoing
Delaware Children's Museum. Something exciting for every age—from toddlers to preteens, and parents to grandparents. 550 Justison St. Tues–Thurs, 10 to 3; Fri, 10 to 8; Sat–Sun, 10 to 5. $8.75. 302-654-2340; DelawareChildrensMuseum.org.
June 6
Delaware Art Museum Performance Series Concert. Miyamoto is Black Enough, 8 pm. Delaware Art Museum, 2301 Kentmere Pkwy. $25–$35. 302-571-9590; DelArt.org.
June 6
12th Annual Jasper Crane Rose Garden Party. Live it up with hors d'oeuvres, desserts, wine, beer, music, auction and horse and carriage rides. Benefits Delaware State Parks. Brandywine Park, 1001 N. Park Dr. 5 to 8. $65–$90. 302-656-3665; FriendsOfWilmingtonParks.org.
June 8, 23
DE Museum of Natural History. June 8, World Ocean Day Celebration; June 9, Fairy Tale Sunday: Under the Sea; June 22, Family Fun Day; July 13, Star Wars Night: Wookies, Jedis, and Stormtrooper's—Oh My! July 20, Apollo 11's 50th Anniversary: One Small Step; July 21, Breakfast with the Birds; Aug. 12, World Elephant Day. Mon–Sat, 9:30 to 4:30. 4840 Kennett Pk. $7–$9; $3 on Thurs Aug. 1–29. 302-658-9111; DelMNH.org.
June 29, July 4, September 28
Kalmar Nyckel. June 29, Wilmington Pirate Festival, pirate and maritime-themed activities, 10 to 4; July 4, Dockside Tours, Tubman-Garrett Park; Sept. 28, King Neptune Gala, Tatiana and Gerret Copeland Maritime Center, 1124 E. 7th St. 302-429-7447; KalmarNyckel.org.
August 24–25
August Quarterly Festival Celebration. The nation's oldest African-American festival celebrating freedom of religion and speech and the right of assembly. Tubman-Garrett Riverfront Park, Rosa Parks Dr. 302-655-5231; AugustQuarterly.org.
September 7
Historic Odessa Brewfest. 50 local, regional and national craft breweries, live music, gourmet food and artisan vendors. Benefits Historic Odessa Fdn. 202 Main St., Odessa, DE. 302-378-4119; OdessaBrewfest.com.
September 7–8
Brandywine Festival of the Arts. Arts and crafts from all over the country. 1001 North Park Dr. $5. 302-419-6648; BrandywineArts.com.
back to top