Art, Artists & Galleries in West Chester
Photos by Timlyn Vaughan Photography
This town's art scene is varied and growing.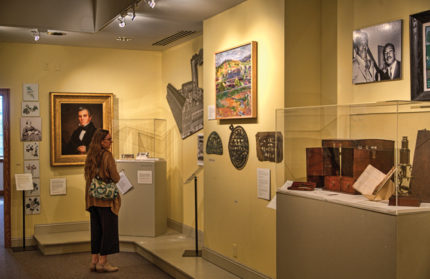 From his office in West Chester, Matt Lagoy can see where he went to kindergarten. "West Chester was a great place to grow up," he says. "But like so many young people looking to see more of the world, I moved to New York City after college to begin my career. Then I soon discovered that anything a big city offered could be found in West Chester."
When he and his wife, Jaime, decided to start a family, they knew they'd move back to his hometown. Now he's a certified financial planner with Janney Montgomery Scott at the downtown West Chester office, and she's a buyer at QVC, headquartered outside of town.
The couple agree it's the sense of community that they value. "This is a town that makes it fulfilling to give back," says Matt, whose personal project is to help teenagers get involved with their personal finances as they prepare for college. "Young people and their families need to be educated about all the costs of higher education."
These efforts are important to Matt, but they wouldn't happen without the energy provided by the community. "The culture of West Chester is invigorating," he says during our talk, as his family share treats at D'Ascenzo's Gelato on East Gay Street.
"The walkability, architecture, friendly shop and restaurant owners—what's not to love? And the arts and culture here—so many opportunities to enjoy great art and meet the artists creating it. I can't imagine a better place to live than West Chester."
Art Galleries Worth a Visit
So, is that just boosterism from a new resident? Where are the galleries, and who are the artists that give West Chester its artistic vibe?
If you're a fan of the semi-annual Gallery Walks—sponsored by Greater West Chester Chamber of Commerce on May and October First Fridays—you've likely visited many places that showcase art at galleries and one-night-only venues.
Yet every visit to Downtown can include inspiring art. Let's take a quick tour.
A good place to start is Visual Expansion Gallery, 126 N. High St. Since 1975, they've specialized in local art, archival framing and art restoration. This multi-purpose shop offers a wide range of artists—including the photographer for this article, Timlyn Vaughan—along with collectibles like vintage maps and other surprises.
Here's one surprise: If you're a fan of "Game of Thrones" (and who isn't?), you'll become a fan of Michael McNelly, a Chester County artist who's hand-painted his own clutch of Dragon Eggs made from cannonball gourds. These symbols of power, strength and good luck are found among the hundreds of artworks there. But hurry, the limited edition could be gone in a blink of a dragon's eye.
A place with even longer history is Chester County Historical Society (CCHS), 225 N. High St. Founded in 1893 and dedicated to collecting, preserving and exhibiting the history of the Chester County area, CCHS is a treasure trove just a block north of bustling Gay Street.
Among its extensive collection of documents, artifacts and antiques is a notable art collection, including local artists. Few West Chester artists are as respected as Horace Pippin, who lived and painted in the Borough from 1920 until his death in 1946. His works express candid comments on race, religion, war and history. Two works, "We Were on His Trail as the Sun Went Down" (The Bear Hunt I) and "We See Him Go Up" (Bear Hunt II), circa 1930, are rare oil-on-burnt-wood panels that depict Pippin's very personal and, some think, primitive style. CCHS's galleries offer a curated glimpse into the past and should be part of any art tour.
For more contemporary art, head for The Art Trust, 16 W. Market St.
 When Liz Ruff created the Art Trust Gallery at Meridian Bank in 2006, she envisioned a volunteer-based organization that would cultivate a contemporary aesthetic to benefit artists and the community alike. The unique partnership with Meridian Bank allows net proceeds from artwork sales to be donated to local art-related scholarships and charities.
You'll find modern artworks by regional artists on display at the Art Trust during their half dozen exhibits each year, plus artist receptions, talks and special exhibits. Of special interest is the Pop-up Gallery in the back, showing the new Downtown West Chester banner project, along with "View," selections from the Chester County Studio Tour, running through June 14, 
followed by "Trashy Women," from June 19 to August 2.
For a traditional gallery setting that seeks to respect the works of regional artists, visit Church Street Gallery, 12 S. Church St., created by Carol Giblin and John Suplee. "We select artists whose work is abstract and figurative, but not necessarily modern," says Carol. "Our environment allows art enthusiasts to relax and spend time reflecting on what's displayed."
Coming this summer is an exhibit by Kassem Amoudi, whose art is described as providing "continuous adventure and discovery." It's a little bit of Soho here in the Borough.
See Artists' Studios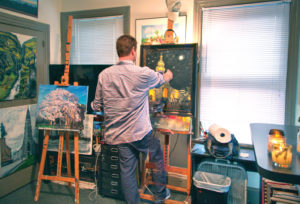 Want the special thrill of seeing where art is created—an easel in the corner, bruhses, paint tubes and tools of the trade, a glimpse behind the curtain? It's a reason studio tours—like the Chester County tour in May and Delaware County tour in September—are so popular. You can take a smaller studio tour in West Chester.
One of the first things you notice when visiting John Hannafin's Studio, 19 S. Church St. (upstairs, by appt. only), is a landscape painting, hanging prominently among his many other works, seeming out-of-place with the rest of his collection. "That's my first painting," he says as he turns to another close-by. "And this is my most popular—it's called 'West Chester Dream.'" The tour immediately becomes as much a study in the evolution of an artist as a collection of works, many reflecting recognizable scenes in West Chester.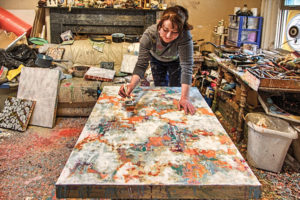 When I visited Erica Brown's Studio, 28 N. New St. (by appt. only), the first thing she did was give me a live demonstration of how she made her art, using her tools—frying pan, blow torch and razor blade. With just those tools, she creates modern works in the ancient encaustic medium (involving pigment mixed with hot wax). While Erica's art is displayed throughout the region—through both commissions and inspirations—her studio also opens for art tours during the year.
More Art Around Town
Demonstrating that West Chester's view of art is broad and inclusive, the town supports art in places beyond galleries and studios.
More than 25 local artists and craftspeople are represented among the creative gift items at Karen Cavin's shop, The 5 Senses, 133 W. Market St. Check out the series of Spiritiles by Houston Llew. New designs appear with the seasons, inspiring fans to start collections. The tiles are designed to be displayed on a wall, a mantelpiece or table and are sure to spark conversation.
Another surprising place to encounter art is at Green Eyed Lady, 132 W. Gay St., where 
owner Mary Owen's boutique is nothing if not eclectic. Serious browsers will find everything from collectibles by early-20th-century fashionista Hattie Carnegie to art created by the owner herself. Never-worn vintage clothing becomes wearable art and painted stones provide one-of-a-kind personal ornaments, expanding the meaning of art beyond the frame.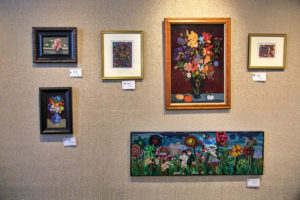 Find a mix of art and commerce at Sunset Hill Jewelers & Fine Arts Gallery, 23 N. High St. On the second floor above the jewelry counters, owner Sandra Riper created a fine arts gallery to be home to nationally known artist Harry Dunn, creator of the NBC peacock, along with other notable Chester County artists such as William O. Ewing and Dennis Haggerty. For the holidays, there's an Annual Miniature Show featuring Chester County's best artists, plus another four shows throughout the year showcasing more original art.
Sunset Hill also is the proud sponsor of the semi-annual Gallery Walks, events Riper spearheaded many years ago, and which continue to celebrate the art scene in West Chester.
So, this summer check out the art in downtown West Chester.
For more information, visit DowntownWestChester.com. Elle Steinman contributed to this article.
---
West Chester Events
Chester County Historical Society
Through January 4
Through Aug. 3, "The Art of Industry." Through Jan. 4, "Nothing to See Here: Prohibition in Chester County." 225 N. High St. Tues–Sat, 9:30 to 4:30. $4–$8. ChesterCoHistorical.org.
17th Annual Up On The Roof
June 1
Take in the sunset views at this fundraiser, hosted by the West Chester Downtown Foundation and the West Chester BID, with buffet dinner, music, dancing and open bar on the rooftop of the Chestnut Street Garage. 14 E. Chestnut St. 7 pm. Tickets $105 in advance. DowntownWestChester.com.
Bark in the Park in West Chester
June 2
Check out this first Bark pet-friendly event. Vendors, entertainment, demos, treats for both dogs and humans and more. Hoopes Park, 700 Hoopes Park La Noon to 4.
Swingin' Summer Thursdays
June 6, July 11, August 1, Sept. 5
Great food, live music, clowns, artists, magicians, jugglers and more. Gay St. between High & Darlington Sts. or High & Matlack Sts.. 6:30 to 9. DowntownWestChester.com.
First Fridays
June 7, July 5, Aug 2, Extended hours at galleries and boutiques, restaurant specials, entertainment and more. DowntownWestChester.com.
Uptown! at Knauer Performing Arts Center
June 7–July 13
June 7, Countdown to Ecstasy: A Tribute to Steely Dan; June 8, First Ladies of Rock & Soul; June 9, Let Freedom Sing featuring the Mainliners; June 14, The Music of Billy Joel; June 16, Opera tutti presents The Old Maid and the Thief; June 22, Doo Wop Explosion 4; June 26, International Brotherhood of Magicians; June 27, Dueling Pianos; June 29, PA Philharmonic: Swinging Through the Ages; July 13, Magic Bus–Tribute to The Who. 226 N. High St. Check website for tickets and times. UptownWestChester.org.
Chester County Hospital Polo Cup
June 9
See June Picks.
Town Tours & Village Walks
June 13–Aug 29
Explore Chester County's heritage and rich landscape on these tours: June 13, West Chester c. 1788: From Turks Head Tavern to County Seat; June 20, Ludwig's Corner c. early 1770s: A Stop on the Conestoga Road; June 27, Warwick Village c. 1717: An Early Iron Village. Tours through Aug. 29, 5:30 pm. Free. Some require registration. 610-344-6923; ChesCo.org/Planning/TownTours.
FatherFest
American Helicopter Museum
June 16
Treat Dad to a special day of antique cars, motorcycles, food trucks, beer garden and maybe a helicopter ride! 1220 American Blvd. 10 a.m. to 3 p.m. $10; helicopter rides, $60. 610-436-9600; AmericanHelicopter.Museum.
Music at Marshall
June 20, July 18, Aug 15
Come to the gazebo in Marshall Square Park for these picnic concerts. Check website for performers. 200 E. Marshall St. 6:30 pm. Free. MarshallSquarePark.org.
3rd Annual West Chester Craft Beer Festival
June 22
An amazing line up of breweries and beers, food trucks and artisan vendors. Benefits and held at Charles A Melton Arts & Ed Center, 501 E Miner St. Noon to 5. $40–45. WCBeerFest.com.
21st Annual BVHAC Challenge For Cancer Ride
June 23
Premiere bike ride in Chester County. 30-, 50-, 65-mile rides, 10- and 5-mile family rides benefit Cancer Center of Chester Cty. and Neighborhood Hospice. Begin at Fern Hill Med. Campus, 915 Old Fern Hill Rd. Reg. 7:30 am. $40–$90. 610-431-5329; CCCRide.com.
Resident Theatre Company Presents Broadway in the Borough
July 18
Broadway in your Backyard! Hear amazing singers from New York and Philly bring the house down with your favorite Broadway music. You'll have a chance to share a drink and chat with performers after the show. Sprout Music Collective, 130 East Prescott Alley. Doors open at 5:45 pm, show at 7, after party at 8. $15–$22. RTCWC.org.
37th Annual Turk's Head Music Festival
July 21
A day-long celebration of local music featuring artists and vendors. Two stages with 11 local bands performing different genres of music. Food from local vendors is available all day. Rain date July 28. 100 S. Brandywine St. Noon to 8 pm.
6th Annual National Night Out Against Crime
Aug 7
The Borough Police Dept. invites families to enjoy live entertainment, refreshments, kids' activities, police, fire and EMS vehicles, plus a meet-and-greet with local responders. Henderson High School, 400 Montgomery Ave. 6 to 9. 610-696-2700.
Benchmark Twilight Cycling Classic
Aug 10
Top-notch pro bike racing fills the streets as the Iron Hill Pro Men's Criterium and Brumbaugh Wealth Management Pro Women's Criterium compete at breathtaking speeds. Enjoy top amateur racing in the Rothman Institute Amateur Criterium. Have a blast watching the Tolsdorf Trike Challenge. Sign up your children in the West Chester Dental Arts Kids' Race. GreaterWestChester.com/Events.
Touch A Truck Day
Aug 11
Kids love to see and touch different models of cars and trucks. Chester County Gov. Services Complex, 601 Westtown Rd. Noon to 4 pm. Pkg. $2. 610-436-9010; West-Chester.com.
39th Annual Chester County Restaurant Festival
September 15
More than 65 restaurants, caterers and food vendors participate, with 110 arts & crafts vendors. Gay and Market Sts. Noon to 5:30. Rain date, Sept. 22. 610-436-9010; West-Chester.com.
---
Always a dining destination—West Chester spills out into the streets (and onto the rooftops) for summer.
★ Andiario
106 W. Gay St. 484-887-0919; Andiario.com
Bar Avalon
116 E. Gay St.
610-436-4100; AvalonRestaurant.net
Dolce Zola
134 E. Gay St. 484-887-0760; dolcezola.com
★ Fiorello's Café Old World Italian Cuisine
730 E. Gay St. 610-430-8941; On Facebook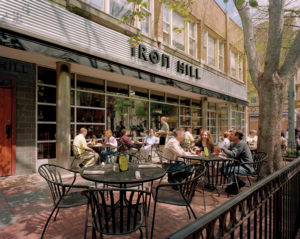 ★ Iron Hill Brewery & Restaurant
3 W. Gay St. 610-738-9600; IronHillBrewery.com
New American cuisine prepared in a scratch kitchen, paired with an on-site brewery producing fresh, award-winning beers, all in a friendly, comfortable atmosphere. Happy Hour specials available Monday–Friday from 4 to 6. Reservations and "call aheads" are accepted for lunch and dinner, seven days a week. Outdoor seating available, weather permitting.
Kooma
123 N. Church St.
610-430-8980; KoomaRestaurants.com
★ Limoncello
9 N. Walnut St. 610-436-6230; LimoncelloWC.com
★ The Lincoln Room
28 W. Market St. 610-696-2102
Enjoy a quiet lunch or cozy high tea for two in one of West Chester's most famous historic buildings. Select from their extensive menu of specialty hot teas, summer herbal teas or seasonal scones. Severing seasonal quiche and daily tea sandwich specials. And don't forget dessert! BYOB. Private parties, Sunday–Tuesday; Lunch and High Tea, Wednesday–Saturday, 11 to 3. Reservations suggested.
★ Love Again Local
18 S. Church St. 484-266-7381; LoveAgainLocal.com
★ Más Mexicali Cantina
102 E. Market St. 610-918-6280; MasMexicali.com
If you haven't tried this town favorite (family-owned and operated) and award-winning Mexicali cuisine, put it on your "must do" list this summer. West Chester's only rooftop bar/restaurant serves your favorite Mexicali dishes with the freshest margaritas (no sour mix here!) this side of the border. Curb-side dining. Sunday Funday Live Music on the Roof. DJ Friday & Saturday.
Mercato Italian Ristorante & Bar
33 W. Market St. 610-701-6326; Mercato33.com
Miss Winnie's
211 E. Market St. 484-266-0508; MissWinnies.com
★ Opa Taverna
40–44 E. Gay St.
610-696-4100; On Facebook
★ Pietro's Prime Steakhouse
125 W. Market St.
484-760-6100; PietrosPrime.com
Pietro's Prime is an upscale, casual steak house and martini bar in the heart of downtown West Chester, serving prime cuts of beef and a variety of seafood selections. Dine in their rustic dining room setting or enjoy their outside patio seating. Stop by for live entertainment, Wednesday–Saturday, in the bar area along with their signature martinis and cocktails.
Ram's Head Bar & Grill
40 E. Market St. 484-631-0241; RamsHeadBarAndGrill.com
★ Rai Rai Ramen & Hawaiian Barbecue
124 E. Market St. 610-738-8808; On Facebook
★ Roots Cafe
133 E. Gay St.
610-455-0100; RootsCafeWC.com
Saloon 151 Whiskey Bar & Grill
151 W. Gay St. 610-701-8489; Saloon151.com
★ Side Bar & Restaurant
10 E. Gay St.
610-429-8297
SideBarAndRestaurant.com
Side Bar and Restaurant is a casual restaurant and bar focusing on excellent and affordable food, craft beer and local spirts. They cater to young professionals, established business professionals and families. The restaurant and bar have a neighborhood feel and strive to be a place where a complete stranger will feel like a "regular."
The Social
117 E. Gay St. 610-738-3948; TheSocialWC.com
★ Spence Cafe
131 N. High St. 610-918-1272; Spence.Cafe
You're food focused, so grab your favorite bottle of wine and head into The Original Spence Cafe. From their all-scratch kitchen to your plate, find a new favorite with them Tuesday–Saturday for a BYOB lunch or dinner. And they have amazing garden patio seating. They invite you to spend your summer with them.
Sterling Pig Public House
113 W. Market St. 484-999-8026; SterlingPig.com
Bringing great craft beer and BBQ to West Chester in the form of "Public House." A casual and rustic atmosphere makes it the perfect space for people who are looking to have a great meal and a great time. Other locally made PA beers & spirits complement their award-winning brews and the from-scratch menu has something for everyone! Come join them for Happy Hour, Monday–Friday, 4 to 6 and Brunch on Sundays.
Teca
38 E. Gay St. 610-738-8244; tecarstaurants.com
---
★ 2019 Best of the Best Winner
back to top