West Chester Dining
Photos by Timlyn Vaughan Phototography
Read the latest developments in local dining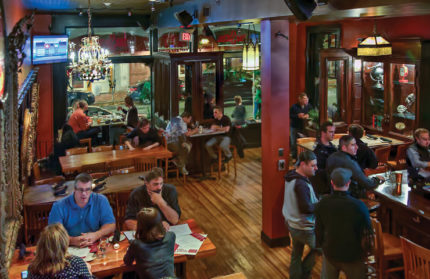 As winter is upon us and New Year's celebration memories fade, feel warmed by the knowledge that downtown West Chester continues its tradition of fine food, expertly made, bringing family and friends together.
And the setting for this is motion picture perfect. In West Chester's historic downtown district, nearly every structure is or appears old enough to set the stage for a different time. When a new eatery opens, it brings a new chapter to the history of the building, adding to the story of the town.
To start 2017, here are some new chapters to savor.
Interconnected Stories
When the popular Three Little Pigs closed after more than two decades of serving soups and sandwiches named after West Chester streets, the north end of downtown hungered for high quality luncheon fare. But now there's reason to celebrate, as Andrew Patten has re-opened Spence Café at that location on 131 North High Street, with the promise to maintain the gourmet deli featuring homemade soups, breads and desserts.
Patten also plans a new dinner menu that many will remember from the days when an earlier Spence Café graced East Gay Street. Though Spence Café on North High is a BYOB, Chef Patten invites diners to relax with a pre-dinner drink at the recently opened Marquee Bar & Lounge, across the street in the Hotel Warner.
Both these additions to the dining scene have historic roots in downtown West Chester. Spence's Café was first opened in 1874 by James Spence, a former slave, who named it Spence's Oyster and Eating Saloon. Located on East Gay Street, the building housing the original Spence's is currently being restored by the Zukin family, and for many years it was home to The Social Lounge, a popular restaurant and bar, which in this on-going story, moved a few blocks farther east on East Gay Street.
The Marquee Bar & Lounge is a nod to the magnificent Warner Theater that opened in 1930, but had run its course after 50 years. Brian McFadden re-purposed the North High Street structure into the lobby of the Hotel Warner with a newly constructed wing of rooms behind it. A hotel bar is a welcome addition to the hotel and to the downtown.
Structures with Stories
Another eatery has given new life to one of West Chester's most curious structures. Restaurant 51 Tap & Spirit, at 30 North Church Street, has made its home where the First West Chester Fire Company was stationed in 1888. In fact, Restaurant 51 gets its name from First West Chester Fire Company's official designation as Engine Company 51.
Architect T. Roney Williamson had the task of joining two buildings into one Queen Anne-style fire station with its patterned brick and carved stone and an eclectic design mix that Williamson was known for. The building has design elements of Tuscan Romanesque, Gothic and Colonial Revival styles. Visitors will notice the imposing tower that was used for spotting fires, housing the alarm bell, and drying the fire company's 800-foot hose.
Of course, Restaurant 51 Tap & Spirit is now more concerned with serving lunch and dinner while providing Happy Hour specials from their fully stocked bar offering craft and domestic beers. A second floor lounge is available for parties.
Another historic structure with a new life, the serpentine building on the southeast corner of High and Gay Streets was once a downtown landmark with an incredible two-story mansard superstructure. But in 1980, the wooden upper-stories were destroyed by a fire.
Today, Lorenzo and Sons Pizza created a new type of landmark with their super-sized pizzas that look to be able to feed an entire football team! Started on South Street in Philadelphia, Lorenzo and Sons Pizza quickly became famous for their cheese pies—so tasty that The Daily Meal included them among the 101 best pizzas in America.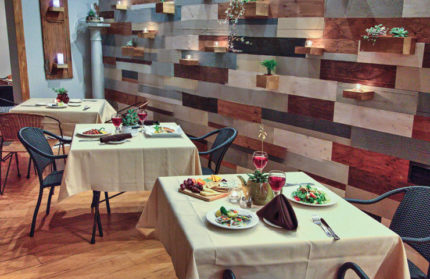 Short and Sweet Stories
When it's time for a tasty treat, celebratory cake, cup of coffee or snack, you'll find a tasty selection downtown.
For over 40 years, The Master's Baker, now in its expanded location at 319 West Gay Street, has taken pride in every cake they create, whether for a child's birthday, a wedding or any special moment that's better with cake. Each cake from the shop has a personalized white chocolate heart logo to indicate that the final product is the very best possible.
Also on West Gay Street, the Mediterranean Restaurant expanded its culinary selection with the opening of The Mediterranean Bakery. Offering a large selection of fresh baked bread, fruit-filled pies and yummy cookies for pick-up, it's helping make any home-cooked meal even more of a delight.
To catch up with a friend or simply enjoy a quiet moment over a cup of coffee, Fenn's Coffee, at 111 North Church Street, is an intimate coffee shop with a small-town flavor. Once known as the beloved Fennario Coffee, Fenn's Coffee focuses on superior roasts, artisan goods, eco-friendly practices and gourmet beverages.
Next door, at the entrance to the alley, you'll notice an alcove that's part of an antique horse stable dating to the mid-19th century. The surprise for adventurers is an artistic depiction of the stable by local contemporary artist James Lee Burk.
In the tradition of neighborhood general stores, Rimon's Coffee and Grocery, at 117 West Gay Street, offers the convenience of a quick stop for groceries along with a friendly morning greeting from owner Rimon Donain and wife Marisca with your coffee, espresso and breakfast sandwich. At midday, come back for a salad or snack to-go or eat-in.
And Exotic
If you're a fan of pho, the Vietnamese noodle soup considered the ultimate comfort dish, then it's time to rejoice. Pho Xua Vietnamese Noodles and Tea House (pronounced "for sure," so you may find yourself creating puns) provides fast, casual Vietnamese cuisine to West Chester. Specialties include banh mi, bubble tea, smoothies and more.
Pho lovers can choose pho bo, made with beef broth, or pho ga, with chicken broth. And as every parent knows, either dish is a great way to introduce kids to more exotic foods. Located at 237 East Gay Street, Pho Xua has free parking, plus take-out and delivery. 
For more about West Chester dining, check DowntownWestChester.com and the Best of the Best and Dining Guide in this issue.
back to top