Support the Union
That's the MLS Soccer Team, the Philadelphia Union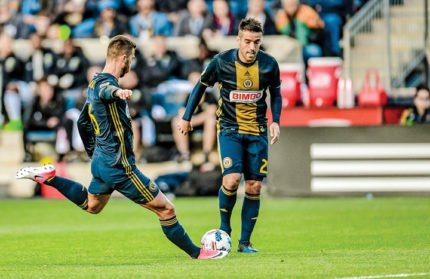 On the banks of the Delaware River, grown men and women paint their faces and dress themselves in blue and gold, holding scarves that read "Join or Die" and screaming "Doop!"
That's normal game-day behavior for Major League Soccer fans of the Philadelphia Union, the faithful Sons of Ben—a passionate group rivaling other fanatic Philly sports fans and credited with demonstrating our region could support a professional soccer team. Named after Philadelphia's most famous Founding Father, Ben Franklin, the group chose the colors from the flag of Philadelphia. The "Union, " of course, refers to the Union of the Thirteen Colonies, of which Philadelphia was the first capital.
Situated southwest of the Commodore Barry Bridge with views of the Delaware River, Talen Energy Park (formerly PPL Park), a soccer-specific stadium in Chester has been home to the boisterous Sons of Ben, affectionately self-described as SoBs, and Philadelphia's professional soccer team for the last seven years.
The Union was the 16th club to become part of the MLS in 2008, and the league continues to expand, reaching 22 clubs this past season.
I'd like to explain why you should you support the Philadelphia Union soccer team. As for doop? Just Google it.

Why Watch Soccer?
Soccer has long been the world's predominant sport. Over 265 million people worldwide play "football"—as the rest of the world calls it—and 3.2 billion watched the 2014 World Cup. In comparison, 103 million tuned in to Superbowl LII this year. MLS's attendance and TV ratings grew this past season, March through December, with prospects strong for continued growth.
In the U.S., youth soccer participation is now double that for tackle football and has a million more kids in youth leagues compared with baseball leagues. In 2017, more than 3 million U.S. boys and girls were enrolled in official soccer programs, representing an 89% growth since 1990.
This explosion in U.S. youth soccer means more parents now spend time on the sidelines of the many soccer fields that dot suburbia watching their offsprings and learning the game. Some knowledgeable parents can spot an uncalled offsides violation.
Parents are also fans of soccer's nonstop action, the teamwork of 11 players (enough so plenty of kids get to play), and perhaps best of all—the finite game length, a special boon for busy families. Many parents happily acknowledge that soccer games require much less time than unpredictable baseball and lengthy track meets.
And even during the early years of "magnet ball"—when all kids follow the movement of the ball rather than play set positions—kids get much more exercise than sitting on the bench or standing in the outfield for t-ball games.
At the more expert level of play in the MLS, the Philadelphia Union provides 90 predictable minutes of world-class soccer excitement for families to enjoy just five miles south of the Philadelphia International Airport.
Why Support the Union?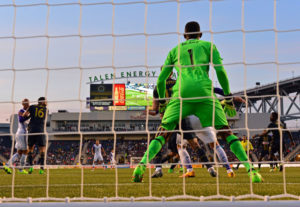 Now that the Union has built it—the 18.5-thousand-seat Talen Energy stadium designed so more than half the seats have river views—the fans have come. "To watch the growth of soccer in our community has been tremendous to see. We have great fans and the atmosphere at Talen Energy Stadium is top notch. Our fans have made our stadium a true home field advantage for us over the years, and it's not easy for teams to play at our place. Our guys on the field really enjoy playing in front of our fans, especially when the building is full. We love seeing the support and we're excited to see it continue this season," says Head Coach Jim Curtin.
This renaissance on the Delaware River offers easy access from I-95 and I-476, shuttles from the nearby SEPTA Wilmington-Newark Regional Rail station, and reasonable parking and ticket prices. Think about the crowds, congestion and costs for a Philadelphia Eagles game—if you could even get a ticket.
Another attraction is the fun themed nights the team sponsors throughout the season, like Youth Soccer Night, Fireworks Night, Paws on the Pitch for pet lovers, and more. Toss in parachute drops of giveaways and ball jumpers—the official game ball delivered by a skydiver—to up the fun quotient.
Single tickets start at $23, season ticket memberships start at only $21 per game and offers like Family Meal Deals sweeten the deals. Season ticket holders get extra perks, like post-game club access with Union players—think of the photo ops with kids and players—plus discounts on parking and concessions. And there are plenty of seating options—field-side seats, manager's row seats behind the players' bench, party decks, club seats, standing sections, supporters sections or luxury suites.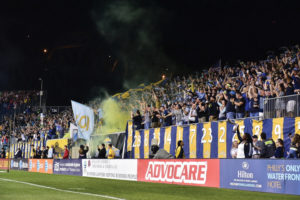 Before the game, fans come to tailgate and enjoy the fun on Toyota Plaza—games of corn hole, miniature game day fields, live bands and giveaways. Check out the food trucks outside the stadium, plus more inside, along with family-friendly foods from Chickie's and Pete's, Philly Pretzel Factory and 15 concession stands and 25 portable carts.
Local brews are available at the Union Ale House and other concessions stands, where you can sip a cold one from Yards, Victory, Yuengling, Modelo and Sterling Pig. When you can't make it to a game, local pub affiliates—like Exton's Appetities on Main and West Chester's Kildare's—host fans to share the fun.
In short, the Philadelphia Union offers an exciting experience for a reasonable cost, while providing family entertainment and plenty of amenities. The organization and team are young and have put their energy and emphasis on becoming part of Philly.
It's time to support them back.
What Are the Local Connections?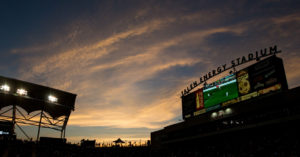 The Union also strives to connect with Delaware and Chester Counties as well as the greater Philadelphia area. "This area is excellent for producing and identifying talent. The U.S. Soccer Federation held a youth national team talent evaluation camp where 12 invitees were tied to our club, including eight current academy players. It's great for us, great for our profile, great for recruitment. It speaks highly of the work we're doing and can only help us as we move forward," says Tommy Wilson, Philadelphia Union Academy Director.
The Union and Official Youth Development Partner YSC established the YSC Academy in Wayne, designated for student-athletes who hope to play professional soccer. Today the Union have four players who came out of their Academy, called "homegrown players."
Some examples: Anthony Fontana, the second MLS player ever from Delaware; 19-year old Auston Trusty of Media; and just-added 18-year-old defender Matt Real from Drexel Hill. Derrick Jones and Mark McKenzie are the trailblazers for what the Union hopes will be a growing group of homegrown players on their MLS Roster.
The Union also support a reserve team named the Bethlehem Steel FC that began playing matches in 2016 at Lehigh's Goodman Stadium.
Team sponsors are local as well. Bimbo Bakeries of Horsham, PA (U.S.'s largest bakery, known for Entenmann's and Sara Lee) is their jersey sponsor. Dogfish Head Brewing of Delaware is fittingly the Union's official beer sponsor, with a beer garden and Dogfish River Deck at the stadium. And Jay Cuncliffe, of Aston, is the team's chief tattoo officer.
The Sons of Ben do their part as proud supporters of the Delaware Valley, hosting philanthropic events, such as the "Stache Bash" at their opening home tailgate to benefit the Special Olympics of Pennsylvania.
What About World Cup 2018?
Soccer's main event worldwide, the Men's FIFA World Cup, takes place this summer from June 14th to the July 15th championship in Russia. And although USA's National Team won't be playing this year after reaching the round of 16 in 2014, fans should not lose heart.
Union homegrown players Auston Trusty and Derrick Jones were members of the elite USA FIFA U-20 team in 2017. Even though they won't be in Russia, you can support these world-class athletes locally all summer long.
Also noteworthy: before the World Cup kicks off in June, the FIFA Congress will announce the host city for the 2026 World Cup. As you might guess, Philadelphia is a potential host city in the joint country bid of Canada, Mexico and the U.S.
And in 2026, Christian Pulisic of Hershey, PA, America's next great soccer hope, will be 28.
Zack Malet has worked for ESPN for six years in the Distribution and Acquisitions Departments. His soccer career began at age 4 in the Lower Merion Soccer club and ended his senior year at Friends' Central School. He supports the Philadelphia Union.
back to top