What to See at Chanticleer this Spring
Photos by Lisa Roper, Chanticleer
There's inspiration at every turn for the home gardener.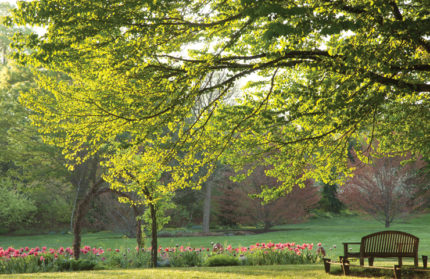 Spring is a very atmospheric season at Chanticleer in Wayne. From cherry petals blowing in the wind like falling snow, to birdsong filling the air—there's no denying the sensation of life springing forth from the fertile ground.
With the onset of warmer temperatures, trees begin to unfurl their leaves, bulbs and fiddlehead ferns push up through garden beds and lawns, and gardeners begin the work of tending the garden for the season. Visitors who arrive at Chanticleer in spring will enjoy both brisk walks through the garden to see seasonal displays, as well as the chance to sit and absorb the peaceful surroundings of a garden awakening from a long winter's rest.
Planting Spring Ephemerals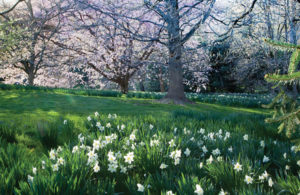 Spring is personified in Chanticleer's five-acre woodland garden that features a wide range of native plants and spring ephemerals. The garden is named for the creek that runs through it—Bell's Run—and has been a living laboratory for growing unusual specimen plants that emerge in spring then fade with the rising daytime temperatures of summer.
Favorite specimens that can be seen only in spring are some trillium species, woodland poppy (Stylophorum diphyllum) and Virginia bluebells (Mertensia virginica). Another must-see, the delicate blooms of the Quaker ladies (Houstonia caerulea) are abundant alongside fresh-green moss that's carefully weeded and kept free of debris.
For gardeners with deep shade and dry soil, where it's difficult to grow plants, spring ephemerals can be an excellent solution. In late April, the horticulturist who manages the gardens in Bell's Woodland will lead a class that discusses how to introduce spring ephemerals and shade perennials into tough garden conditions.
Using Bulbs for Color
The Gravel Garden at Chanticleer, though designed for strong displays that peak in the heat of summer, is an inviting place to see how bulbs create a strong color statement.
Colors of orange and blue characterize the drought-tolerant garden in early spring. Orange tulips in two shades (Tulipa Shogun & T. Orange Emperor) are mixed with two types of grape hyacinth (Muscari Valerie Finnis & M. armeniacum). Blue spurge (Euphorbia myrsinites) ties it all together with its chartreuse, yellow-green flowers.
Descending the steps in the garden, visitors will relish the scent of the fragrant yellow blossoms of Crandall's clove currant (Ribes odoratum Crandall). Later in spring, the ornamental alliums—Early Emperor, Purple Sensation and White Giant—bloom in concert with wisteria (Wisteria sinensis Amethyst).
Two distinct phases of spring blooms make the Gravel Garden an interesting place to get ideas for successional planting.
Flowering Trees
Flowering trees are an important yet sometimes overlooked part of the garden palette. Defined as flowering trees less than 40-feet tall, these plants make spectacular statements, accents and specimen trees in the landscape.
Many fine examples can be viewed in the Orchard Lawn at Chanticleer. Formerly a functional apple orchard that supplied the Rosengartens (former owners of the property) with fall fruit, the trees were replaced with cherries and disease-resistant flowering crabapples (Malus David & M. Indian Summer are two favorite specimens).
In the early months of spring, these flowering trees bloom in concert with thousands of pale yellow daffodils that create large drifts and nod in the wind. Chairs dot the Orchard Lawn, inviting visitors to step into the painterly landscape. Timed for peak bloom, an April class at Chanticleer will demonstrates how to use small flowering trees in the home landscape.
For Inspiration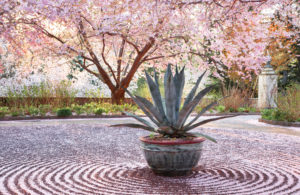 Chanticleer can be a place of respite and relief from the pressures and distractions of the outside world. As guests enter the gate, they shed responsibilities and feel invited to enter a world of creativity, texture, color and movement. From creative bed edging to reliable groundcovers, Chanticleer is a font of ideas for avid and amateur gardeners alike.
To learn more, register for an exclusive plant walk with R. William Thomas, Chanticleer's Executive Director and Head Gardener. The program, "Wine, Cheese and Trees" will be held on June 14th , from 5:30 to 7:30 p.m. and will offer participants the chance to walk the garden with an expert.
Chanticleer is a dynamic garden that's ever changing. The staff welcomes visitors to come often, observe the garden through each season, and ask questions of those tending the gardens. To learn more about the classes and to find out how you can learn from the Chanticleer horticulturists, please visit the website.
Chanticleer has been called the most romantic, imaginative and exciting public garden in America. It's a garden of pleasure and learning, relaxing yet filled with ideas to take home. The garden opened March 28th and remains open through October, Wednesday through Sunday, 10 to 5, and until 8 p.m. on Friday evenings May through Labor Day. 786 Church Rd., Wayne. ChanticleerGarden.org.
back to top