Public Gardens
Enjoy 30+ public gardens within a 30-mile radius.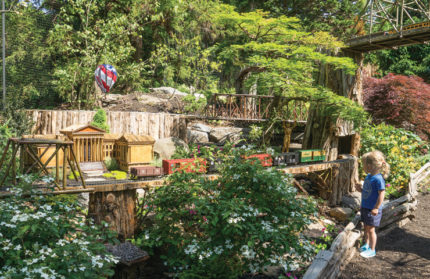 Spending a day in the garden has never been better than right here in America's Garden Capital. This region is home to more than 30 gardens within a 30-mile radius of Philadelphia that boast hundreds of acres of blooming gardens, carefully curated tree-filled green spaces and so much more.
Visitors to these magical places come away with a deeper appreciation of the power of nature and its effect on our lives. They find solace, learn a new skill at the hundreds of sponsored workshops, discover a new variety of a favorite flower and enjoy special events all year long.
And the "show" is ever-changing. The sheer quantity and quality of plants—blooming all year—provide a continual fount of inspiration.
Garden Fun for All Ages
A key ingredient of the overall public garden experience is learning while doing. While all the gardens provide classes and activities for adults, many within the Greater Philadelphia Gardens group—a consortium that represents and promotes this area's public gardens—have added features and programming designed for school-age children, connecting them with the natural world.
Hands-on workshops, field trips and excursions abound, and, no surprise, bugs are BIG with kids! The gardens have offered everything from Cricket Radio featuring night-singing insects to feeding time for carnivorous plants.
The gardens are also places of higher learning, such as at Morris Arboretum in Philadelphia that serves as a center for botanical research studying such things as the evolution, taxonomy, anatomy and morphology of plants.
You'll find schedules for classes, workshops and other activities on individual garden websites, which are updated seasonally.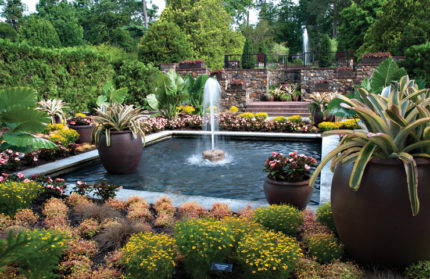 Beauty and Economic Benefit
Growing plants, connecting people of all ages and backgrounds to nature, providing places for reflection and inspiration—these are all by-products of public gardens,. And they are also important and relevant attributes of healthy communities. These treasured spaces provide much needed economic benefit to our region.
Some 2.5 million people, ranging from international tourists to school groups to local residents, come here to experience spectacular estate gardens like Chanticleer in Wayne, Mt. Cuba Garden Center in Hockessin, Delaware, and Longwood Gardens in Kennett Square. These same people are visiting and appreciating the pure beauty found in the bucolic settings of Scott Arboretum in Swarthmore, Tyler Arboretum in Media, and Winterthur in Winterthur, DE.
While all our gardens are places of beauty and respite, their economic impact on the surrounding region is equally profound and little understood, until now.
A recent study found the economic impact of the 30-plus member institutions of Greater Philadelphia Gardens—located in the 11-county Philadelphia region (in Pennsylvania, New Jersey and Delaware)—to be about $256 million a year. This includes more than 1,500 jobs with workers (both garden employees and service providers) earning $79 million.
"We have long felt that gardens brought significant benefits economic and otherwise to the area," said Matt Rader, president of the Pennsylvania Horticultural Society. "There's a real role for our region's public gardens. This study shows how public gardens create jobs, support local businesses, influence property values, and contribute to quality of life and overall economic development. Their value cannot be underestimated."
Garden Improvements
Area gardens also continue to make physical improvements to their properties. The garden consortium members have recently spent about $116 million on construction projects.
You can see the results most notable in the major investment made by Longwood Gardens to replace their 83-year-old fountains and add new water choreography. One result of this work, "New Heights: The Fountain Revitalization Project," recently opened to rave reviews and record crowds.
Other recent projects include the renovation of the house at the Winterthur Museum, Garden & Library, and the additions at Bartram's Garden, which include the new Ann Bartram Garden and a mile-long hiking trail.
"Each year, public gardens continue to grow their audience and visitor numbers. The American Public Gardens Association represents more than 400 public gardens across the country. Greater Philadelphia Gardens is an ideal model of a gardens' collaborative, and the findings of this study will help other gardens to demonstrate their value," says Casey Sclar, Executive Director of the American Public Gardens Association.
As the summer winds down and life returns to the rhythms of school and holiday planning, be sure to include a family visit to your local public gardens. These gardens are a refreshing and evergreen example of the beauty that abounds in our region.
Founded in 1989, Greater Philadelphia Gardens is a consortium of more than 30 public gardens, arboreta, historical landscapes and supporting organizations located within 30 miles of Philadelphia. Find out more at AmericasGardenCapital.org, #AmericasGardenCapital.
back to top