Gallery Round Up
No matter your style, art is out there calling your name. Join your fellow art lovers at these creatively charged events!
Chester County Studio Tour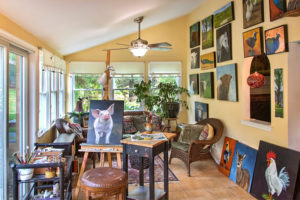 What happens behind the scenes at an art gallery showing? The Chester County Studio Tour is your chance to peek behind the curtains and inside the creative process, chat with artists about their work, and see them in action as you travel from studio to studio across the county. On May 19th and 20th, join your fellow art fans for this free, wide-ranging curation of artistic talent.
Now in its 8th year, the Studio Tour has grown to feature 154 artists and 64 studios, presenting paintings, sculptures, photography and more. Artist and show coordinator Jeff Schaller says tour-goers can "experience art on a one-to-one basis," and see artists' personalities shine bright in their natural habitats. The experience is far more personal and intimate than your typical art show.
Although you can't visit all 154 artists, some advance planning on the tour's website will help customize your route to the artists who pique your interests. Or let the tour planners share pre-made routes that are all about the journey—a day chock-full of exceptional artists with a tour of the scenic Chester County countryside in between.
For the tour weekend, everyone can be an art collector—creative connoisseurs and browsers alike. Every studio will have art for sale for a wide range of prices, giving you a chance to expand, or start, your collection.
Find a favorite artist but their work is too big for your walls or your wallet? The County Collector Series has you covered. On Saturday, participating artists will sell one-of-a-kind 6" x 6" paintings for just $75. A great chance to snag a unique work of art. Supplies will be limited, so get there early!
Join the Studio Tour for a weekend of top-notch art for all tastes and interest levels. Head for your favorites or be open to new experiences. With so many options, you may get tired, but you won't get bored.
Tour: May 19, 10 to 6; May 20, 11 to 5. ChesterCountyStudioTour.com.
Gallery Walk West Chester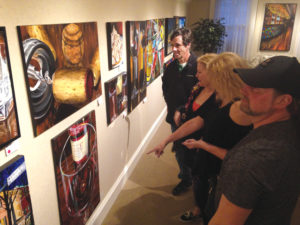 Mark your calendars for Gallery Walk in West Chester! From 5 to 9 p.m. on First Friday, May 4th, visit five galleries and over 15 one-night-only venues at local businesses.
This year the event has its first presenting sponsor, Sunset Hill Jewelers & Fine Arts Gallery. Not surprisingly, Sunset Hill owner, Sandra Riper, was one of the founders of Gallery Walk almost 30 years ago and maintains an art gallery on the second floor of her shop. In addition to an annual tribute to local artist Harry Dunn—with almost 100 of his works—Sunset Hill hosts about six shows each year, including the holiday miniature show, now in its 20th year.
To navigate Gallery Walk, look for maps and signs to direct you to the many locations where you'll find a wide selection of art, artists, art lovers and refreshments. Browse an eclectic array of paintings, sculpture, photography and textiles from local, national and international artists.
Grab some friends and celebrate this First Friday on the town with dinner, drinks and—of course—art!
May 4, 5 to 9 p.m. GreaterWestChester.com.
Art Gallery at the Devon Horse Show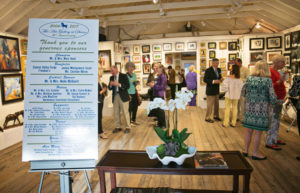 Find art in an unexpected place—under the sycamores at the Devon Horse Show and Country Fair. The Art Gallery at Devon is a fixture at this much-anticipated Main Line event.
Open from May 24th to June 4th—with a festive "First Night at Devon" preview party on May 23rd featuring a signature cocktail and drinks from the 13th Street Cocktail Caterers—the gallery boasts a juried art show of over 300 pieces of art tucked into a white-walled haven on the Country Fair grounds. You'll find paintings of horses and landscapes along with pastoral scenes and animal life rendered in an array of mediums. Look for work by this year's featured poster artist, Shawn Faust.
Local and national artists' works bedeck the walls in paintings at every size and price point. So many works sell every year that the gallery is one of the top-grossing contributors to Bryn Mawr Hospital, the beneficiary of the County Fair.
Give painted horses some love this season, too. Take a break from the excitement in the Dixon Oval and browse the finest pieces of art the Devon Horse Show has to offer.
May 22 to June 43 10 to 10. ArtGalleryDevon.org.
Crafted at Eagleview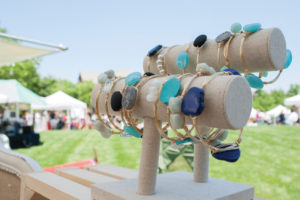 CRAFTED Craft and Arts Festival has a little something for everyone. Celebrate and support your local makers and creators at this fun, free event that represents every corner of arts and crafts.
On Sunday, June 10th, from 10 to 3, browse over 50 craft vendors to find that perfect piece to bring into your home.
Enjoy the welcoming Eagleview Town Center park as you browse a bevy of beautiful arts and crafts. CRAFTED also features craft demos (check out the demo by Malvern's new AR Workshop), live local music, a children's crafting studio, tasty food from Al Pastor, Brickside Grille, and Suburban Restaurant and Beer Garden, plus local wine and craft beer tastings.
Go for the art and stay for the fun!
June 10, 10 to 3. Crafted-Eagleview.com.
back to top