For That Most Special Time
New suggestions for books to read with your kids.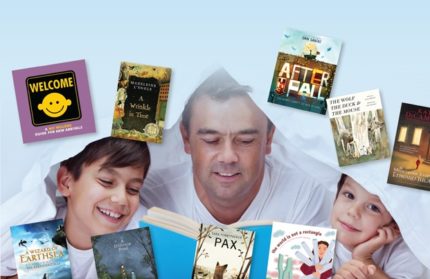 Even if reading to your child didn't improve literacy and language readiness, what can match that special time of sharing a book? Before bedtime, after dinner, around the fire on special occasions—so many times pair well with a good book and an attentive child.
Here are suggestions beyond the classics for infants to tweens—no Good Night Moon or Dr. Seuss favorites here. Perhaps you'll get an extra cuddle as you discover a new favorite.
Award-winners for Young Children
Young children's books bond parent and child with a love of illustration and words. There's a cadence to reading, almost like song, that provides comfort and calm. Even for kids who don't like to sit still, reading to them while they play introduces words and another way to learn.
These books garnered notable awards including the NCTE Charlotte Huck Award, Kirkus Reviews Best Picture Book and NPR Best Book.
Welcome: A Mo Willems Guide for New Arrivals
by Mo Willems
From the author of the "Elephant and Piggie" series, "Welcome" is Mo Willems' guide for new arrivals in the world. The illustrations are bright and will attract young eyes, and the text is intelligent and easy to read out loud. It's a must for new parents and their babies. (Ages newborn to 2)
The Wolf, The Duck and The Mouse
by Mac Barnett
A sad little mouse is eaten by a wolf and meets a duck who's already in the wolf's belly. It turns out the wolf's belly is a nice place to live—great food, nice table settings—and given the wolf's voracious appetite, it's a gourmand's heaven. The author weaves in references to traditional fairy tales in simple text, along with charming drawings in a beautiful picture book for young children. (Ages 1–3)
A Different Pond
by Bao Phi
The story is a father's reminiscence to his son of a long-ago fishing trip in a pond in Vietnam. The New York Times says Bao Phi's poetry "rhymes with the truth." Kirkus Reviews calls the book "a must-read for our times." This powerful picture book has received six starred reviews. (Ages 3–5)
After the Fall (How Humpty Dumpty Got Back Up Again)
by Dan Santat
Everyone knows that when Humpty Dumpty sat on a wall, he fell off. But what happened after the fall? Humpty is now terrified of heights and is not able to bird watch, something he loves to do. The book describes in simple words how Humpty faces his fear and reminds children that life can go on after you "fall." (Ages 3–5)
The World Is Not a Rectangle: A Portrait of Architect Zaha Hadid
by Jeanette Winter
Award-winning illustrator Jeanette Winter wrote this nonfiction picture book to introduce Zaha Hadid, a famous architect from Iraq. Hadid grew up in Baghdad and dreamed of being an architect. As a Muslim woman, though, she faced a culture that denied her access to the business of building design. She worked very hard and finally designed buildings that exist all over the world. The book is, of course, beautifully illustrated. (Ages 4–6)
Favorite Fables
Fables enchant children because the stories ask them to believe in what their imaginations tell them is true—that the world is filled with spirits, with animals that think, and with events that seem to rise out of nothing but to children are as real as the Sun.
These two recommendations exist in timeless landscapes and in unnamed countries that feel familiar—in worlds that children with their capacious sense of wonder can fit into easily. The authors understand the attraction children have to dolls and small animals that also inhabit small spaces in what must sometimes feel like a world of giants. Just like dolls and animals, children can listen so quietly, they too might seem to disappear.
The Miraculous Journey of Edward Tulane
by Kate DiCamillo
A china rabbit—an elegantly dressed doll—is alive but can't move. He's a mind within a body, who thinks of himself as superior, as an aristocrat, but has no heart for anyone else. Through a series of losses and misadventures, he acquires a soul and learns to love. You may remember when People's Light produced a play last year based on this engaging book. (Ages 7–9)
Pax
by Sara Pennypacker
A fox named Pax has been raised by Peter. They are soulmates, but war is coming, and they are separated. In alternating chapters, Peter then Pax tell their stories of their independent struggles to return to one another against all odds. (Ages 7–9)
Beyond the Fable: Fantasy
Fantasy is the world of the fable made both stranger and more particular. In a sense, fantasy gives the reader an extension of the solid, real world, but one where the impossible is composed of facts. Its protagonists feel more heroic, its villains darker, more threatening. Through their connections with the heroes of fantasy, children too might take wondrous actions. They too might possess magical powers. They too might save the world.
A Wrinkle in Time
by Madeleine L'Engle
In this book a young, awkward girl grows up as the target of bullies, but she has courage. When her scientist father disappears, she sets out to find him. With her companions—her brother and her friend Calvin—she confronts evil and vast dimensions of time and space. The fate of the universe comes to rest upon the shoulders of this small band. (Ages 9–12)
A Wizard of Earthsea (Earthsea Cycle #1)
by Ursula K. Le Guin
The hero in this story possesses immense powers, but as a foolish young man, Ged, who has become a great sorcerer, unleashed a shadow monster upon the world, and now must seek it out and master it. This is a story about learning wisdom and making use of courage in a world where danger might emerge from anywhere. (Ages 11–13)
Find the Wellington Square Bookshop on Facebook, Instagram and on Twitter at WSBookshop. The Bookshop hosts a café, weekly story times on Tuesdays for children (ages 1–5), monthly fiction and nonfiction book clubs, author events with book signings and an Avid Reader podcast available on Podomatic. 549 Wellington Square, Eagleview Town Center, Exton. WellingtonSquareBooks.com.
back to top