Discover New Writers
Explore new voices on the scene. You may just find a new favorite.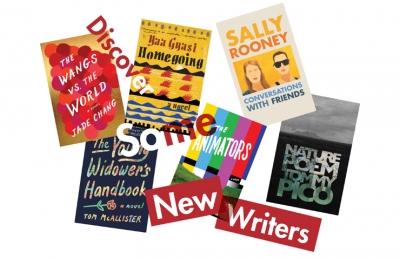 When you're looking for the next book that will keep you up late turning pages or make that road trip go flying by, it's tempting to stick with what you know. Picking up a classic or a favorite author's new work feels familiar, like getting together with old friends. But there is a buzzy excitement about making new friends, too.
The book community loves nothing more than to fete a new face (and new work of fiction) on the scene. Being part of that zeitgeist surrounding a new author, being the first to recommend a rising star to fellow readers, and the invigoration of reading something really fresh are reasons to celebrate.
Certainly, it helps keep the publishing industry, and your local independent bookseller, alive. After all, book stores can sell only so many copies of 1984 before everyone has one.
In the spirit of that celebration, here are six new authors to read this summer.
Jade Chang – The Wangs vs. The World
One reason we read a new author is for a new perspective, and for many of us the Chinese-American immigrant experience is a very different perspective. The Wangs vs. The World by Jade Chang is a novel about two fractured generations of a Chinese immigrant family. That may sound heavy, but this book can be light and funny amidst poignant truths, or as light as a book about a family's financial ruin can be expected to be. With vividly drawn characters that show a wide range of the immigrant or first-generation experience, this book will have you rooting for the Wangs.
Tom McAllister – The Young Widower's Handbook
Author, editor, podcaster … Tom McAllister's bio is the first thing that tips you off that he's of this new generation of writers that is so many things at once, often involving multiple mediums and the words blogger, podcaster or YouTuber. McAllister is also somewhat local—hailing from Philadelphia and currently residing in South Jersey—and earning a regionally-prestigious-in-certain-circles Philly Geek Award for his podcast. As for his writing, he has a MFA from The University of Iowa, probably the most esteemed writing program in the country. His novel focuses on Hunter Cady, who finds himself on the travels he and his young wife had always planned. But he's taking them with her ashes.
Yaa Gyasi – Homegoing
The paperback edition of Yaa Gyasi's celebrated historical fiction novel Homegoing—about the generations that descended from two half-sisters born in Ghana in the 18th century—came out this May. Gyasi was also named to this year's "Forbes 30 Under 30," one of only two authors on the list, along with Emma Cline, author of The Girls. This book can be a difficult read, as one sister goes on to grow up in luxury on the Gold Coast and the other sister is sold into slavery in America. But it is an important read.
Kayla Ray Whitaker – The Animators
A childhood memory from when Kayla Ray Whitaker realized while watching cartoons with her grandfather that adults can see things in a story that children cannot see fueled her debut novel The Animators. More inspiration came from Whitaker's MFA from New York University where she studied under Zadie Smith and Martin Amis. The book is about a pair of female illustrators in the male-dominated field, their rural histories and their relationship. Whip-smart and with crackling dialogue, the book tackles competition within a relationship, addiction and gender roles in a way that will keep readers thinking.
Sally Rooney – Conversations with Friends: A Novel
Twenty-five-year-old Sally Rooney, yes, twenty-five, walked out of her restaurant job in Dublin to force herself to finish her writing project. The risk paid off, since the project became Conversations with Friends: A Novel, which sparked a seven-way bidding war among publishers, with Faber the eventual winner. The book comes out this July and seems vaguely autobiographical, given a heroine pursuing a writing career in Dublin. It's a story about female friendship and how our desires can get away from us, and push us away from the people we love.
Tommy Pico – Nature Poem
The first Google result for Tommy Pico is the writer's Tumblr. If Tumblr, microblogging sensation and serious literature don't appear to go hand in hand, you might be surprised to learn that Pico's debut is a book-length poem. In the work Pico struggles with the cliché of writing about nature as a young, queer, Native American poet. The Queen of the Night author Alexander Chee calls it "a thrilling punk rock epic that is a tour of all we know and can't admit to." Pico is also the author of the zine series Hey, Teebs. He was a 2013 Lambda Literary fellow in poetry, and his poems have appeared in BOMB, Guernica, Tin House, and the Offing. Originally from the Viejas Indian reservation of the Kumeyaay nation, he now lives in Brooklyn, and the transformative nature of that move is evident in his poetry.
Find the Wellington Square Bookshop on Facebook, Instagram and on Twitter at WSBookshop. The Bookshop hosts a café, monthly fiction and non-fiction book clubs, staff picks and an Avid Reader podcast available on Podomatic, plus events with authors on site and on the website. 549 Wellington Square, Eagleview Town Center, Exton. WellingtonSquareBooks.com.
back to top