Sharing a Good Book
Book groups extend the fun of reading and may expand your reading horizons.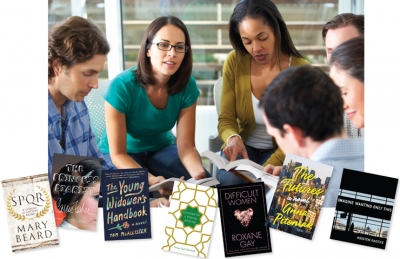 After a long winter, we can all feel a bit starved for human contact. After all, what was there to do for all those frigid and snowy months but stay inside with a good book?
It only makes sense, then, to make plans to get out and socialize and talk about all the books we've been reading. Sounds like the makings of a book club!
Modern book clubs don't have to be the rigid affairs they once were, typified by prepared discussion questions and all members on deadline to read the same book during the same time. Those who enjoy that format will still find a club for them.
But there are lots of new ways to have a book club.
The website BookRiot.com hosts regional "Read Harder" book clubs, where their community simply comes out to have a face-to-face meet-up and discuss whatever books they've been reading recently. After all, "what have you been reading" is the ultimate conversation-starter for bibliophiles. (The Philadelphia Read Harder group typically meets at watering hole Frankford Hall. Find them on Facebook.)
Many book clubs pop up around annual "reading challenges," where members are trying to read books that tick off boxes—like a book from a living author, a dead author, an author of another race, a young adult novel a science fiction novel, and the like.
Or, you might develop a book club around a particular theme. Folks at County Lines have been dying to find a cookbook club, where members read and prepare dishes from a selected cookbook or cuisine style. (Editor's Note: Please let us know if you're in a cookbook club.)
There are even celebrity book clubs. Emma Watson, famed reading enthusiast Hermione Granger in the Harry Potter films, has a feminist book club on GoodReads.com, Reese Witherspoon shares many of her reads on social media, Bill Gates is known for recommending books on his GatesNotes.com, and, of course, there's still the original celebrity-driven book club—Oprah's Book Club, now in its 2.0 version.
Wellington Square Bookshop offers a young readers' book club, an adult nonfiction book club and both daytime and evening adult fiction book clubs. You can stop by the store or check online for recommended books.
Now, let's get to the book club picks!
SPQR: A History of Ancient Rome
by Mary Beard
This is the March nonfiction book club pick at Wellington Square Bookshop. Read this vivid retelling of the Roman Empire that became a New York Times Bestseller and an instant classic and join the discussion on Thursday, March 2 at 7 p.m. with proprietor, Sam. The Romans have much to say to modern readers struggling with questions of power, citizenship, empire and identity.
The Princess Diarist
by Carrie Fisher
At press time the passing of Carrie Fisher is very fresh, so the time is right to resolve to read her latest book, a memoir of the Star Wars years. The actress reinvented herself as a wonderful writer with books like "Wishful Drinking" and "Postcards from the Edge" earning critical and popular acclaim. This final memoir draws on her actual journals from filming the most famous film franchise of all time, also experiencing a resurgence in popularity. For fun, read the book and then watch the movie at your book club meeting!
The Young Widower's Handbook: A Novel
by Tom McAllister
This February 2 release was much buzzed about at the New Atlantic Independent Booksellers Association Fall Trade Show, and booksellers know books. The story follows the recently widowed Hunter on a cross-country road trip with his wife's ashes. The quirky characters he meets along the way are all searching for something, and they help illuminate Hunter's own journey.
Letters to a Young Muslim
by Omar Saif Ghobash
In this book the United Arab Emirates' ambassador to Russia writes letters to his son raising questions about how to be a good Muslim in the 21st century. Aware that too many young men in their community are vulnerable to extremist propaganda, Ghobash poses the question of how moderate Muslims can unite to find a voice that's true to Islam while actively and productively engaging in the modern world.
Difficult Women
by Roxane Gay
Powerhouse talent Roxane Gay is following up her seminal, must-read essay collection "Bad Feminist" with this group of short stories that portray hardscrabble lives, passionate love, and quirky and vexed human connections. With fans devouring her frequent contributions to The New York Times Book Review, The Los Angeles Times, The Nation, Salon, The Wall Street Journal's Speakeasy culture blog, and NPR, excitement is high for Gay's return to fiction.
The Futures
by Anna Pitoniak
If you enjoy a certain type of New York City novel with protagonists of pedigree, you'll want this for your shelf. Yale grads Evan and Julia move to the Big Apple to start their lives together—she at a nonprofit and he at a prestigious financial firm. Then the economic collapse of the late aughts alters their expected trajectory as it did to so many, and this emotional page-turner reveals if they survive with their ideals and ethics intact.
Imagine Wanting Only This
by Kristen Radtke
Radtke's collection of meandering stories of everyday places that have fallen to ruins—from mid-western cities to an Icelandic town buried in ash—takes the reader on a winding journey that also traverses the crumbling canals of human history. This is a graphic novel that helps continue the elevation of the genre we've been seeing of late. If your book club hasn't tried a graphic novel yet, this might be the one. Out April 18th.
Tell us what your book club is reading!
Find us on Facebook at Wellington Square Bookshop, WSBookshop on Twitter and WellingtonSquareBookshop on Instagram. The cafe and comfy couches our a great place for your book club to meet! 549 Wellington Square, Eagleview Town Center, Exton. WellingtonSquareBooks.com.
back to top