Food News / June 2018
A few of our favorite things to share this month about local food and drink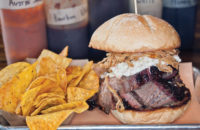 Guest Brewers
New at Bryn Mawr's Tin Lizard Brewing Company—guest brewing! With a dedication to the home-brewing community, this brewpub opens up its brewing system to those who want to brew on a larger scale. Bring your best sample, and if you get the nod, Tin Lizard will scale up your recipe for their system. Work with brewers at Tin Lizard and your name and beer description will appear on the menu. 1000 W. Lancaster Ave., Bryn Mawr. TinLizardBrewingCo.com.
App on Tap
Bored by your usual breweries? Download Untappd and your new favorites are just a "tap" away. Use maps of nearby breweries and events, sort by trending beers or locations, top-rated beers and more to find the new beer of your dreams. Tap on a venue to see its beer menu and upcoming events. Plus, check in at verified breweries and collect badges on the app—some extra fun to go with your new brews! Download at Untappd.com.
Insta-Great Food Pics
Are your food photos half-baked? Try these tips when you frame your plate. Lighting is key—aim for natural light and adjust exposure in post-processing apps like Snapseed or Afterlight. Don't wait too long to snap—food goes from fresh to funky-looking fast. Experiment with angles for the delicious details of your dish, like the inside of a cake or textured bread. Always crop and filter, but remember—keep it natural! More options on the app stores.
Too Early for Corn?
June 11th is National Corn on the Cob Day, but around here we don't think about juicy ears of gold until Independence Day. Local farmers harvest corn much later than other regions. Take it from the folks at West Chester's Pete's Produce Farm—they pick their sweet corn from early July through September. If the start of summer makes you crave corn, go ahead—but for fresh, locally grown options, mark your calendar for mid-summer! 1225 E. Street Rd., West Chester. PetesProduceFarm.com.
Amazing Grains
What can we do with grains? On June 23rd, join the Newlin Grist Mill for a multi-course meal made with common and uncommon grains from around the world. Your $50 ticket to the Grains of the World Dinner supports rebuilding the Mill's waterwheel as you enjoy a multi-course meal and sample breads, desserts and beverages based around barley, spelt, amaranth and more. A healthy history lesson and a tasty meal! For reservations, 610-459-2359.  219 S. Cheyney Rd., Glen Mills.
back to top