Food News / April 2018
A few of our favorite things to share this month about local food and drink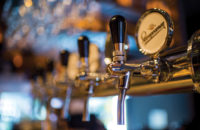 Chef News
West Marlborough's award-winning English pub, The Whip Tavern, welcomes Tim Baker as Executive Chef. Baker's culinary experience spans 20 years—recently at Sullivan's Steak House in Wilmington. Baker will preserve The Whip's traditions while adding personal flair to the menu. Try his new Southern-inspired Shrimp and Grits and Chicken Fried Pork Belly, or stick to the classics with Welsh Rarebit and Scotch Eggs. Stop by for craft beer, English and seasonal brews, or local cider, too. 1383 N. Chatham Rd., West Marlborough; TheWhipTavern.com.
Birds & Brews
What happens at Newlin Grist Mill after hours, you ask? Sip Behind the Scenes, of course! On April 12th, Newlin Grist Mill partners with Wild Birds Unlimited and Tri-State Bird Rescue for Birds and Brews, an evening dedicated to enjoying nature, the Mill and beer. Chat with staff about what's happening at the Mill, or learn about finches, woodpeckers and more … all while sampling a local brew. Join the fun at this free after-hours session. 219 Cheyney Rd., Glen Mills; NewlinGristMill.org/calendar.
American Beauty
Following a brief hiatus and change in ownership, Verbena BYOB debuted at the former location of La Madera Bistro in Kennett Square. Executive Chef Scott Morozin brings years of experience in the Philly dining scene and Steven Starr restaurants to this BYOB, which serves an American menu highlighting local farms and organic produce. With only 40 seats, Verbena is rustic and cozy, the perfect setting to savor serious food—from ribeye to rosehip crème brûlée. 102 State St., Kennett Square; VerbenaBYOB.com.
Winning Miss Winnie's
Are you jumping for jerk chicken? Eager for oxtail soup? Miss Winnie's has you covered. This special spot is a loving homage to owner Bert Johnston's mother, the restaurant's namesake, and her dedication to food, family and friends. Try authentic Jamaican dishes like plantain tarts and curry chicken, or American favorites like burgers and wings with a distinct Caribbean twist. Sample Miss Winnie's recipes and the fruits of her legacy for yourself! 211 E. Market St., West Chester; MissWinnies.com.
Veggie Volunteers
Winter is finally over, so celebrate springtime by volunteering at a farm! On April 28th, lend a hand with the Delaware Center for Horticulture at SIW Vegetables in Chadds Ford to honor owner H.G. Haskell's contributions to DCH's Urban Agriculture programs. Get a taste of real farm work as you transplant seedlings, adjust row covers, clear tunnels and more. Help SIW Vegetables, a farm market and CSA, keep growing and giving to the community. Contact Ruth Arias, 302-658-6262, ext. 113.
back to top