Food News / February 2018
A few of our favorite things to share this month about local food and drink
Botanicals & a Bistro
Two years strong in Elverson, Brandywine Branch Distillers continues to be more than your run-of-the-mill distillery— if there is such a thing. Focusing primarily on bourbon and gin, their spirits have a unique twist, particularly their botanical-based gins. Pick from seasonally inspired flavors like Equinox, Summertide, Harvest and award-winning Solstice Expression or try their jalapeno-infused DragonDance. Hang out in the cozy bistro with its local, new American menu and see what the buzz is about. 350 Warwick Rd., Elverson; RevivalistSpirits.com.
Sweet Local Treats
It just isn't Valentine's Day without chocolate! So set your sights on the good stuff since our area is packed with quality goodies to satisfy any chocoholic. Try Phoenixville's Bridge Street Chocolates, Newtown Square's Christopher Chocolates or West Chester's Éclat Chocolate and impress your Valentine with local sweets. Find them at BridgeStreetChocolates.com, Christopher-Chocolates.com and EclatChocolate.com.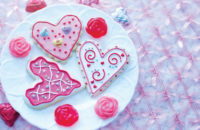 Heart-Warming
What if chocolates aren't your sweetheart's thing? Then get creative! A heartfelt, heart-shaped breakfast with all the fixings—from pancakes, cinnamon rolls, hash browns and fruit—is sure to impress. Check Pinterest to confirm there's no limit to how many hearts you can make. And cookie and ice cream lovers will go headover- heels for fresh-baked goodness from West Chester's Baked or Insomnia Cookies. Look for Valentine's Day specials! BakedWC.com; InsomniaCookies.com.
Keep Calm and Veggie On
Looking to move to a plant-based diet? Whether for health, ethics or both, going vegetarian or vegan doesn't have to be difficult. For inspiration and direction, consider a meal plan service like eMeals—with the added perk of making sure your diet is well-rounded, exciting and stress-free. Dining out? Not-just-salad veggie options are popping up, with newbies like Love Again Local in West Chester, The Greyhound Café in Malvern, and reinvented TASTE in Phoenixville. More at eMeals.com, LoveAgainLocal.com; TheGreyhoundCafe.com; SandCastleWinery.com/ Taste-Phoenixville.
Ramen Ready
Grab your fanciest chopsticks and celebrate because February 6 is National Chopsticks Day! Don't worry if you haven't perfected your technique—practice makes perfect and YouTube tutorials abound. And, just two days before, on February 4, it's National Homemade Soup Day. Our suggestion? Combine the two with a delicious bowl of heart-warming ramen. Check out newly opened Rai Rai Ramen & Hawaiian BBQ in West Chester for an authentic taste with countless varieties, or make some yourself.
back to top