Food News / March 2018
A few of our favorite things to share this month about local food and drink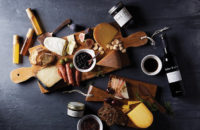 Say Cheese
Chester County farmers had their cheese wheels in motion at the 102nd Pennsylvania Farm Show.
Locally loved cheese earned several notable awards. Coatesville's own The Farm at Doe Run won their fourth Best of Show award for selections such as St. Malachi and Seven Sisters cheese. Honey Brook's September Farms took home awards for their Aged Gouda, Birchrun Hills Farm saw success with their semi-soft Birchrun Blue, and Yellow Springs Farm scored with Black Diamond and Cloud Nine cheese. FarmShow.pa.gov.
Finder's Keepers
Adult Easter Egg Hunts
Easter egg hunts aren't just for kids. For three weekends in March, Chaddsford Winery hosts Adult Easter Egg Hunts, where you can compete to win fun prizes—winery event tickets, bottles and glasses of wine, winery merch and Easter candy, of course. Food trucks and live music add to the fun. Don't miss out on the festivities … or the wine. $15 includes one timed egg hunt and a glass of wine. Tickets at Chaddsford.com.
Veg Out
Looking for a very veggie dining experience?
Look no further than Marwar Mirchi. Malvern's newest restaurant boasts a tempting menu bursting with authentic Indian and Pakistani options, all completely vegetarian. Be merry on Meatless Mondays in March, enjoying your favorite curries, naans, chaat and more. Ceiling décor transforms the space and creates a one-of-a-kind atmosphere. Check out their Facebook page for the complete menu. 309 Lancaster Ave, Suite #C1, Malvern.
Nothing to Wine About
Raspberry, red plum and white pepper, oh my!
Galer Estate Vineyard and Winery took home the prestigious Double-Gold medal for its cabernet franc at the 2018 San Francisco Chronicle Wine Competition. Beating out thousands of entries from 35 states, this aged wine has notes of tobacco and smoke, and expertly exhibits every characteristic of the cabernet franc grape. The award is a huge success for Galer and Brandywine Valley wines. Find this award-winning wine at GalerEstate.com.
New Brews
A new brewery in Honey Brook is brimming with in-house beers and local wines and spirits.
Suburban Brewing Co. is sure to charm with its eclectic feel from upcycled materials. Owner Eric Yost, of Suburban Restaurant & Beer Garden, and business partner Corey Ross have curated a relaxing spot where you can enjoy freshly brewed beers, indulge in PA Dutch-inspired snacks and challenge your friends to pool or vintage arcade games, from Pac-Man to pinball. Grab one of 8 to 12 beers on rotation at 2536 Conestoga Ave., Honey Brook. SuburbanBG.com.
back to top