Fall for a Satisfying Story
It's a good time for a biography or auto-biography.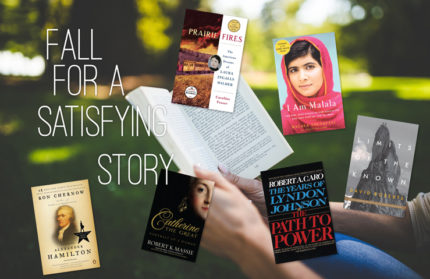 We want to know what we could not have experienced: the pitch of Lincoln's voice; how Cleopatra presented herself as Queen to Caesar; how Josephine Baker survived as a member of the French Resistance under the Nazis. We are the animal that wants to know how others have lived. Thus, the popularity of biographies.
What better time to read these selections than fall, when the chill sets in and the reading lamp beckons. And, although the biography craze did not begin with Hamilton's story, that's not a bad place to begin these recommendations.
Alexander Hamilton
by Ron Chernow
Born a bastard in Nevis, a dot in the Caribbean east of Puerto Rico whose slaves outnumbered whites 4 to 1, Hamilton understood early the cruelties life could inflict, and that he must make his own way or sink. In America he lifted himself through brilliance and audacity. Twenty when the Revolution began, Hamilton joined a militia and from that moment found the audience that would serve his rise. Sharpened by poverty and war, Hamilton also understood that "men, for the most part, are governed by the impulse of passion," a sentiment we are learning anew.
Catherine the Great: Portrait of a Woman
by Robert K. Massie
Catherine was born into minor German nobility, to a mother 22 years younger than her Prussian husband. Her mother wanted a son. At 16 Catherine was married off to Peter, heir to the Russian throne, a strange man who played with toy soldiers. At 33, after a miserable marriage, she led a coup against Czar Peter, seized power and for 34 more years guided Russia through a reign threatened by revolution and wars. She survived palace intrigues, feckless ministers and many lovers. In a time when women were regarded as inferior beings, devoid of courage and wisdom, Catherine the Great kept Russia whole and left it better than she found it. She once wrote, "I may be kindly, I am ordinarily gentle, but in my line of business I am obliged to will terribly what I will at all."
Prairie Fires: The American Dreams of Laura Ingalls Wilder
by Caroline Fraser
After passing middle age, do we not look back and make a myth of our youth that serves our more settled lives? In her 60s Wilder turned her very difficult Western life into children's books—the Little House on the Prairie series. She reframed privation and hardship into stories that described homesteading as struggles overcome and dreams fulfilled. Fraser's description of the contrast between Wilder's experience and her creations gives us a perspective on how we shape our lives into stories.
The Years of Lyndon Johnson: The Path to Power
by Robert Caro
Johnson grew up in the Texas Hill Country, a poor boy who never forgot what it had been like to work "seven days a week, dawn to dark" in a region without electricity and radios. He experienced a hard and lonesome 20th-century American childhood. In 1929 when the little his people had was smashed to bits by the Depression, all he could think was "I had to get out. I had to escape." The first book of three (so far), this biography describes Johnson's escape from poverty and his political ascent during the political wars of the New Deal. Everything in Johnson's character had its beginnings in isolation and struggle, and in his empathy for those crushed by circumstance and power.
I Am Malala
by Malala Yousafzai
When she was 15, a Taliban assassin shot Malala in the face as she rode her school bus home. She survived, and somehow freed by her attack, found a new life where she refused to be cowed by men with guns. She stepped away from a culture "where daughters are hidden away, their role in life to prepare food and give birth to children." Malala's self-told story expands to include multiple examples of daily courage by others in the face of murderous threats—her father and mother, classmates and teachers. Her experience asks that nagging question—What would I have done if this had happened to me?
Limits of the Known
by David Roberts
David Roberts has been climbing mountains and exploring "blanks on the map" all his life. He has seen men die. He has come close to death. In this memoir and biography of other explorers, Roberts wants to know why we risk our lives in these pursuits. He began climbing as a teenager because he "was bored," yet in two years "it became the most important thing in [his] life." Writing eloquently after having been diagnosed with cancer, Roberts confronts the obsession of those who have happily ventured into places that may kill them.
Find the Wellington Square Bookshop on Facebook, Instagram and Twitter. The Bookshop hosts a café, weekly story times on Tuesdays for children (ages 1–5), monthly fiction and nonfiction book clubs, author events with book signings and an Avid Reader podcast available on Podomatic. 549 Wellington Square, Eagleview Town Center, Exton. WellingtonSquareBooks.com.
back to top