Faces of Philanthropy
Charity Datebook 2019
The Brewer Family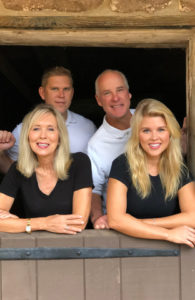 Helping local families fulfill basic needs through the Clay-Mir Foundation
In 1995, after a 10-year career in the security industry, Frank Brewer decided to launch his first entrepreneurial venture.
Under Frank's leadership, the newly founded Security Services and Technologies company was quickly recognized by Inc. Magazine as one of America's 500 Fastest Growing Companies in 1996, 1997 and 1999.
Closer to home, in 1998 the Philadelphia Business Journal named Frank one of the Top 40 Business Leaders Under 40.
Frank went on to serve as CEO of FirstService Security. A serial entrepreneur, Frank next founded NexGen Security LLC in Exton in 2013.
Starting with humble beginnings, Frank and his wife, Lori, have always wanted their family to remain grounded despite their financial success. "For us," explains Lori, "giving back was the answer."
The Clay-Mir Foundation—named after their son, Clayton, and daughter, Miranda—was created at the Chester County Community Foundation with legacy philanthropy in mind.
Through their volunteer activities, board service and Clay-Mir Foundation grants, the Brewer family focuses on helping local families and children fulfill basic needs for food, clothing, shelter and education.
Despite being barely teens when their family foundation was created, both Clayton and Miranda were involved from the start.
Now married, daughter Miranda is clear, "Helping people in need—those we have never even met—simply makes me feel good. I'm making a difference."
Clayton adds, "Through the Foundation, we realized that philanthropy is a powerful investment with a long-lasting, ripple impact." Recently, Clayton and his wife, Kate, welcomed baby Bellamy Lorelei into the family marking the start of a new generation.
The Brewer family is clear that one day, this third generation will also be involved in making an important difference in the community—for good, forever.
The Brewer Family exemplifies how family values, community spirit and entrepreneurial success can lead to meaningful altruism and community devotion.
The Daley Family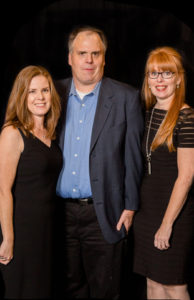 The family foundation's grants reflect the interests of each member.
In the Daley family, giving to others is as normal as breathing.
By way of background, Carol Ann, the youngest of the three Daley siblings, explains: "My dad's parents were from Ireland. As a child, he would sometimes find a stranger or two at the breakfast table. These strangers would turn out to be friends or relatives who'd just arrived from Ireland. Our grandparents served as sponsors: they opened their home, offered a place to stay, and helped these strangers find their way when they first came to America."
Middle child Chuck continues, "Growing up, we were used to seeing our parents help others in need. I remember a Flyers game where Dad and I were in the fan shop. Dad struck up a conversation with a veteran who was looking longingly at game jerseys. Turned out, Dad purchased a jersey for the veteran and thanked him for his sacrifices for our country."
Eldest daughter Kanya adds another memory: "Dad heard about a local shelter that didn't have money for enough turkeys for Thanksgiving. So Dad went to the shelter, checkbook in hand, to ensure holiday meals for many people in need."
When their father Charlie passed away in 2013, the three Daley siblings became more involved in managing the grantmaking decisions from their family's charitable fund.
The grants awarded by the Daley Family Foundation at the Chester County Community Foundation speak volumes about the varied interests and experiences of each family member:
Kanya supports nonprofits close to home that resonate with her professionally and that speak to her heart and mind.
Chuck supports nonprofits he's personally familiar with that rescue his favorite animals.
Carol Ann's volunteer connections and family ties guide her decisions.
Their mother, Janet, supports cancer patients and funds cancer research in honor of family members touched by the disease.
Decades ago, Charlie and Janet made a decision to use some of their good fortune to help others. Their spirit of generosity has grown into a family endeavor, involving the next generation in the legacy of community giving, now and forever.
For the Daley family, giving to others is as normal as breathing.
The Frees Family
'Bring more to the table than you take' is the family motto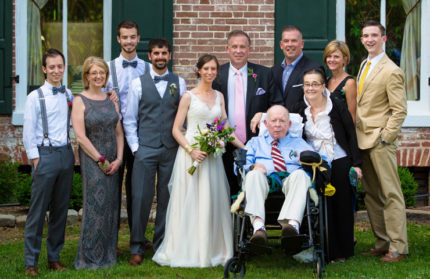 The Frees family is well-known throughout Chester County for its deep roots, successful community-based businesses and longstanding civic engagement.
A little history: In 1933, David M. Frees opened the Frees Insurance agency in Phoenixville. He was followed, in 1959, by son, David Jr. Then in 1984, Robb Frees began working at the company with both his wife, Lisa, and his father. Recently Tyler Frees joined the company, making it a four-generation family business.
Tyler's brother Morgan pursued a different path, working at JP Morgan Chase & Co in New York City.
David Jr.'s and wife Mary Jane's eldest son David M. Frees III, Esq. took the legal route, helping found Unruh, Turner, Burke & Frees, where he heads the Trust, Estate and Wealth Preservation Section and helps families who want to leave a legacy for their heirs. He's also served as Chair of the Chester County Community Foundation and on many charitable boards and capital campaigns.
In 1995 David III's wife Robin—while raising Joshua, Jamie and Alex—founded NewBorn Concepts, which served Phoenixville and all of Chester County. Robin now works at Chester County Hospital.
Today the fourth generation has left the nest—Josh Frees works as a freelance illustrator, Jamie Frees Miller is an anthropologist land coordinator, and Alex Frees is a marketing director for CreditSuite.
David III recalls weekly tithing: "I remember eating spaghetti suppers and lots of tuna noodle casseroles—simple meals. And every Friday, Mom and Dad would sit at the table with us, and we'd decide how much money we would put aside for charity."
Robb continues, "Service and giving one's time and money is an obligation, regardless of age or wealth. We developed the habit of giving, even when time and money were scarce. The habit endures."
Over time, as the Frees family continued to grow and thrive, the family began more formal philanthropy. In 1994 when the Chester County Community Foundation was just beginning, David Jr. became a board member.
Continuing the family's tradition of generosity, brothers David and Robb started the Frees Family Fund In 1997.
This intergenerational family legacy fund focuses its grants on "Neighbors helping neighbors." A fitting demonstration of the Frees family motto: "Bring more to the table than you take."
'We developed the habit of giving, even when time and money were scarce. The habit endures.'
Leonard C. Haas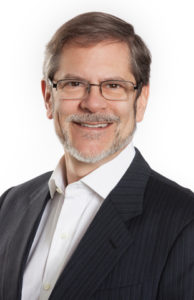 Supporting area arts & culture: from building sets to naming theaters
To say that Leonard C. Haas is a patron of the arts is an understatement.
In truth, much of Haas's life was shaped and informed by his connection to theater. As both an actor and a philanthropist, the performing arts affect Haas on a daily basis. And through his long-running charitable work with the William Penn and Wyncote Foundations, Haas, along with members of his family, continually contributes to the region's art and culture scene.
In short, Haas is a key player—both on and off the stage.
After earning a BFA from Ithaca College and living in New York City, Haas returned to Philadelphia for the early years of its theatrical revolution. Haas remembers attending a show at the People's Light and Theatre Company (the name before it became simply People's Light) in Malvern in 1986 and being impressed by the company's "unique and immersive" productions.
Two years later, Haas began working with People's Light, building sets in hopes of earning a place on stage as an actor. Now, the theater's main stage bears Haas's name.
The close, hard-working community that was the roots of People's Light stays in Haas's mind. He recalls the early history when by day, theter employees would sell tickets at the box office or craft costumes and sets. With any luck, the actors could catch a quick dinner before taking the stage and performing all evening. "Everybody was always doing something," Haas said.
And that strong community and work ethic are reflected in Haas's philanthropic work. As one of the Wyncote Foundation's board members, Haas strives to make grants to give back to the culture that shaped him. He describes arts and culture as his passion and cites the grants his organization funds as an "exciting jolt."
Although the Wyncote Foundation has grown—there's a formal application process now as opposed to informal meetings with the ever-social Haas—a community-focused spirit still guides its hand.
"I'll always have the same mentality where I just want people to be happy," Haas said. "I realize how lucky I am to have this opportunity. To be able to make a difference in peoples' lives is profound. I'll never forget it's a gift and I cherish it."
And so, Haas continues to do what makes him happy: charity work and acting. In April, Haas returns to People's Light in "For Peter Pan on Her 70th Birthday."
"If I don't perform every once in a while," Haas said, "I feel like a piece of me would be missing."
To say that Leonard C. Haas is a patron of the arts is an understatement.
The Holleran Family
Philanthropy makes the family feel connected to the community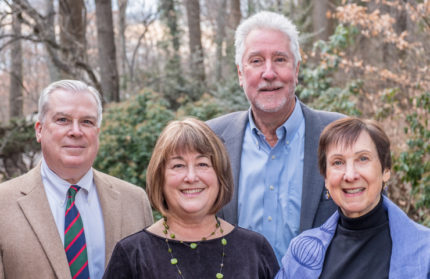 Community involvement came naturally to our parents. There was never a lecture to get involved in our community. It simply is the way our parents socialized us from childhood," says Kevin Holleran, Esq.
His sister, Mary Holleran, continues, "Giving is something the Holleran family has always stood for. We're immersed in the community and well-versed in charitable issues. Sometimes we give to effective nonprofits to reward them. Sometimes we give to needy charities to help them. But we always do our research. We have a giving strategy and a plan."
Kevin is a partner with the law firm Gawthrop Greenwood, and his wife, Priscilla ("Burse"), is a newly retired Special Education teacher from the Colonial School District. Burse explains, "Giving helps us feel connected to our community."
Kevin and Burse have been involved as volunteers, board members and major donors with an array of causes, including the Chester County Community Foundation, Downingtown Library and United Way of Chester County.
Kevin is clear: "Our alma maters are very important to us, so we contribute time and resources to The Agnes Irwin School, Dickinson College, Hollins College, Temple University and The Villanova University School of Law."
Additionally, Kevin served as Chair of the Board of the Chester County Hospital Foundation for nearly a decade, and Burse served as President of the Junior League of Philadelphia.
Kevin's sister, Mary, is also a generous and caring community member. For 29 years she owned Studio 3, a custom framing shop in the heart of Downingtown. Mary's husband, David Proctor, is the retired Director of the Ballard Spahr Research & Information Center.
Mary is a long-term board member of the Brandywine Health Foundation, where she also served as Chair of the Foundation's garden party for 10 years, as well as a board member of the Brandywine YMCA for more than 25 years, and a founding board member of the Downingtown Main Street program.
For the past 12 years Mary's, and now David's, passion has been the Downingtown Library as a donor and major fundraiser. Mary and David believe in the "power of libraries and how they can transform a community for rich and poor."
The Holleran siblings and their spouses tirelessly support charitable causes. Betty and Rich Holleran would be proud of them carrying on the family's tradition of philanthropic good works.
'Community involvement came naturally to our parents. There was never a lecture to get involved in our community. It simply is the way our parents socialized us from childhood.'
Karen and Bob Rigg
'Giving makes us feel good.'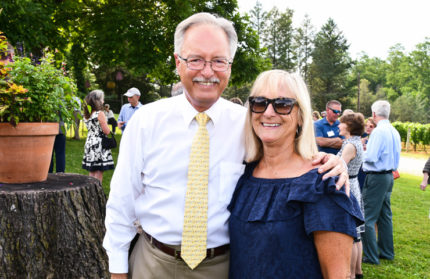 Most people know Karen Rigg, CISR, and Robert Rigg, CPCU, CIC, CLU for their outgoing, friendly demeanor and successful insurance business, the Rigg Darlington Group. It only takes a little bit of conversation to discover that Karen and Bob are deeply involved in their community, as volunteers, board leaders and generous donors.
The Rigg Darlington Group of Exton was formed in 2001 with the merger of two longstanding insurance agencies, the Rigg Agency and Darlington Insurance Agency, which traces its roots back to 1917. Licensed in over 40 states, Bob serves as Chairman, Business Risk Consultant and Karen is Senior Assistant Account Manager.
Bob attributes The Rigg Darlington Group's success to its strong core values: "We build enduring relationships through fairness and integrity, with clients and also with fellow associates. Our culture supports those relationships. Everything is done with a client focus."
Bob enjoys serving on boards and lending his time, talent and resources to nonprofits doing good work in the community. Some of the groups he is deeply involved with include the Rotary Club of Thorndale, YMCA of Greater Brandywine, Good Works Resource Development Committee, and the Forks of the Brandywine Presbyterian Church.
Bob also served with distinction as a Chair of the Board of the Chester County Community Foundation.
Professionally, Bob now serves as a director of First Resource Bank and previously served as a director of National Penn Bancshares, National Penn Bank and Elverson National Bank.
Karen and Bob make grants from the Rigg Family Foundation to charities throughout the region including Camphill Special School, Chester County Futures, Honey Brook Food Pantry, Uptown! Knauer Performing Arts Center, and YMCA of Greater Brandywine, among others.
Karen explains, "We like to help people by giving them a hand up, not a hand out. Strong family, healthy values and ongoing learning are all keys to a good life. Giving makes us feel good."
There are many people, families and charities throughout Chester County who are better off today thanks to the generosity and thoughtfulness of Karen and Bob Rigg.
'Strong family, healthy values and ongoing learning are all keys to a good life.'
Sandy Riper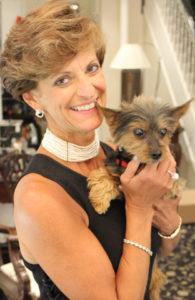 A self-proclaimed hometown girl and West Chester Cheerleader
Although not trained as an artist, Sandy Riper has made an impact on the artistic life of West Chester.
Known to many as the second-generation West Chester jeweler and owner of the distinctive 1880s three-story building on High Street—the one with the big red Cartier-style bow at Christmas—she's the owner of Sunset Hill Jewelers and Fine Arts Gallery.
And art has been a part of her business since she opened its doors.
"My first customer on opening day was Harry Dunn," Sandy says of the local artist known for creating the NBC Peacock and Mr. Magoo character, along with delightful quirky works. And it's because of him that Sunset Hill became a fine arts gallery. There she recreated Dunn's studio after his death and now shows works by local artists on an upper floor of the shop.
Meanwhile, the shop's first floor is home to a different kind of art—what some call wearable art—new and antique jewelry. With a clear preference for vintage over brand-name jewelry, Sandy says, "Jewelry should be a story about the person who wears it, not the company who makes it."
Her views on art are similar, valuing art not as mere decoration but for the people who create it, their stories and how it touches you. As Sandy describes the shop's layout: "The first floor is my profession; the second is my passion."
And so Sandy has worked to make that passion part of life in West Chester. Her ties with Harry Dunn inspired her to keep his memory alive through The Harry Dunn Memorial Art Scholarship awarded to a West Chester high school senior planning to study art. With the help of Dunn's late partner, the scholarship has been administered through the Chester County Community Foundation.
More recently, Sandy and husband, Joseph, stepped in to sustain the tradition of West Chester's Gallery Walk by becoming named sponsors for this semi-annual event. In May and October, over a dozen venues are abuzz with fans enjoying the exhibits. Suggested by Dunn some 30 years ago and spearheaded by Sandy, the event was styled after First Fridays in Philadelphia.
Also supporters of the performing arts, the Ripers chaired the New Year's gala for the Uptown! Knauer Center for the Performing Arts. Working with Uptown is the next step in her years of service promoting West Chester, from the committee to establish the Business Improvement District (BID) to President of the Greater West Chester Chamber of Commerce, along with support for Chester County Art Association and West Chester Friends School.
This hometown fan is devoted to supporting everything that can make living in West Chester even better.
Working to make art a part of life in West Chester.
Noel and Bob Stanek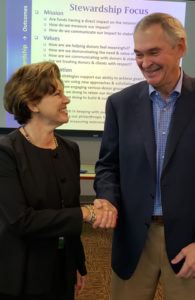 Working together to help nonprofits increase their effectiveness & impact
Noel and Bob Stanek are devoted to improving the health and well-being of others, focusing on matters of health, human services and alleviating poverty. This calling has been interwoven with their professional careers and community involvement.
Both Staneks began their careers at Good Samaritan Hospital in Pottsville—Noel as a registered nurse and Bob as a pharmacist—and advanced in the healthcare field. Noel transitioned from direct patient care to public relations, marketing and development, establishing the hospital's first development program.
Meanwhile Bob took a parallel track, beginning as Director of the hospital's Pharmacy Services and ultimately becoming Executive Vice President and CEO, as well as serving as the hospital's Development Corporation President, overseeing venture-based activities.
After time in Virginia at DePaul Medical Center, Bob became CEO of Buffalo Mercy Health System and their work together ended. Noel founded Kane Stanek Associates, a consulting firm focused on major gift programs and relationship-based development.
The couple began their life in Chester County in 1997, when Bob joined Catholic Health East, one of the country's largest Catholic healthcare systems, where he later served as President and CEO.
In 2010, Bob retired from Catholic Health East and became Chairman of the Catholic Health Association for the United States.
Noel and Bob co-chaired the national Haiti Rebirth and Renewal Campaign, raising $10 million to rebuild a hospital in Port-au-Prince, Haiti. Bob then moved into governance and advisory roles in publicly traded corporations, along with work in venture capital and private equity, which he continues today.
Despite moving to Long Beach Island, NJ and then to Windermere, Florida, Noel and Bob realized retirement simply wasn't for them.
Returning to Chester County in 2018, they created Stanek Associates LLC, working together to help nonprofits realign, focus and increase their mission effectiveness and community impact.
To increase their own impact on the welfare of our communities, the couple also created the Noel and Robert Stanek Foundation at the Chester County Community Foundation.
With their combined experience, keen understanding and deep compassion, Noel and Bob Stanek are an unstoppable duo.
Devoted to improving the health and well-being of others.
In honor of Brian Zwaan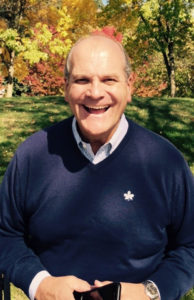 Propelling young minds
Chester County resident Brian C. Zwaan was dedicated to his family, his career and his community.
After the loss of his father when Brian was a child, his family fell on hard times. Brian later realized community educational programs helped him succeed despite the odds against him. Inspired by the power of education, Brian wanted others to have that same opportunity.
Brian was passionate about helping local education programs—as a board member and champion donor. Villa Maria Academy, Malvern Preparatory School, St. Norbert School, Archbishop John Carroll High School and Cardinal John Foley School all benefited from his energy.
In 2014, Brian was among four people honored by the Philadelphia Archdiocese for "achievements and commitment to living a Catholic life best embody[ing] the spirit of Catholic education."
A prominent banker, Brian served at Commonwealth, Firstrust and Citizens Banks before co-founding Penn Liberty Bank in 2004 and serving as President until 2016. When WSFS Bank acquired Penn Liberty, Brian served as VP and Director of Commercial Banking.
In addition to being a well-respected banker and philanthropic trailblazer in the educational community, Brian was a loving husband to his wife Diane and devoted father to their four children, Elizabeth, Matthew, Sarah and Margaret. One of Brian and Diane's goals as parents was to show their children the importance of community commitment.
Brian's daughter, Elizabeth Zwaan Milne, Esq., notes that her father didn't miss a week of Mass, even bicycling every Sunday to St. Joseph Roman Catholic Church when the family vacationed in Sea Isle City. Recalling her father's oversized personality and signature belly laugh, she says, "He was constantly smiling, lighting up the room. He was a major practical joker. Yet, when he talked to you, he listened fully," she said. "He made you feel very important."
Brian suddenly and tragically passed away in 2017, in a swimming accident in the waters off Sea Isle City.
Amidst their grieving, the family focused on sustaining Brian's legacy and created the Brian C. Zwaan Legacy Fund at the Chester County Community Foundation to continue his lifelong commitment to education.
Given Brian's love of golf, the Brian C. Zwaan Legacy Fund Golf Classic was a fitting fundraising event. In its first year, the Fund raised $125,000 for the endowment and granted $30,000 to five regional nonprofits that support education: Chester County Futures, Frankie's World Foundation, Hope Partnership for Education, Independence Mission Schools, and Let's Get Ready.
Diane's message and mission are clear, "Propelling young minds forward was Brian's passion. We are committed to honoring his legacy of educational opportunity for all."
One of Brian and Diane's goals as parents was to show their children the importance of community involvement.
back to top