Winter at the Y
Get moving this winter ... and all year long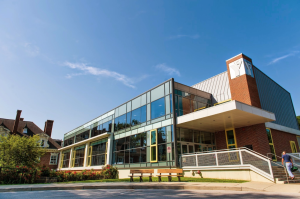 When the weather turns cold, too many of us tend to slow down and stay inside our homes. This can make some of us a little stir-crazy — both kids and adults alike. Luckily, your local YMCA has plenty of ways to get active, stay social and learn something new this winter.
The YMCA of Greater Brandywine has eight branches across Chester County, with locations in West Chester, Kennett Square, Exton and more. They have lots of exciting events, programs and activities planned this winter and throughout the year for children, families and adults.
So, lace up your sneakers and head to your nearest branch. After all, it's fun to stay at the YMCA! (Feel free to hum as you head out.)
Active Fun for Kids and Families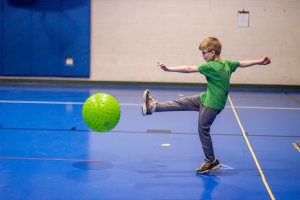 Kids can have tons of fun at the YMCA. They can join a youth sports league to make new friends and get active. One option for now, the winter basketball league runs from February 6 to April 1, plus there are soccer and T-ball leagues planned for the spring. The Y also has a Gymcats competitive gymnastics league and competitive swim teams available at six locations.
Not ready to commit to a full season? Then opt for sports classes and clinics, including basketball, gymnastics, tennis, soccer and swim lessons.
For adults and kids 12 and older, don't miss the "Paddle Up for a Purpose" pickleball tournament, February 11 and 12 at the Lionville Community YMCA. Grab your Valentine for a fun and competitive indoor tournament based on age and level of play. Registration is open to members and non-members, so sign up today!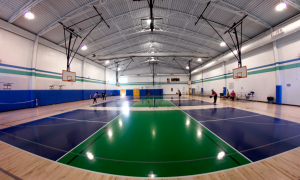 "Proceeds from this tournament will benefit our financial assistance program, which helps people of all ages and from all backgrounds to be more healthy, confident and connected," explains Tim Irwin, Director of Pickleball at the YMCA of Greater Brandywine. "At the Y, our mission is inclusive — and so is pickleball. It is a sport that appeals to people of all ages and abilities. We encourage community members to sign up for our tournament to help fuel our mission of inclusivity and community — while having fun."
More Kinds of Fun
There's more to the Y than just sports. Most branches also offer a variety of arts and humanities programs. The Y hosts preschool, youth and teen art programs, pottery classes, parent/child art classes and even has open studio hours.
Students of all ages can sign up for a range of dance classes, from ballet and tap to hip hop. For theater lovers, the Upper Main Line and Jennersville YMCAs have productions throughout the year, as well as acting workshops and private voice lessons.
Children ages 1 to 12 can develop their musical talent through classes at the Y. Kids can learn the basics of counting and rhythm or learn to play the guitar, piano or percussion. Parent/child music classes are available as well.
Every Friday and Saturday night, your local YMCA hosts Family Fun Activities. Included with a family membership, these programs are designed to bring families together for some screen-free time to connect and have fun. February offerings include Valentine's STEM, Lego Challenge, bingo, Kiwi science project kits and a Valentine's Dance.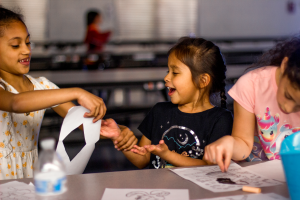 And launching in March, the YMCA of Greater Brandywine is starting monthly programs for children 2 to 14. Kids and families can try a new experience each month or stay with an activity they love. Offerings include "Intro to Acting," "Tumble Just Me," "Book and Craft" and "Budding Chefs." These programs are open to both members and non-members, starting at $24.99 per month. Registration begins January 28, and new programs will be added throughout the year, so be sure to check back monthly.
"We've noticed a trend in youth sports and activities — they are becoming increasingly specialized at early ages," says Bridgette Barbera Byrne, Senior Association Director of Camp, Youth Sports and Family Programs. "At the Y, we believe that activities should focus on fun while allowing children to build independence and skills on their own terms. To refocus on fun experiences, we're rolling out weekly Family Fun Activities and monthly programming at all branches of the YMCA of Greater Brandywine. We want kids to enjoy being kids!"
Options for Adults
The YMCA also has plenty of activities for adults, too. Sport offerings include basketball and ever-popular pickleball (more on that in our July 2022 issue), as well as gymnastics and martial arts classes. You'll also find loads of health and fitness programs, such as swim sessions, exercise classes and personal training, yoga and pilates, cycling and weight training.
Can't make it in person? Take a virtual class from the comfort of your own home. Check the website to learn more.
Similar to its programs for kids, the Y also has several options for adults in the arts and humanities. Join them for classes in painting and pottery, open art studio hours, dance classes and more to explore your creative side.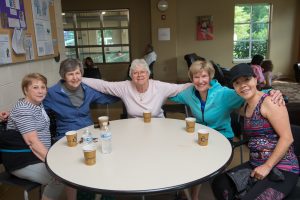 For members age 55 and older, there's the Forever- Well event series. Pick up a new hobby at the Y's book clubs, knitting groups, card clubs and bingo games. Make new friends at a cookie exchange, luncheon or other social event. Or learn something new at a technology clinic, financial planning session or cyber security lunch-and-learn program.
Seniors can get special access with free YMCA memberships through SilverSneakers and other fitness programs available through Medicare Advantage health plans, Medicare supplement carriers and other insurers. Eligible seniors have access to the Y's fitness centers, hundreds of group exercise classes — many of which are specifically designed for seniors — and educational and social programs. Reach out to your healthcare provider to find out if you're eligible. If not, the YMCA of Greater Brandywine offers discounted memberships for seniors 65 and up.
As you can see, there's a full range of things to do at the YMCA this winter and all year round.
Still not convinced? Sign up for a free membership trial online and sample everything the Y has to offer. For more information, visit YMCAGBW.org.
Fun at the Library
Your local library has even more chances for fun! The Chester County Library System has 18 branches, each with unique programs for all ages. Here's just a sampling of the things our area libraries have in store this month.
At the Chester County Library in Exton, join the Reading Olympics Book Club to discuss each month's special selections. Whether you're a part of your school's Reading Olympics team or just love to read, the club welcomes anyone in third through seventh grade. Join them Tuesday, February 28 at 6:15 p.m. to discuss Tut, Tut by John Scieszka and Al Capone Does My Shirts by Gennifer Choldenko.
Or read with a PAWS for People therapy dog. Sign up for a 15-minute, one-on-one session with a therapy dog at a participating library. The PAWS for Reading program is available every month at several locations, including the Atglen Public Library (second and fourth Tuesdays), the Avon Grove Library (first Saturday) and the Downingtown Library (third Thursday).
And the library is about more than just reading! Join the Crazy 8's Club at the Chester County Library for hands-on games to get third- through fifth-graders excited about math. You'll run and jump, build stuff and make a mess. The club meets on Tuesdays from 4:30 to 5:30 p.m.
For more programs and information, visit CCLS.org.
back to top