Hooked on Pickleball
Pickleball mania is in full swing
With nearly 5 million players in the United States, the pickleball craze is clearly sweeping the country. People are watching pros play on ESPN and subscribing to Pickleball Magazine, published bimonthly by the USA Pickleball Association. Even celebrities like Leonardo DiCaprio and the Kardashians are playing this new paddle sport.
Take a look around your neighborhood and you'll see that pickleball mania has spread to County Lines country. Pickleball courts are cropping up in parks, sports centers and many local YMCAs.
Wondering what the hype is about? You're not alone — we were surprised how popular it's become. Read on to learn more about pickleball and why it's the latest fitness rage.
Pickleball — Really?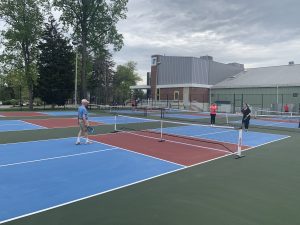 So what is pickleball, exactly? "It's a combination of tennis, ping pong and badminton," explains Tim Irwin, certified pickleball instructor at the Greater Brandywine YMCA. "The simplest way I can explain it is that it's like playing ping pong, but you're standing on the table."
Pickleball is played with a solid wooden paddle (think bigger, squared-off ping pong paddle) and a hollow wiffleball (lighter and a little larger than a tennis ball) on a badminton-sized court. It can be played singles or doubles with games typically going  to 11 points in 15 to 20 minutes. Tennis shoes work, though tennis whites are not required.
Pickleball was invented in 1965 by three fathers on Bainbridge Island, off the coast of Seattle. Their children were bored with their usual summertime games and activities, so the dads came up with the hybrid game of pickleball. The sport soon spread across Washington, and by 1990 was played in all 50 states.
Wondering about the strange name? There are a few stories floating around, but the most common explanation is that the game was named after one of the founding families' dog, called Pickles.
Pickleball — Why?
Players are drawn to pickleball because it's fun and easy to become relatively proficient. "It takes about half an hour to learn," Irwin says. It's also a great way to socialize and make new friends, as Irwin can attest.
Irwin's first experience with pickleball was as a middle school PE teacher. Pickleball was part of the curriculum, but he loathed teaching it. After Irwin retired, he heard about a pickleball group that plays three days a week at United Sports Center in Downingtown. He just had to see it to believe it.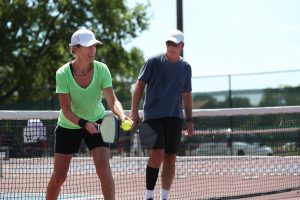 When he arrived at the Sports Center one weekday morning, he was shocked by what he saw: around 60 people playing pickleball and having a great time doing it.
Irwin bumped into an acquaintance who roped him into playing a match with her. "After two and a half hours, I was sold," Irwin recalls. "I had so much fun. It's such a blast because if you win, you play against the person you just played with and get a new partner, so you make friends right away."
Hooked on pickleball, Irwin decided to become a certified instructor. When the West Chester YMCA opened its first pickleball courts, he started teaching there. The pickleball program was a major hit — the Greater Brandywine YMCA now has nearly 1,100 active pickleball players across their seven locations and over 40 courts.
"We offer something for everyone, from novice players to someone who's been competing for years, through a variety of indoor and outdoor options including a pickleball league, club, introductory classes and lessons, tournaments and open play for all ages," says Jackie Canan, a senior director with the Greater Brandywine YMCA. "We're very proud that we've expanded our offerings to meet the needs of our community."
Not Your Grandmother's Pickleball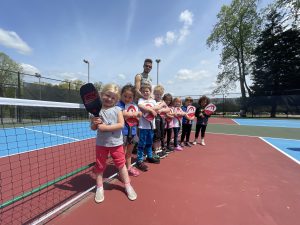 Once thought of as a sport strictly for seniors, pickleball's reputation is rapidly changing. The USA Pickleball Association reports that the average age of pickleball players is getting younger — it was 38.1 in 2021, a decrease of nearly three years from 2020. And the fastest-growing demographic is players younger than 24!
Pickleball appeals to so many people because it's a blast for players of all ages and skill levels. Easy to learn and fun for beginners, pickleball is still engaging at the advanced level. "It becomes a highly intellectual game," Irwin says. "It's like a chess match — it has so much to do with thinking two or three shots ahead."
Irwin encourages anyone who's interested to start playing. "Pickleball is a gift," he says. "Anyone who embraces it will add at least five years to their life."
It's Fun to Play at the YMCA
Ready to give pickleball a try? Your local YMCA is a great place to start. Here are some branches with programs.
Greater Brandywine YMCA
For more information, visit YMCAGBW.org.
Brandywine YMCA. 295 Hurley Rd., Coatesville.
Jennersville YMCA. 880 W. Baltimore Pk.,West Grove.
Kennett Area YMCA. 101 Race St., Kennett Square.
Lionville Community YMCA. 100 Devon Dr., Exton.
Oscar Lasko YMCA. 1 E. Chestnut St., West Chester.
Upper Main Line YMCA. 1416 Berwyn-Paoli Rd., Berwyn.
West Chester Area YMCA. 605 Airport Rd., West Chester.
The Upper Main Line YMCA in Berwyn will be hosting the USA Pickleball Philadelphia Open on August 25–28.
YMCA of Greater Philadelphia
For more information, visit PhilaYMCA.org.
Haverford Area YMCA. 891 N. Eagle Rd., Havertown.
Phoenixville YMCA. 400 E. Pothouse Rd., Phoenixville.
Rocky Run YMCA. 1299 W. Baltimore Pk., Media.
YMCA of Delaware
For more information, visit YMCADE.org.
Brandywine YMCA. 3 Mount Lebanon Rd., Wilmington.
Western Family YMCA. 2000 Capital Trail, Newark.
More Places to Play
Pickleball courts are cropping up all over our area — at local parks, sports centers and more that have embraced the pickleball craze.
422 SportsPlex. 1400 Industrial Hwy., Pottstown. The422SportsPlex.com.
Berwyn Squash & Fitness Club. 625 Cassatt Rd., Berwyn. BerwynSquash.com.
Brandywine Youth Club. 42 S. Thornton Rd., Glen Mills. BrandywineYouthClub.com.
D-FIT. 4905 Mermaid Blvd., Wilmington. DelSwimFit.com.
Delcastle Tennis Center. 710 McKennans Church Rd., Wilmington. DelcastleTennisCenter.com.
East Brandywine Community Park. 440 Dilworth Rd., Downingtown.
East Goshen Township Park. 1661 Paoli Pk., West Chester.
Ellis Athletic Center. Ellis Preserve, 3819 West Chester Pk., Newtown Square. EllisAthleticCenter.com.
Ellis Woods Park. 855 Ellis Woods Rd., Pottstown.
Folk Memorial Park. 98 Welsh Tract Rd., Newark, DE.
Fraim Center for Active Adults. 669 Union St., Wilmington. FraimCenter.org.
Friendship Park. 107 Bearhill Rd., Paoli.
Garnet Valley High School. 552 Smithbridge Rd., Glen Mills.
George Wilson Center and Park. 303 New London Rd., Newark, DE.
Gulph Mills Tennis Club. 610 S. Henderson Rd., King of Prussia. GulphMillsTennis.com.
Manavon Park. 50 Tyson St., Phoenixville.
Next Level Indoor Sports. 50 Senn Dr., Chester Springs. NextLevelIndoorSports.com.
Swarthmore Recreation Association. Strath Haven Middle School, 200 S. Providence Rd., Wallingford. SwarthmoreRecreation.org/Pickleball.
United Sports Training Center, 1426 Marshalton-Thorndale Rd., Downingtown. UnitedSports.net.
Wallingford Swim and Racquet Club. 501 S. Providence Rd., Wallingford. WSARC.org.
back to top