Vows in Intimate Wedding Venues
While our world is changing to keep us all safe, so too are wedding venues. Less is more for upcoming nuptials, making extravagant events take a back seat as many couples return to the basics. Here are some local venues that are working with couples to create the perfect day—just one in a more intimate, personal and safer way for everyone involved. Here's to the happy couples that find a way to say "I do!"
Chester County History Center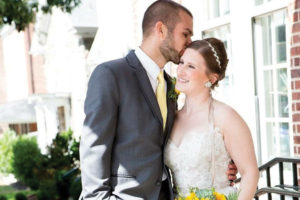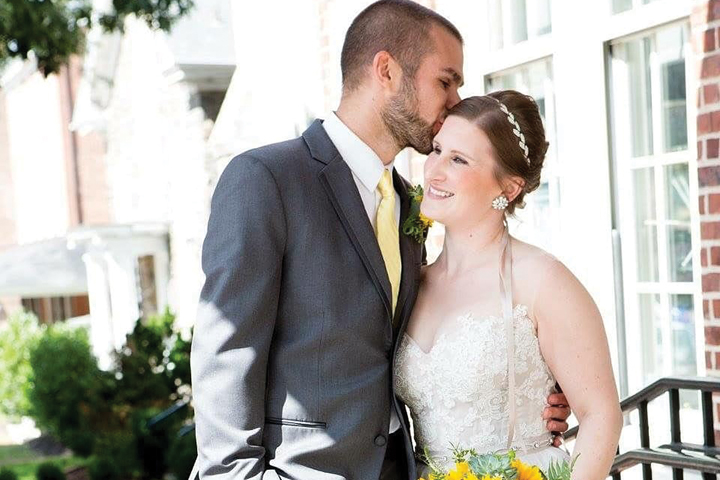 Share your vows surrounded by our area's rich history at the Chester County History Center. A Micro-Wedding package is now available for couples looking to say "I do" in a special setting in downtown West Chester. The History Center is planning to make the big day as stress-free as possible with the couple's only job being to arrive dressed and ready to marry! The wedding will be tailored to the couple's personal style, along with a live stream for family and friends who are unable to attend the in-person ceremony. This venue offers an elegant yet affordable option for an intimate wedding of up to 25 guests. 225 N. High St., West Chester. 610.692.4800; ChesterCoHistorical.org.
The Farmhouse in Delaware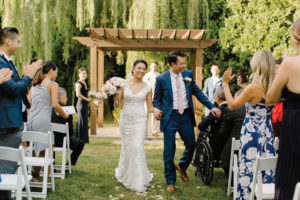 A truly intimate and romantic setting, The Farmhouse is one of Delaware's hidden gems of a wedding venue with its historical property and beautiful outdoor ceremony site. On four acres of manicured grounds and gardens, couples can celebrate their love through an intimate ceremony tucked away on the large country estate that includes a newly added pergola as a perfect backdrop for an outdoor ceremony. The Farmhouse now offers an intimate ceremony package to help couples keep their dream wedding a reality (just on a smaller scale). An all-inclusive ceremony for up to 55 guests with a flexible cancellation and rescheduling policy. 5600 Old Capitol Trail, Wilmington. 302.999.8477; TheFarmhouseDe.com.
Faunbrook Bed & Breakfast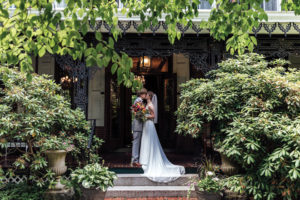 Always a popular West Chester venue, Faunbrook Bed & Breakfast specializes in small wedding ceremonies and this year is no different. Located in a charming Victorian inn set atop a hill overlooking two wooded acres, Faunbrook provides a romantic and idyllic setting for weddings and other events. The inn offers a "Love Can't be Quarantined" special that takes the guess work and stress out of wedding planning during these uncertain times. With a maximum of 25 guests, the package includes everything from photographer to the cake, making it the perfect place for couples to celebrate their love with their closest family and friends. 669 W. Rosedale Ave., West Chester. 610.436.5788; Faunbrook.com.
General Warren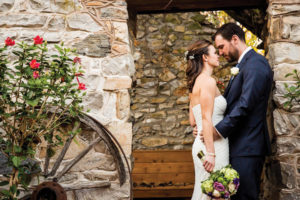 An intimate wedding location in Malvern, General Warren is ready to help couples tie the knot pandemic or not. This venue combines a unique historic setting, including a 250-year-old springhouse, with exquisite cuisine to make each couple's wedding day memorable. The beautiful lawn and formal gardens make a perfect backdrop for an intimate moment to share with close family and friends. Their attentive staff and complimentary event planner will help make sure your wedding goes smoothly. Enjoy historic hospitality in historic times as you plan for your perfect day! 9 Old Lancaster Rd., Malvern. 610.296.363; GeneralWarren.com.
Greystone Hall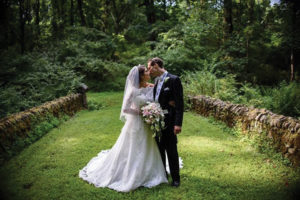 On a private estate on 34 acres in the Brandywine Valley, Greystone Hall offers a unique setting at this turn-of-the-century mansion. The ceremony takes place on the formal terraced garden, in front of the wrought iron arbor overlooking the grounds and 56-column pergola. To accommodate couples during this time, Greystone Hall has recently added a custom-made tent stretching almost the entire width of the house and providing ample space for social distanced tables as well as a dance floor for a night of dancing and celebration. The sides of the tent can be rolled up for views of the beautiful garden. Visit their open house on Wednesday nights to see the venue for yourself. 1034 Phoenixville Pk., West Chester. 610.696.1272. GreystoneHall.com.
Loch Aerie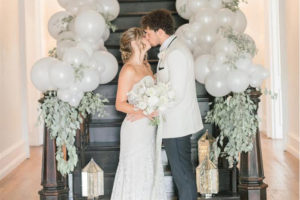 Your wedding day can feel like it's set in a fairy tale at Loch Aerie Mansion in Malvern. This Swiss Gothic Revival mansion boasts elegant period details including large windows, balconies, chandeliers and a grand staircase for dramatic entrances. New owners brought Loch Aerie back to its original 1868 glory to create a wedding and special events venue—perfect even for smaller weddings. Enjoy an intimate ceremony with a 21-guest maximum (plus 4 waitstaff from exclusive caterer, John Serock Catering) on the first floor. This is a timeless space where guests can practice social distancing as the bride and groom exchange their vows. 700 Lancaster Ave., Malvern. 484.320.7055; LochAerieMansion.com.
The Stone Barn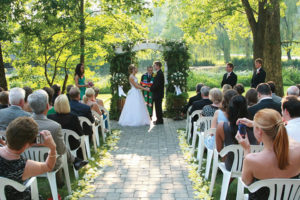 Nestled in the heart of Chester County's rolling hills, The Stone Barn offers rustic country charm perfect for a smaller ceremony. With two outdoor ceremony areas as well as an indoor site, there are options to ensure that every wedding vision becomes reality. The Dogwood Knoll provides an intimate garden setting and a picture-perfect backdrop for "I Do's." Plan your ceremony with beautiful flowers and lush greenery for the special day. Or choose the indoor alternative in The Fireside Room, with wood burning fireplace, as a cozy setting for the couple's vows. The sliding barn doors close off the adjoining rooms for a more private space during the ceremony. 100 Stone Barn Dr., Kennett Square. 610.347.2414; TheStoneBarn.com.
back to top