Team Success is Spread Around Our Independent Schools
Best Players Score Admissions to Top Colleges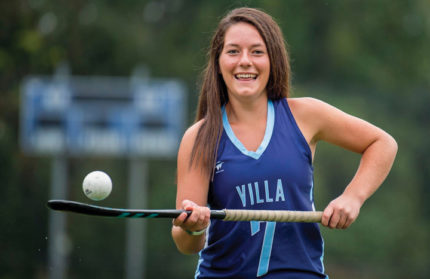 It was a triumphant, though somewhat frustrating, season for the independent schools of County Lines country. Malvern Prep football, Haverford School soccer, Episcopal Academy girls' soccer, Salesianum School soccer and Villa Maria Academy field hockey teams all took home championships.
But a few other teams—Baldwin School soccer, Bishop Shanahan girls' soccer and volleyball, and Padua volleyball and field hockey team, for example—fought valiantly to the semi-finals or finals, but left their dreams on the field.
Football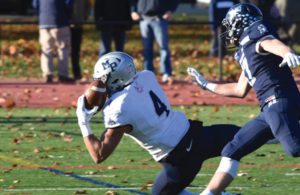 At the end of the season, Malvern Prep was undefeated at 11-0 and won the Inter-Ac League (independent schools in the Philadelphia area). Kurt Ruch, Director of Athletics, declared the season "fantastic" and credited Coach Dave Gueriera, his assistant coaches, players and families for doing a "wonderful job."
Quarterback Drew Gunther had mulled offers from five colleges, including Brown, but chose Virginia Tech, the first one he visited. Keith Maguire, who played wide receiver and line backer, received 21 offers from colleges, and committed to Clemson. And lineman Jake Hornibrook accepted an offer—he received 22 altogether—from Stanford.
Soccer—Boys
The varsity soccer team at the Haverford School won the Inter-Ac League and was ranked #12 in the Commonwealth, ending the season at 13-2-4, with goals scored by 12 different players. Inter-Ac MVP Griffin Wada will play at the University of Chicago next year. The team's striker, Will Micheletti, with 12 goals and 11 assists, was selected as All-Inter-Ac 1st team and heads to Franklin & Marshall. Midfielder Nick Pippis earned 2nd team All-Inter-Ac honors and will move down the street to Haverford College.
Finishing 3rd in the Inter-Ac League, Episcopal Academy was 13-4-3 in boys' soccer. Coach David Knox named three players who were "crucial" to the team, calling them "a special group of players who are really tight with each other [with] a tremendous work ethic and will to win."
EA midfielder Harrison Malone, with 11 assists and 5 goals, is still deciding on a college. The Churchmen's striker, Samuel Wilson, scored 20 goals and will be playing at Colby College next year. Goalkeeper Trevor Manion, a junior who gave up only 16 goals in 19 games this season, has been heavily recruited by many top Division 1 programs.
For the 7th straight year, the Delaware championship was won by Salesianum School, finishing the season 13-2. The team was ranked #1 in Delaware and #9 in the nation. Coach Scott Mosier calls the team "a positive, hard-working group [with] high aspirations."
Center-back Tommy McGrail, whom Coach Mosier called "the most complete" player at the school, was named Player-of-the-Year, All-American, #1 player in the state and 1st team All-State. Jack Leonard at center-mid was "gifted with fitness, quickness and speed [though] incredibly technical on the ball …. His ability to create in the attacking third is truly special," said Coach Mosier. Both players have committed to the University of Delaware.
Soccer—Girls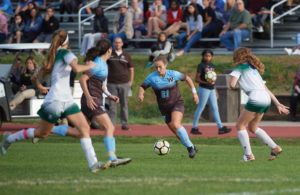 Finishing 14-3-3, Bishop Shanahan High School's girls' varsity soccer team made it to the District semi-finals. Ally Waite was selected to the 1st team of the All-Ches-Mont league. She was runner-up for the league's Player of the Year, concluding the season with 9 goals and 10 assists. Next year, she'll play at Misericordia. Shanahan's leading scorer, junior Alaina McLaughlin, scored 17 goals for the season and was also named to 1st team All-Ches-Mont. Mary Byerley ended the season with 8 goals and will play next year for Temple University.
In a "heart breaker," the Westtown School girls' varsity soccer team, with a 9-0 record in the Friends School League and 13-1-1 overall, lost 1-0 to the Baldwin School in the Independent School State quarter-finals (PAISSA). For the season, the Westttown team scored 44 goals, allowing only 6 against. Natalie Neuman, the team's 4-year starting goalie, had ten shutouts. Sara Oswald, its all-time leading scorer, finished with 81 career goals. The two seniors have both committed to Lafayette College.
Although the Baldwin School won the Independent School semi-final, it lost in the final round. Gia Vicari, the school's all-time leader in goals and assists, was selected to play in the High School All-American game and has committed to Georgetown.
The PAISSA girls' soccer championship (state independent school league) went to penalty kicks. Ultimately, Episcopal Academy won. Defender Maddie Louderhead, who committed to the University of Richmond, scored the winning goal. Midfielder Anna Salvucci will go to the University of Connecticut, and forward Olivia Dirks heads for Penn State. Both Salvucci and Dirks played in the High School All-American game in December.
Field Hockey
Coach Katie Evans' Villa Maria Hurricanes finished 18-3 overall and 12-0 in the Catholic Academies conference. They are sending two on their team—Hannah Miller and Mary Harkins—to Duke. Miller, a forward, landed 46 goals and 21 assists, while Harkins, at midfield and defense, had 16 goals and 11 assists. Midfielder Adele Iacabucci, with 17 goals and 13 assists, is headed for the University of Virginia.
In Delaware, Padua Academy had an outstanding season: 14-1, quite a run, losing only in the final of the state tournament. Midfielder Riley Hickox had 7 goals, 5 assists and was selected to the 1st team All-State. Selected to the 2nd team All-State were goalkeeper Shannon McCormac, with 17 saves; midfielder Anna Getty, with 6 goals; and forward Angela Taglione, with 7 goals and 10 assists. All have yet to decide on their college choice.
Volleyball
Ron Reidinger, Athletic Director at Bishop Shanahan, watched the school's volleyball team soar, shutting out the Ches-Mont conference and ultimately finishing #2 in Pennsylvania with a 31-3-4 record. Four seniors who led the way were Michaela Devlin, headed to Sacred Heart University, Julianne Gallagher to American University, Julia Thomas to Iona College and Alyssa Wright to Bryant University.
Led by several underclassmen, Padua finished with a #2 ranking in volleyball in Delaware and a 16-3 record overall. Its outside hitter, 1st team All-State junior Jessica Molen, had 185 kills, 38 aces and 181 digs. Sophomore Mackenzie Sobczy, middle hitter, made the 2nd team All-State, scoring 76 kills and with a hitting percentage of .423. With a .357 hitting percentage, junior Michelle Kozicki, middle hitter, was named to the 3rd team All-State and scored 76 kills.
Ranked #4 in Delaware, Archmere Academy made it to the finals of the state tournament with a 19-2 season. Coach Mary Pat Kwoka declared it "an amazing season." Julia Kochie made 1st team All-State and hit an average of .292, 3.6 digs and 3.8 kills per set. Lauren Edmiston made 2nd team All-State and hit .287.
Cross Country
The Westtown School boys finished 2nd at the Independent Schools championship, led by 9th grader Will Grady, finishing the course in 17:50. Their top 5 all finished the course in 18:37 or less.
On the girls' side, the Academy of Notre Dame finished 2nd and Friends' Central School finished 3rd at the Independent Schools championship. Notre Dame's average speed for its top 5 runners was 21:32. Friends Central's top 5 actually averaged a faster 21:15, led by Rebecca Wucinich, a junior.
All in all, a great season for the individual student athletes, the teams and the schools. We wish them well in college and beyond!
back to top