Summer Fun at Farm Markets and Local Vineyards!
You never know what you'll find beyond the produce, meats, cheeses and baked goods. Discover your local farm markets and find out!
Farm Markets
Downingtown Farmers Market
Check website for events through the fall.
Kerr Park, 1 Park La. Sat., 9 to 1. GrowingRootsPartners.com.
East Goshen Farmers Market
Through Sept. 20, live music, crafters, food trucks, kids' fun, antique cars. Check website.
1580 Paoli Pk. Thurs., 3 to 7. Eastgoshen.org/park-and-rec/farmers-market/
Eagleview Farmers Market
Eagleview Town Ctr. Thurs., 2 to 6. GrowingRootsPartners.com.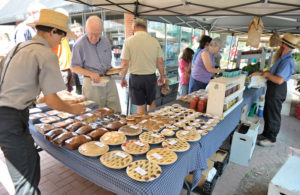 Kennett Square Farmers Market
Special guests and events all season long (check website/social media for weekly happenings.)
September: Apple Harvest Celebration
October: Fermentation Festival
100 block of E. State St. Fri., 3 to 7. HistoricKennettSquare.com.
Lancaster County Farmers Market
Indoor farmers market.
389 W. Lancaster Ave., Wayne. Wed. & Fri., 8 to 6; Sat., 8 to 4. LancasterCountyFarmersMarket.com.
Malvern Farmers Market
Check website for events.
Burke Park, Roberts Rd. & S. Warren Ave. Sat., 9 to 1. GrowingRootsPartners.com.
Oxford Village Market
3rd & Locust Sts. Tues., 1 to 5. DowntownOxfordPA.org.
Pete's Produce Farm
Indoor, open-air market.
1225 E. Street Rd., West Chester. Mon.–Sat., 9 to 6:30; Sun., holidays, 9 to 6. PetesProduceFarm.com.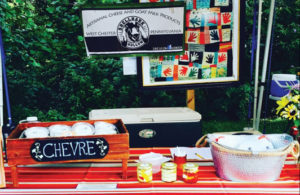 Phoenixville Farmers Market
Through Oct., live music, craft vendors, food trucks and kids play area.
200 Mill St., under Gay St. Bridge. Sat., 9 to 1. PhoenixvilleFarmersMarket.org.
Pottstown Farmers Market
July 12, skin cancer/diabetes info
July 26, Christmas in July
Aug. 23, Family Day
Sept. 13, Sustainability
Sept. 27, food trucks at the farm
Oct. 11, fire prevention week.
200 block of High St. Thurs., 5 to 7:30. PottstownFarm.org.
PRC Newtown Sq. Farmers Market
Mostardi Nursery parking lot. 4033 West Chester Pk. Wed., 2 to 6. PRC.org/Farmers-Market.
SIW Farmers Market
Through Oct. 3, Wednesdays, Field to Fork Dinners prepared by guest chefs and featuring vegetables, herbs and fruits from the farm. 6 to 9:30 pm, $75 and up.
4317 S. Creek Rd., Chadds Ford. Daily 7 to 6. SIW-Vegetables.blogspot.com.
Swarthmore Farmers Market
Music, local artists and food trucks.
432 Dartmouth Ave. Sat., 9:30 to 1:30. FarmToCity.org.
Thornbury Farm Market
Aug. 18, Summer String Fling
Sept. 22, Bands and Bonfires
1256 Thornbury Rd., West Chester. Fri., 9 to 5, Sat.–Sun., 11 to 5. ThornburyFarmCSA.com.
Thornton Farmers Market
330 Glen Mills Rd. Sat., 10 to 1. Facebook.com/ThorntonFarmersMarket.
West Chester Growers Market
Monthly giveaways, nonprofit guests (rescues, conservancies, social services), live music, more.
Chestnut & Church Sts. Sat., 9 to 1. WestChesterGrowersMarket.com.
Westtown Amish Market
Indoor farmers market.
1177 Wilmington Pk., West Chester. Thurs., 9 to 6; Fri., 9 to 8; Sat., 8 to 4. WestChesterAmishMarket.com.
There are many farm and retail outlets, CSAs and specialty producers in our area. A Guide to Local Farm Products in Chester County is a great resource. Visit Chesco.org/AGDEV/FarmGuide.
Events at Local Vineyards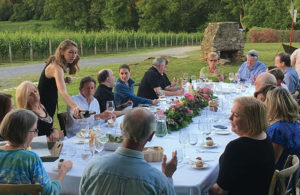 Local wineries offer so much more than tastings and tours. Enjoy music, take a yoga class, art class or wine-making course—the possibilities are endless. Check websites for details.
Pennsylvania
Black Walnut Winery
Tasting Room and Wine Bar, 260 Bridge St., Phoenixville. 610-857-5566; BlackWalnutWinery.com
Through Oct., Live music on Saturdays
July 19, Aug. 16, Painting Under the Influence
Sadsburyville location: 3000 Lincoln Hwy., Sadsburyville
Through Sept., Sippin' Sunday
July 21, Aug. 18, Painting Under the Influence
Chaddsford Winery
632 Baltimore Pk., Chadds Ford. 610-388-6221; Chaddsford.com
June 30–July 4, Red, White & BBQ Weekend
July 7–8, Aug. 4–5, Wine Slushie Weekend
July 21–22, Camp Chaddsford, camp for adults
Aug. 11–12, The Peach Festival
Aug. 18–19, Summer Food Truck Throw Down
Aug. 25–26, Mexican Fiesta Weekend
Galer Estate
700 Folly Hill Rd., Kennett Square. 484-899-8013; GalerEstate.com
Through Aug., Live music on Fri.–Sat.
July 1, 21, Aug. 11, Sept. 1, 29, Enjoy Longwood Gardens fireworks display from the deck
July 27, "Midsummer Dinner in the Vines" catered by Talula's Table
The Inn at Grace Winery
50 Sweetwater Rd., Glen Mills. 610-459-4711; GraceWinery.com
July 27, Dine With Grace: Bocce Court Dinner
Aug. 10, Dine With Grace: Winery Dinner
Sept. 7, Dine With Grace: September Vineyard
Kreutz Creek Vineyards
553 S. Guernsey Rd., West Grove. 610-869-4412; KreutzCreekVineyards.com
July 7–Aug. 25, Evening concerts
July 28, Summer Evening Concert and Customer Appreciation Night
Paradocx Vineyard
1833 Flint Hill Rd., Landenberg. 610-255-5684; Paradocx.com
The Market at Liberty Place location: 148 W. State St, Kennett Square
Through Aug. Tues–Fri, Happy Hour
Penns Woods Winery
124 Beaver Valley Rd., Chadds Ford. 610-459-0808; PennsWoodsEvents.com
July–Aug., daily, Summer Sangria Days
July–Aug., Sat.–Sun., Live music
July 8, 22, Aug. 12, 26, Yoga in the Vineyard
Stargazers Vineyard
1024 Wheatland Dr., Coatesville. 610-486-0422; StargazersVineyard.com
July 13, 28, Yoga, wine tasting and snacks
Va La Vineyard
8820 Gap Newport Pk., Avondale. 610-268-2702; VaLaVineyards.com
July 1, Glenn E. Williams Jazz Trio of Independence
Wilson Vineyard Gallery
4374 Forge Rd., Nottingham. 610-506-8439; WilsonVineyard.com
The Gallery features a new artist each month
Maryland
Broken Spoke Vineyard
942 Glebe Rd., Earleville. 410-275-8455; BrokenSpokeWinery.com
Chateau Bu-De Winery & Vineyard
237 Bohemia Manor Farm La., Chesapeake City. 410-885-2500; ChateauBuDe.com
July 4, Fourth of July Celebration
July 19, Wine Bottle Succulent Workshop
Crow Vineyard & Winery
12441 Vansant Corner Rd., Kennedyville. 302-304-0551; CrowVineyardAndWinery.com
July 7, Farm to Table Grill Night
Aug. 11, Annual Vineyard Walk
Sept. 9, CrowFest Farm & Vineyard Festival
back to top