Guide to Local Farmers Markets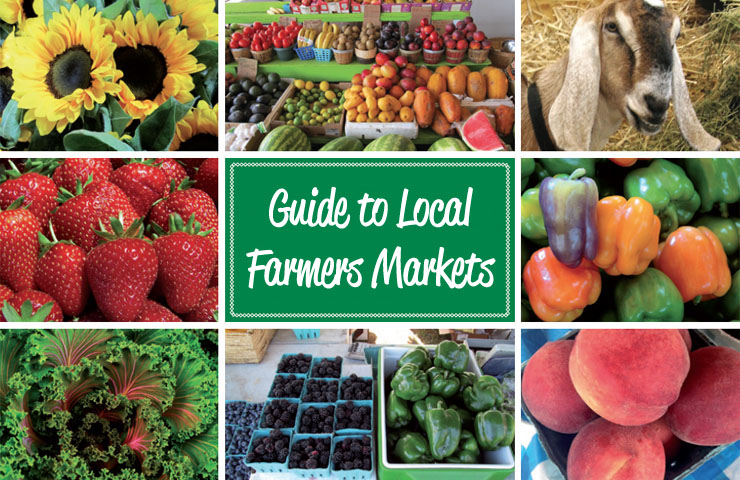 Here is a handy guide to local farmers markets in Chester County, PA and beyond. The dates listed below are for the 2018 spring/summer season. Check back in fall for updated seasonal dates!
For even more farmers markets, plus CSAs, specialty producers and more, check out the Chester County Agricultural Development Council's A Guide to Local Farm Products in Chester County.
Artisan Exchange
208 Carter Dr. Unit 13 B, West Chester
Year Round: Saturdays, 10 to 2
ArtisanExchange.net
Bryn Mawr Farmers Market
Lancaster Ave. at Bryn Mawr train station parking lot, Bryn Mawr
May through December: Saturdays, 10 to noon
FarmToCity.org
Downingtown Farmers Market
Log Cabin Field, Kerr Park, Pennsylvania Ave., Downingtown
May through November: Saturdays, 9 to 1
610-836-1391 / GrowingRootsPartners.com
East Goshen Farmers Market
East Goshen Park, 1580 Paoli Pk., West Chester
May 10, 2018 through October: Thursdays, 3 to 7
EastGoshen.org
Eagleview Farmers Market
Eagleview Town Center, Wellington Sq., Exton
May through October: Thursdays, 2 to 6
610-836-1391 / GrowingRootsPartners.com
Jennersville Market
352 N. Jennersville Rd., Jennersville
May through October: Wednesdays, 3 to 7
610-345-1763 / Facebook.com/JennersvilleFarmersMarket
Kennett Square Farmers Market
101 E. State St., Kennett Square
May through November: Fridays, 3 to 7
610-444-8188 / HistoricKennettSquare.com
Lancaster County Farmers Market
389 W. Lancaster Ave., Wayne
Year Round: Wednesdays & Fridays, 8 to 6 / Saturdays, 8 to 4
610-688-9856 / LancasterCountyFarmersMarket.com
Malvern Farmers Market
Burke Park, Warren Ave. & Roberts Rd., Malvern
May through November: Saturdays, 9 to 1 pm
610-836-1391 / GrowingRootsPartners.com
Newtown Square Farmers Market
Mostardi Nursery, 4033 West Chester Pk., Newtown Square
May 30, 2018 through October: Wednesdays, 2 to 6
610-353-1555 / PRC.org
Oxford Village Market
3rd & Locust Streets, Oxford
May through October: Tuesdays, noon to 5
610-998-9494 / DowntownOxfordPA.org
Pete's Produce Farm
1225 E. Street Rd., West Chester
April through October: Mondays–Saturdays, 9 to 6:30 / Sundays & holidays, 9 to 6
610-399-3711 / PetesProduceFarm.com
Phoenixville Farmers Market
200 Mill St., Phoenixville
May through November 17, 2018: Saturdays, 9 to 1
PhoenixvilleFarmersMarket.org
Pottstown Farmers Market
300 E. High St., Pottstown
June through October 11, 2018: 2nd & 4th Thursdays, 5 to 7:30
610-323-5400 / PottstownFarm.org
SIW Farmers Market
4317 S. Creek Rd., Chadds Ford
June 20 through October 31, 2018: Daily, 8 to 6
610-388-7491 / SIW-Vegetables.blogspot.com
Swarthmore Farmers Market
Central Park, 121 Park Ave., Swarthmore
May through December 1, 2018: Saturdays, 9:30 to 1:30
SwarthmoreFarmersMarket.org
Thornbury Farmers Market & CSA
1256 Thornbury Rd., West Chester
Year Round: Thursdays–Fridays, noon to 6 / Saturdays, 9 to 5 / Sundays, 11 to 5
ThornburyFarmCSA.com
Thornton Farmers Market
330 Glen Mills Rd., Thornton
May 12, 2018 through October: Saturdays, 10 to 1
Facebook.com/ThorntonFarmersMarket
West Chester Growers Market
Chestnut & Church Streets, West Chester
May through December: Saturdays, 9 to 1
610-436-9010 / WestChesterGrowersMarket.com
Westtown Amish Market
1177 Wilmington Pk., West Chester
Year Round: Thursdays, 9 to 6 / Fridays, 9 to 8 / Saturdays, 8 to 4
610-492-5299 / WestChesterAmishMarket.com
back to top