Summer Camps 2018
Our Summer Camp Guide will help you keep your kids energized and engaged all Summer long
AIM Academy
1200 River Rd., Conshohocken
215-483-2461; AIMPa.org
July 2–27
This 4-week program offers students entering grades K–12 the opportunity to explore STEAM activities and reinforce essential skills in reading, writing and math. Specialized small-group instruction provides a dynamic learning experience designed to decrease summer learning loss. Build skills, form friendships, imagine, invent and play.
Summer Dance with Ballet 180
1708 Lancaster Ave., FL 2, Paoli
484-639-9571; Ballet180.org
June 18-July 12
Join Ballet 180 for week-long camps and intensives for ages 3 and up. Each week offers uniquely themed activities and dance lessons with a final show at the end of the week! Explore creative movement, try a new dance style or fine-tune your skills. Register by April 1 to waive reg. fee.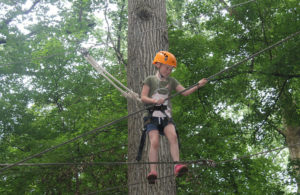 Benchmark School
2107 N. Providence Rd., Media
610-565-3741; BenchmarkSchool.org
July 2–August 3
An ideal summer experience for children entering grades 1–6 who can benefit from five amazing weeks of reading and writing instruction, recreation and confidence-building activities. Voted the Region's "Best Summer Camp!" by Philly.com!
Centreville-Layton School
6201 Kennett Pk., Centreville, DE
302-571-0230; CentrevilleLayton.org
June 25–July 27
Their PreK–8th grade program is designed to reinforce academics, with an optional afternoon program focused on recreational activities, including swimming. The 9th–12th grade program offers a unique on- and off-campus experience for busy students. Visit their website for more.
CCIU: Brandywine Virtual Academy
455 Boot Rd., Downingtown
484-237-5227; CCIU.org
Online: May 29 – July 25
Middle School Coding: June 27 – July 26
This camp offers a flexible, interactive online course experience tailored to the needs of each student. Students can receive credits in core content areas or explore other electives, such as Photojournalism, Forensic Science, World Languages. BVA offers unique blended learning experiences for middle schoolers interested in coding!
CFS Church Farm School
1001 E. Lincoln Hwy., Exton
610-363-9622 ext. 2923; YMCAGBW.org
June 11–August 17
The Lionville Community YMCA is accepting registration for camp programs located at Church Farm School. Camp Leo is a traditional day camp, where campers participate in activities like swimming, crafts and games! Also available: Sports Camp, STEAM Camp and Leadership Development. Contact Stephanie Bewley.
Delaware Art Museum
2301 Kentmere Pkwy., Wilmington
302-351-8551; DelArt.org
June 11–August 17
At this camp, young artists explore drawing, painting, ceramics and more in the Museum's studios, galleries and sculpture garden. Ages 6–16, eight sessions, full day: 9 to 4. Tuition grants available. Phone for information.
The Delaware Contemporary
200 South Madison St., Wilmington
302-656-6466; DEContemporary.org
July 9–20
Innovative summer programming with their new CREATORSPACE! Ages 7–13 will discover creativity in an environment encouraging self-expression through the arts in week-long programs. Your young artist will construct individual and collaborative projects that push traditional materials through non-traditional investigations.
Delaware Museum of Natural History
4840 Kennett Pike, Wilmington
302-658-9111; Delmnh.org
Museum Babies: Tuesdays and Wednesdays in July and August
Museum Peeps (ages 4–6): June 4–8
Full Day Camps: June 11–August 17
Hands-on, interactive learning and play, with time outside in the meadow, garden, wooded hiking trails and wildlife blind, plus inside the museum's galleries. K–6th grade: choose from a variety of full day camps. Museum Babies: 3 or 4 half-hour sessions, July and Aug. for toddlers (age 3 and their grown-ups.)
Devon Prep
363 N. Valley Forge Rd., Devon
610-688-7337; DevonPrep.com
June 18–August 10
Devon Prep is hosting award-winning Lavner Camps this summer for children ages 6–14, which focus on technology problem-solving skills such as Robotics, Minecraft and Coding. There will also be a CIT Leadership Program for teenagers ages 13 to 15 interested in developing leadership skills.
Episcopal Academy
Excel Sports Camps
1785 Bishop White Dr., Newtown Square
484-424-1732; ExcelatEA.org
June–August
Hosted on The Episcopal Academy campus, Excel Sports Camps are open to young players of any skill level. Excel offers individualized attention and customized programming to empower campers to progress through their own personal development. Full and half day camp options available for children entering grades 3–8.
Historic Yellow Springs Summer Kids Camp
1668 Art School Rd., Chester Springs
610-827-7414; YellowSprings.org
June 25–August 17
Discover the world of art and archaeology at this Kids Half-Day Summer Camp in the scenic village of Historic Yellow Springs. Each week includes a theme as children explore drawing, painting, collage or participate in an actual archaeological dig!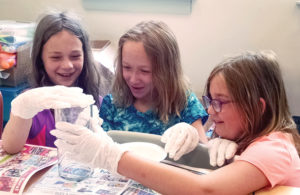 Linden Hall Summer
212 E. Main St., Lititz
717-626-8512 x154; LindenHall.org/Summer
July 8-August 4
Linden Hall offers GIRLS (Growth, Imagination, Recreation and Learning in the Summer, ages 8–17) and Equestrian (grades 6–12) overnight camps on its 49-acre campus. GIRLS campers choose electives—writing, coding, archery, cooking—and enjoy evening activities. Riders have a complete equine experience, with lessons, horse care and show prep.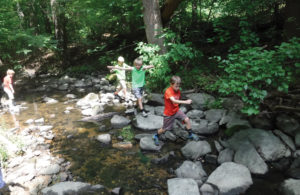 Pilot School
208 Woodlawn Rd., Wilmington
302-478-1740; PilotSchool.org
July 9 – August 6
Children ages 5–12 benefit from this multi-sensory approach, which offers them the opportunity to engage in activities while learning. This fun, hands-on camp focuses on social skills, team building, science experiments and nature while integrating reading and math. Morning or full day sessions.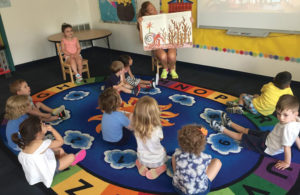 St. Ann School Summer Camp
2006 Shallcross Ave., Wilmington, DE
302-652-6567; TheSaintAnnSchool.org
June 25 – August 17
This camp, designed for younger campers ages 3–5, ensures a safe and nurturing environment where your child can learn and have fun. The camp has weekly themes, arts and crafts, story time, free play and special activities. Camp schedule runs from 9 to 3, with before and after care provided at an additional cost.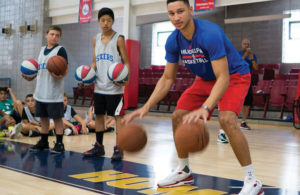 76ers Camps
610-668-7676; SixersCamps.com
June–August
Overnight Camp, Day Camp, Little Sixers & Sixers Skills Academy.
Day Camp: boys/girls 7–13; 17 locations.
Little Sixers Day Camps: boys/girls 5–7
Overnight Camp: 4 wks. Valley Forge
Academy
The Sixers Skills Academy: 12–15-year-olds
serious about their game.
Westtown Summer Camp
975 Westtown Rd., West Chester
610-399-7569; Summer-Westtown.com
June 18–August 10
The Westtown Summer Camp program offers countless adventures for kids ages 4–14. There are opportunities to grow and learn through a variety of experiences such as organic farming, forest exploration, high and low ropes, swim lessons, Turkish metal-smithing, archery, canoeing and athletics. Full- and half-day options available, as well as extended care hours. The program is ACA accredited.
back to top