Summer Camps 2017
Our Summer Camp guide will help keep your kids energized and engaged all Summer long!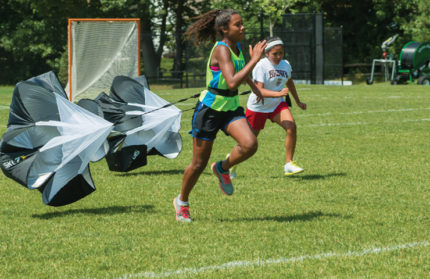 AIM Academy
1200 River Rd., Conshohocken
215-483-2461; AIMPa.org

July 3-28
The AIM Summer Enrichment Program is a four-week program offering students entering grades K–12 the opportunity to explore STEAM activities and reinforce essential skills in reading, writing and math. Specialized small-group instruction provides a dynamic learning experience designed to decrease summer learning loss. Build skills, form friendships, imagine, invent and play.
The Agnes Irwin School
Summer at AIS
Ithan Ave. & Conestoga Rd., Rosemont
610-672-1271; SummerAtAIS.org
June 12-July 28
Boys and girls ages 4–17 create their own full, half or partial day schedules from arts, athletics, STEM, academics, and more. No week minimums and extended hours available. Camp partners: Villanova University, Philadelphia Zoo, Chanel Summers, Drobots Drone Camps, Greener Partners, Future Design School, BSD Code + Design Academy.
Benchmark School
2107 N. Providence Rd., Media
610-565-3741; BenchmarkSchool.org
July 5–August 4
Designed for children grades 1–6 who can benefit from reading and writing instruction beyond the school year and who would enjoy the fun of a day camp. The camp places an emphasis on developing confidence and increasing strategic skills.
Brandywine Outfitters Adventure Camp
2096 Strasburg Rd., East Fallowfield Twp.
610-486-6141; CanoePa.com
July 17–21
Adventure-based learning through self-discovery, personal growth and leadership. The program includes high and low ropes, rock climbing, kayaking and canoeing, while stressing respect, responsibility and relationships. Ages 12–16 improve or develop skills for success and challenge their limits in a safe, supportive environment.
Centreville-Layton School
6201 Kennett Pk., Centreville, DE
302-571-0230; CentrevilleLayton.org
June 26–July 28
Their PreK–8th grade program is designed to reinforce academics, with an optional afternoon program focused on recreational activities, including swimming. The 9th–12th grade program offers a unique on- and off-campus experience designed for the busy student. Visit their website to learn more.
Delaware Art Museum
2301 Kentmere Pkwy., Wilmington
302-351-8551; DelArt.org
June 12–August 4
At Summer Art Camp at the Delaware Art Museum, young artists explore drawing, painting, ceramics and more in the Museum's studios, galleries and sculpture garden. Four sessions, full day: 9 to 4. Tuition grants available. Phone for information.
Devon Prep
363 North Valley Rd., Devon
610-688-7337; DevonPrep.com
June 26–August 10
2017 Summer Athletic Camp Series — one-week camps in Basketball, Baseball, Soccer, Lacrosse and Track & Field for boys ages 9–14. Camps provide a fun environment for boys at all levels of play, as well as an experience that will provide a new found confidence in themselves and their athletic ability.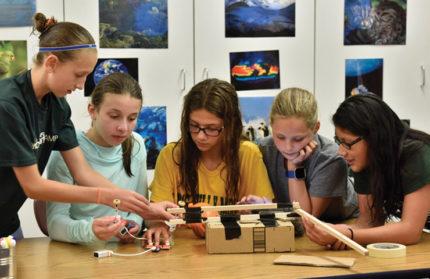 Episcopal Academy
1785 Bishop White Dr., Newtown Square
484-424-1400; EpiscopalAcademy.org

June–August
At The Episcopal Academy, learning doesn't end with the school year. Summer is a fantastic time for children to explore STEM courses, gain a competitive edge in their favorite sports, build leadership skills, and socialize with peers. Day camp options are also available.
Malvern Preparatory School
418 S. Warren Ave., Malvern
484-595-1100; MalvernPrep.org
June 19–July 28
Friar Fun in the summer! Malvern Prep offers a variety of summer programs for boys and girls in grades 1–12 that will help them get ahead, catch up and polish their skills in a fun and relaxed environment! Study with amazing teachers, train with elite coaches and learn SAT tips from the experts.
76ers Camps
610-668-7676; SixersCamps.com
June–August
Overnight Camp, Day Camp, Little Sixers & Sixers Skills Academy
Day Camp: boys/girls 7-13; 17 locations
Little Sixers Day Camps: boys/girls 5-7
Overnight Camp: 4 weeks; Valley Forge Academy
The Sixers Skills Academy: 12-15 yr. olds serious about their game
St. Ann School Summer Camp
2006 Shallcross Ave., Wilmington, DE
302-652-6567; TheSaintAnnSchool.org
June 19–August 14
Designed for young campers, age 3–5, who will have fun while learning this summer. There are weekly themes, arts and crafts, story time and special activities, all in a safe, nurturing environment. Camp schedule runs from 9 to 3 with before and after care provided.
Wyndcroft School
1395 Wilson St., Pottstown
610-326-0544; Wyndcroft.org
June 12-16, 19-23, 26-30; August 21-24, 28-31
Summer Camp: Outdoor field activities, arts and crafts, gymnasium fun and games, drama, water games, field trips and more. Wide range of ages. Before and after care available.
August 7-10
Soccer Camp
August 14-17
Basketball Camp
back to top