Slipping Out: From Horses to Flowers, Beer, Music and Comedy
The Devon Horse Show can be your base camp for exploring the Main Line.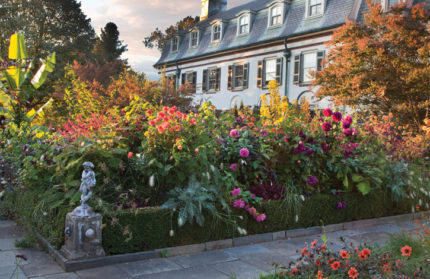 Eleven days of horses and riders, trotting, galloping, jumping—in all their equestrian splendor. It's great. Glorious even.
But, odds are, you'll want a break. After all, some events start at 8 a.m. and most nights there's still action in the ring until 10 p.m.!
Where can you go for a change of pace? For a few hours? Just a short drive away?
Passing the Afternoon
Luckily, you're smack dab in the middle of the Main Line: perfect for slipping away. In the afternoon, you may want to just drive around, take in the scenery and relax.
Just north of Route 30, aka Lancaster Avenue, heading east or west on Old Gulph Road, you can drive along winding roads among lush mansions, passing homes of immense proportions and exquisite landscaping.
Devon, Wayne, Villanova, or Berwyn, Paoli, Malvern …. Great gardens with flowering shrubs and trees—azaleas, rhododendrons, magnolias—will be in bloom. You can easily get lost on roads that curve and change their name without giving notice.
Gardens and Art
In Villanova, several miles to the east of Devon, stop to visit Stoneleigh: A Natural Garden—it's free. Stroll the 42-acre grounds of the former Haas estate (from Rohm & Haas), with landscape designed in the early 20th century by the Olmstead Brothers, sons of Frederick Law Olmstead, the father of American landscape architecture. Now managed by Natural Lands, the property has become a native, bio-diverse garden.
On June 8, at 10 a.m.—alas, after the Horse Show ends—there's a tour of the garden and the 1877 mansion, which is generally closed to visitors. You'll just have to plan to return.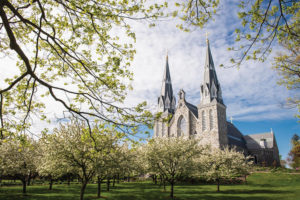 Afterwards, walk or take a short drive to Villanova University's campus. Fewer faculty and students are around after graduation in mid-May, but you can explore the 260-acre campus on your own. Visit the iconic 1880s St. Thomas of Villanova Church, the Connelly Center housing the art gallery and more, the Augustinian Cemetery, and the Athletic Complex, home to the champion basketball team.
And if you're a fan of college campuses and don't mind a 15- minute drive, the Haverford College campus has a lovely duck pond and well-used jogging path through its pinetum (arboretum of pine trees and conifers).
For still more greenery, Jenkins Arboretum and Gardens is just a mile or two from Devon's Horse Show grounds. This is the place for plants native to our area, with outstanding collections of rhododendrons, azaleas, striped maples, pawpaws, several Franklin trees, and a grand white oak. On Friday, June 1, from 6 to 9 p.m., Jenkins will host a garden party, titled Spring Blooms and dubbed "a lavish and leafy celebration."
Another not-to-be-missed garden is Chanticleer—called a pleasure garden—south of Devon by a couple of miles: 47 acres, with over 5000 plants and regarded as one of the most imaginative gardens in America. Enjoy the Asian Woods, with plants from Korea, Japan and China; Bell's Woodlands, with azaleas, ferns and foam flowers; Bell's Run Creek, with blue-flowered quamash (aka camas, does that help?) and water wheel; the Chanticleer Home Gardens, with small fountains, Japanese grasses and other colorful plants. It's a lovely place to spend the afternoon. Open Wednesday through Sunday.
For a little art, head to the Wayne Art Center, also nearby, or the Main Line Art Center, a bit farther east in Haverford. Read more in "Art Gallery Round Up," in this issue.
If You're Hungry
The Main Line is overflowing with great dining spots. We highlighted many in our annual "Best of the Best" restaurant roundup in our January issue, still available on our website.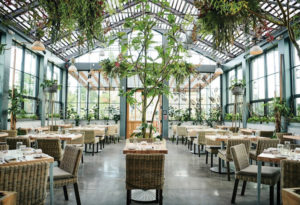 Terrain Café at Devon and Amis Trattoria are both on our list and just a block away from the horse show grounds. But both will likely be crowded—they attract a following on an average Tuesday.éAt Terrain, you can order brunch or dinner, amidst the ferns of the greenhouse. But don't miss their cocktails. A Maple Mamba Terrain, with apple brandy, rye and maple syrup will make the afternoon better. For a visit to Amis Trattoria, try a classic Italian meal—pasta, a pizzette, a meatball parm sandwich—if you're hungry. And maybe share a bottle of prosecco with a friend.
For Happy Hour and More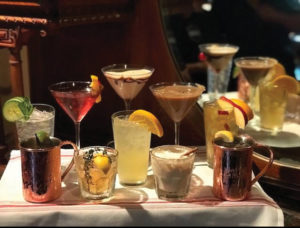 Another of our Best of the Best winners, 273-year-old Black Powder Tavern, in Wayne, is the spot where George Washington and his officers plotted revolution. Now it's the place to grab a beer—Tröeg's Nugget Nectar will slake your thirst—or sip one of the Tavern's signature cocktails. At Happy Hour try the Cheesy Devils—dates stuffed with gorgonzola and wrapped in bacon.
Downtown Wayne, a few miles east from the Show Grounds, is another excellent place to enjoy a beer. Teresa's Next Door, for example, has won many County Lines Best of the Best awards, and was a James Beard semifinalist for its outstanding bar program. It has countless beers, wines, ciders and spirits of all varieties.
In Berwyn, you'll find one of our favorites, La Cabra Brewing, with a great selection of beers, from Hipster Catnip to some serious sours. Head farther west—and find Locust Lane Craft Brewery, yet another Best of the Best winner, in Malvern, with ten taps of their beer, including a delicious imperial stout on nitro, in its summer beer garden. It's open until 11 on most nights, and has live music.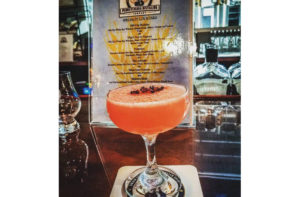 Next door to Locust Lane and on our Best of the Best list is The Pennsylvania Distilling Co., where you can take a tour and a tasting (best to book in advance). Sample whiskey, vodka, rum and gin, made according to a "grain-to-glass" principle. "Terroir," the distillers believe, is "every bit as important in the spirits world as it is with wines." Find out for yourself.
If you're out and about on Thursday, May 30, Locust Lane Brewery, along with Chaddsford Winery and local food trucks, will join together for a relaxing summer evening happy hour in the village of Historic Sugartown. A portion of the beverage and food proceeds will help to support Historic Sugartown.
Ah, the Nightlife
Perhaps later you'll be in the mood for a round of serious music or comedy.
One club that opened recently at 118 North Wayne Avenue, is called, not surprisingly, 118 North. On May 24, it will feature the Englishtown Project, named after the renowned concert from 1977 with a lineup that included the Grateful Dead, the New Riders of the Purple Sage and the Marshall Tucker Band. The following week, the club hosts alt country bands The Miners and Red Means Run.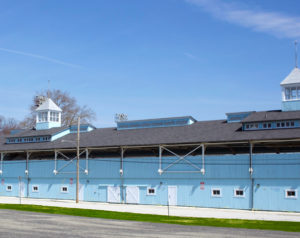 Or try Soul Joel's Comedy Club at the Vault at Valley Forge Casino Resort in King of Prussia. On May 24 at 8 p.m., Angelo Lozado and Jenny Saldana appear. May 31, it's Kevin Lee, also at 8.
At Devon, there will be hours of fun you don't want to miss. At other times, your equine fervor may sag. Hopefully, no one will notice as you slip out of Devon's stands to enjoy a taste of the Main Line beyond the blue walls. You'll return relaxed, refreshed and ready for all the Devon Horse Show has to offer.
back to top