Shoulder to Shoulder – Wheel to Wheel
The Criterium Returns to the Streets of West Chester, August 11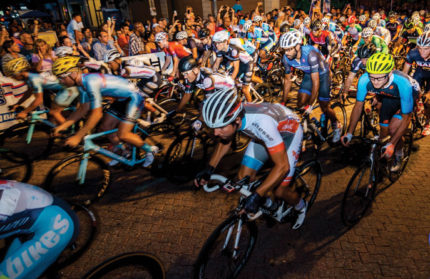 Feel the rush of wind through the streets as pro racers fly by at speeds of over 35 m.p.h. at West Chester's annual Benchmark Twilight Cycling Classic on August 11, sponsored by The Benchmark Federal Credit Union. Get ready for a day of full throttled fun and the visceral magic of bike racing!
The day kicks off at 3:30 with the West Chester Dental Arts Kids' race, where kids, 3–10, show off their cycling prowess and then head for the Kids' Zone for shaved ice and obstacle courses. Next up is the Tolsdorf Trike Challenge, a double elimination tag team tricycle race where riders revisit their childhood on adult-sized tricycles. Then switch back to two-wheel fun and cheer on Chester County locals cycling shoulder to shoulder through familiar streets in The Rothman Institute Amateur Criterium.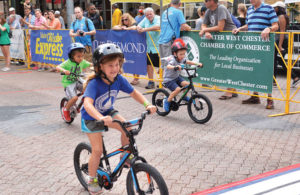 For the main event, professional cyclists from around the world strap on their helmets to tackle eight blocks of sharp 90-degree turns on borough streets just feet away from spectators. Witness a whirl of wheels as cyclists ride through a 40K course for women and 75K for men, competing for thousands of dollars in prize money. The Brumbaugh Wealth Management Pro Women's Criterium and The Iron Hill Pro Men's Criterium are among the most challenging races in the pro criterium circuit—a uniquely American-style of bike racing. Watch months of training come to life on the borough's main streets.
Come out and join the crowd to enjoy beer, music and the party atmosphere. Stand by the track and see the adrenaline-fueled action unfold—just be careful of the corners where crashes often occur. At the Community Festival guests can find a wide assortment of vendors' booths and a non-stop street fair.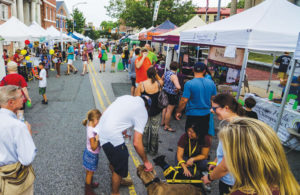 This year's event is expected to draw the largest crowd in West Chester Criterium history. Bring the whole family out to show your support for this community event. Work up an appetite and head for your favorite West Chester restaurant.
Check out the rest of the day's activities at GreaterWestChester.com/events.
Anyone wanting to catch the Benchmark Twilight Cycling Classic but unable to make it to West Chester on August 11, 2018 can tune in to the action on live stream exclusively through USACRITS.tv. Watch all 11 races plus more from previous seasons!
back to top