From Scratch to Salvaged
Handcrafted, Upcycled and Creative Furnishings to Add an Artistic Touch to Your Home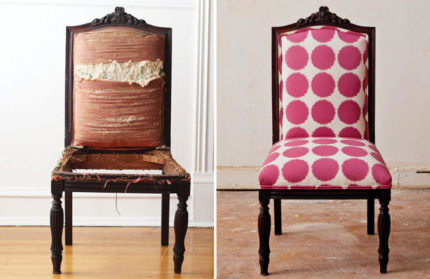 There's something to be said for furnishings made by hand. In a world with too many mass produced goods, things made with care, creativity and a passion for craft feel more meaningful—the way a handwritten letter is more appreciated than a generic greeting card or quick email.
If this personal touch appeals to you, consider adding a unique piece of fine furniture to your home. Where do you find hand-crafted furniture nearby? Many places, in fact! Local artisans, creatives, upcyclers, purveyors and collectors are thriving in our area, ready to help you add that bit of magic to your living space.
A Second Life
A shabby but decidedly not chic bookcase. A beat-up old farmhouse dining table. A worse-for-wear vintage dresser. These may be pieces stuffed in a corner of your basement or sitting curbside on trash day. But that doesn't mean that's where they belong.
With creative vision and some TLC, the folks at Salvaged Furniture & Home Décor Boutique pride themselves on giving dumpster-bound furniture a Pinterest-worthy makeover, reviving them for a happy, productive second life.
"There's a lot of high quality older furniture out there that just needs some updating," says Maria Roberts. "Our passion has been saving those old, great pieces!"
Their Pottstown showroom is packed with solid wood vintage furniture—from kitchen tables, chairs and dining room sets to china cabinets, desks, mirrors and more—in what seems like every color under the sun.
Or bring your own ugly-duckling pieces to them and watch the transformation with paints, stains and trendy distressed or crackle finishes. If a piece needs a bit of repair or reupholstering, they've got you covered there, too.
And as Maria assures us, the paints are all non-toxic and water-based—giving you the freedom to remove them and switch up the finishes if your taste changes.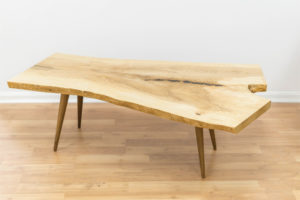 All In One Place
Stepping into worKS in Kennett Square is like entering an artists' collective. Walls upon tables upon nooks and crannies are filled with local handmade, vintage and upcylced goodies of all varieties. With 20 different vendors, all hailing from the greater Philly area and many with shops of their own, every inch of the shop holds something special.
You'll find stunning, high-end reupholstered and reimagined chairs, sofas and stools from nationally recognized Chairloom—who will work their magic on your own pieces or their inventory of frames. Eastcote Lane's rescued and updated furniture and DIY chalk paint will catch your eye. (Be sure to ask about their hands-on workshops.) And Greg Pilotti's handmade, built-from-scratch furniture, with its impeccable quality and style—like his tables made from wood with a distinctive live edge—can't be missed.
Owner Tara Dugan—who also owns Scout & Annie Vintage Homegoods—knows every artist by name and will happily chat about each unique specialty. "That's the great thing about everyone being in one place," she says. "You can come here to meet the vendors, make an appointment and brainstorm what it is you're looking for."
And if you have no idea just yet, you're sure to get inspired from the contact high with so much talent!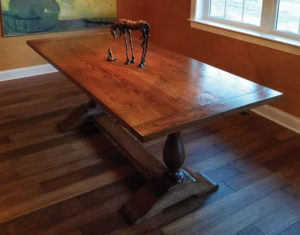 Built By Hand
Or, you may know exactly what you're looking for, down to the precise dimensions. That's where artisans like the owner of Paul Brogan Contracting shine. All the hand-built furniture—cabinets, dining room tables, chests, bookcases, side tables, headboards and more—is made from solid wood to clients' exact specifications, says owner and artisan Paul.
"Usually clients come to me with a photo of what they like, and I'll work with their idea to get it as close as possible," says Paul. That includes their preferred type of wood, dimensions and style. Everything he creates is customizable, and is often part of a bigger renovation project. The handcrafted pieces can create a cohesive, complementary look, if that's what you're going for.
Paul will also work with repurposed things you own—like a salvaged copper or iron base to give a wooden table unique character.
He's also happy to invite clients into his workshop for an insider's look at the progress on their piece. Though when asked if his studio is open to the general public, he laughs, "No, there's a lot of tools here. That would be a bit too dangerous!" Those who do get to visit his shop know it's a special treat.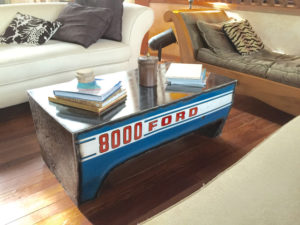 Reimagining Possibilities
If you really want something outside the box, something so unique you could only picture it in fairytales—and certainly never in a big box store catalogue—head off the beaten path just three miles outside West Chester to The Merchant of Menace Reimaginers Gallery in Marshallton.
Founder Michael Arizin believes in second acts. He wanted a place where artists with vision and a knack for seeing the possibilities in found objects and reclaimed materials could showcase their work. Though "artistic" doesn't do justice to the pieces you'll find there.
What will you find? Whimsical furniture made of old farm machinery and barn wood. Animal, robot and clock sculptures crafted from repurposed odds and ends. Rag rugs, pillows and ottomans made of recycled textiles. Wall hangings and décor made from cast-off vintage materials and license plates. And anything else your imagination can dream of!
Why Handmade?
In addition to owning something unique and a great conversation starter, what other reasons might make you want to go the handmade route when furnishing your home?
First, if you're upcycling your own pieces, it's usually cost effective. "When done correctly with the proper products, painting a good quality piece of vintage furniture that you already own is much cheaper than replacing it," says Maria Roberts of Salvaged Furniture.  She notes that older furniture is also likely well made, you can style it however you want, and you get to send one less thing to the landfill.
Tara Dugan of worKS seconds the customization, quality and eco-friendliness. She adds that people want to feel they have a connection to things in their home. "If you can say 'This was my aunt's favorite chair' or 'My husband and I picked this out at a garage sale together and restored it,' there's a story and memories behind it," says Tara. Those pieces have more meaning than their cookie-cutter counterparts.
It's also great to support local businesses and artists, knowing they pour their time, attention and heart into their work. Seeing the evidence of the hand of the artisan—whether in brushstrokes, tool marks or a signature—is a reminder you own something connected to a person.
"I think people appreciate and have more of a special attachment to a handcrafted piece," says Paul Brogan. And when you get to meet the artisan and be part of that process, it's even better.
Convinced yet? We sure are!
back to top