Ready to Take on the World
High School Students with Big Ambitions … and Big Talents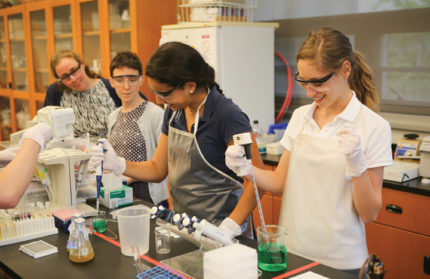 Until they graduate from high school, most students compete primarily within their schools. Athletics are an exception. But academically—in math, science, engineering, advocacy, the arts—most students don't reach out beyond their own institutions. They don't vie with others in the region, the state, the nation or the world.
Several area students, however, do compete and excel on a larger stage. Here's what they've been up to.
Health, Computers … and a TED Talk, Too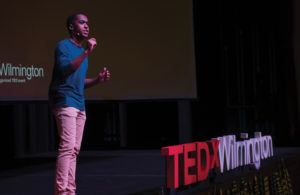 As a sophomore, Chase Reid won the Delaware state championship as captain of Tatnall School's Science Olympiad team. As a junior, he won the Xerox Award for Innovation and Information Technology. That's besides giving a TED talk—"Will They Replace Us or Enhance Us?"
This year as a senior, he won 1st Place in Computer Science at the New Castle County Science Fair and 2nd place in the Delaware Valley Science Fair. In brief, he found a better way to detect breast cancer using machine learning and data to assess whether a lesion is benign or malignant, earning a $12,000 scholarship to the University of the Sciences in Philadelphia. He's also developed software called Lyre that recommends songs based on facial recognition.
Fighting Superbugs
Charlotte Elizabeth Weisman of Episcopal Academy took 1st place in the Pennsylvania Junior Academy of Science's regional competition, tackling the evolution of "Superbugs," which unfortunately are evolving faster than new antibiotics to counter them. Charlotte investigated countering ampicillin's resistance in E. coli by exposing it to another compound and found the combination was far more effective than ampicillin alone. She plans to continue her studies at either the University of Michigan or Georgetown.
Beware of the Metal Moose
Steve Compton, Head Coach of the Metal Moose and Director of Westtown's Science Institute, describes Daelan Roosa as the "most extraordinary kid I've worked with in 36 years of teaching." Daelan leads the school's robotics team, called the "Metal Moose," which will compete in the Robotics World Championship in Detroit in late May. The competition features the top 10% from a field of 6,000 teams from around the world. To qualify, the Westtown team finished 4th in the Mid-Atlantic Championship, losing to the winning team in the semi-finals.
Safer Skies
Michael Wiciak is only a junior at the Salesianum School, but his team placed 3rd out of 500 in the Diamond Challenge, a competition of high school entrepreneurs held at the University of Delaware and attracting entries from as far away as Moldova, Uganda and South Korea. Wiciak's prototype, a "safe" quadcopter—its rotors and blades were concealed, offering protection to those nearby—was a class science project, overseen by Creighton Anderson, a STEM teacher at Salesianum. The project earned Wiciak a $3,500 prize.
Multi-Talents
Charles Hallinan won a variety of honors in his academic career at Devon Prep. He won Gold Medals on the National Spanish Exam, 6th Best Advocate Award at the Blue and Gold tournament at LaSalle University, and served as assistant captain of the Mock Trial team, which was a state finalist in 2016 and 2017. And Charles was recognized as a Commended Student in the National Merit Scholarship Program. This fall, he'll attend the University of Notre Dame.
Top of the World … Almost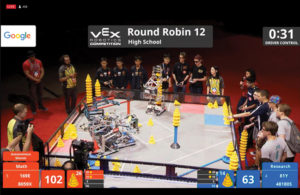 Haverford School's Robotics team placed 4th in the Math Division of the VEX Robotics World Championship in Louisville. That's 4th in the world, in a competition with 549 teams from 35 countries. This team—juniors Intel Chen and Jared Hoefner, sophomores Alexander Greer and Bennett Twitmyer, and freshman Maxim Kreider—qualified for the world championships through a last chance qualifier, which required building a brand new robot in a week.
Also a finalist, this time in the Arts Division, was another Haverford team with juniors Scott Shaw and Will Clark and freshman Safa Obuz. Yet another Haverford team—junior Will Vauclain and sophomores Aditya Sardesai and Daniel Chow—won at the state level.
Presidential Scholars
A trio of Tower Hill seniors—Isabelle Pilson, David Goodman, Rand Barton—earned commendations in the National Scholarship Program and were among 4,000 candidates named in the 2018 U.S. Presidential Scholars program. Candidates are selected for superior academics, artistic achievements, leadership qualities, strong character and involvement in community and school activities. Isabelle is going to Stanford, David is choosing between Dartmouth and Columbia, and Rand is still deciding.
Meanwhile, two of the school's juniors distinguished themselves in math. Olivia Lin scored in the top 5 percent on the American Mathematics Competition, qualifying her for the American Invitational Mathematics Exam, while Peter Zhong earned 3rd place in the region at the Invitational Math League state meet.
Don't Mock the Team
As a senior co-captain of Villa Maria Academy's Mock Trial team, Samantha DiBona was "truly exceptional," according to Director of Admission Mary Kay Napoli. Recognized as Best Advocate by her opponents, Samantha said it was a season "of never-ending curveballs, causing us to change our strategies constantly." But the court never saw the team flustered. DiBona, who envisions herself attending law school, will attend American University.
From Spelling Bees to the Stage
At the Sanford School, after winning the state spelling bee in 7th and 8th grade, Lily Allingham turned to theater—she was all-state in 9th and 10th grades and attended the Governor's School for Excellence in Theater … and chorus. Lily made the Delaware All-State Chorus every year of high school and was one of three Delaware students selected to the All-National Choir.
Engineering, Singing …and Making Chili
Geno Go is "one of the most hardworking, successful and intellectual students in his class," says Eric Fulmer, Dean of Students at Church Farm School. Geno "constantly seeks opportunities that will challenge him academically and intellectually." In November 2017, Geno received a $1,000 scholarship from Delaware Valley Engineers Week, given to an Outstanding High School Senior. He will attend Johns Hopkins next year.
Choral Director Gary Gress called Nathan Antwi "a very engaging and charismatic singer." Nathan made the state chorus in 12th grade after achieving top 20 at district level, top 10 at the regional level, then, finally, top 6 at the state level. Fulmer called him "one of the best I've had in 28 years."
Plus, Nathan joined three other CFS students—Mel Mendez, Abednego Chase, Sebastian Lopez—to create the Best Chili in West Chester Rotary's Chili Cook-Off. For two years running! It's quite a feat. I know because, at County Lines Magazine, we entered that cook-off years ago and all we got were t-shirts.
From robots to biology to chili, these students have worked hard for their achievements. They're well on their way to putting in their 10,000 hours toward mastery. And they're already making their mark in the real world.
We wish them well and continuing success.
back to top