New Jersey Beaches You Should Visit
Even with some restrictions, Jersey beaches are ready to help you relax this summer.
Surf's up! New Jersey beaches—favorite family vacation destinations—opened from their coronavirus shutdown over the Memorial Day Weekend happily launching the unofficial start of summer.
It may go without saying, but the pandemic has certainly changed a lot in our lives, including how we spend this summer. But our nearby Jersey beaches are committed to getting people back on the sand and the boardwalks, while still maintaining safe and healthy practices.
We've gathered some of what you need to know when visiting your favorite beach towns in New Jersey this summer. From Atlantic City to Cape May, the Jersey shore is ready to help you unwind this summer.
More than Casinos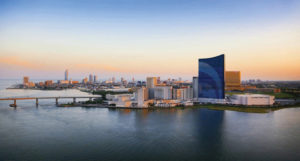 Well-known for its casinos, Atlantic City also boasts plenty of beaches stretching 10 miles along Absecon Island plus a 4-mile boardwalk to explore.
This boardwalk is the only one in the state that remained open during the entire pandemic. Now you can grab a beer as you stroll. Get out and enjoy the sea air as you jog or a bike on the boards—just make sure you practice social distancing. Eateries on the boardwalk are open for take-out and delivery only, at press time.
Beaches are free and open for all the usual summer fun—sunbathing, swimming, running, walking, surfing, fishing, kayaking and windsurfing. Social distancing is required, and special events that attract crowds, like festivals, fireworks and concerts, are still prohibited.
Casinos remain closed, though Governor Murphy is considering what practices can be adopted so they can reopen. Other Atlantic City happenings and events are being postponed, rescheduled or moved to virtual spaces, so keep checking the website for the latest.
Family-Friendly Fun at Ocean City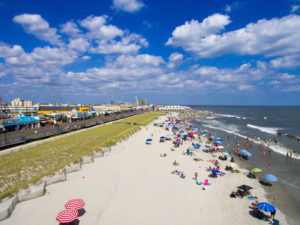 For a family favorite, look no further than Ocean City, Travel Channel's "#1 Family Beach Community in the Country." Explore 8 miles of ocean and beaches plus 2½-miles of boardwalk.
For now, the Wonderland amusement park and the water park are closed, but hope to reopen later this summer. No need to worry though, you can still enjoy time on the boardwalk—go for a run or a walk, or rent bicycles. Souvenir stores are selling goods curbside and some eateries are open for pick-up, take-out and delivery. Masks are recommended but not mandatory, unless you enter a store or business.
And the beaches are open! Buy a $20 season beach tag, and sunbath, swim, surf, walk, run or fish. Make sure to stay at least 6 feet from others on the shore, then just close your eyes, breath in the salt water air, and enjoy your summer vacation.
OceanCityVacation.com or Facebook.com/OceanCityNJVacation/.
Two Beaches—One Island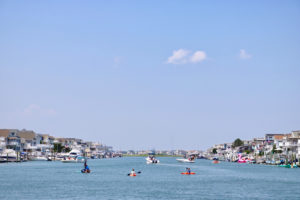 Away from the busier Jersey beach towns are Avalon and Stone Harbor, two boroughs that occupy a 7-mile barrier island.
The beaches opened in early May with some restrictions, but are now open for walking, running, fishing, surfing and sitting on the sand—as long as you practice social distancing! Beach tags purchased for Avalon beaches are honored on Stone Harbor beaches and vice versa, so you can try out the best spots along the entire island.
Support the beach towns' local businesses while you're there. Local spas, salons and fitness facilities offer online classes and products, retailers are open for online sales and gift cards, and restaurants are available for takeout and delivery. Keep checking Avalon's website for the evolving list of open businesses and the most up-to-date information.
And if you're looking for some fun off the sand, the Avalon Free Library is hosting events this summer, including beach walks, Zoom classes, story times, book clubs and more.
Vacation Your Way in the Wildwoods
With 5 miles of free beaches and a 2½-mile boardwalk, the Wildwoods—Wildwood, Wildwood Crest, North Wildwood—mix nostalgia with modern-day fun, making it one of TripAdvisor's "25 Best Family Beach Vacations to Take with the Kids."
In Wildwood Crest, grab a bite for takeout at the newly opened Doo-Wop Drive-In, and check social media for info on social distancing movies at their outdoors theater. Stroll the boardwalk for pickup, takeout, delivery and outdoor dining for everything from fresh-caught seafood to traditional favorites.
Enjoy the boardwalk's rides and shopping. The piers plan to open as soon as they're given the green light. Then you can ride the roller coasters and Ferris wheel or splash in the water parks. While some stores are closed, others have shopping with social distancing guidelines.
And the iconic tram cars well-known call—"Watch the Tram Car, Please"—will be heard as the trams resume operating with social distancing and new sanitization measures.
Be sure to enjoy the miles of free beaches open for walking, running, fishing, swimming and sitting (aka sun bathing). Maintain social distancing is easier while you relax on the beach.
Historic Cape May's Charm
For small beach town charm, Cape May tops the list. It's also our country's oldest seaside resort, with 201 years of history.
The 2½-miles of beaches will be open for sitting, sunbathing, and swimming—beach tags and social distancing are required.
Rather than opting for a charming Victorian B&B, camping at one of the nearby campgrounds may be a safer option, so check out Holly Shores Camping Resort or Adventure Bound Camping Resort.*
Support the arts by checking out the Cape May Stage. Though the schedule for their 2020 season may be cancelled, they're offering other programming—live stream readings of plays, virtual lectures, concerts and more. Find even more virtual events—Cape May MAC has virtual tours and experiences, East Lynne Theater Co. tells a short story weekly, Cape May County Zoo is offering a virtual zoo school, and many more.
For the latest information on hours and options for eateries, retail stores, wineries, breweries and distilleries, check the Cape May Strong website.
CapeMay.com or CapeMayStrong com.
*Information on hotels, motels and inns is not included here because of the changing nature of safety precautions.
back to top