More Great Places for Outings
PENNSYLVANIA
See also: Historic Sites
Glen Mills
Newlin Mill Park. Restored 18th-century milling community, with an active 1704 water-powered grist mill. Hiking, trout fishing weekends, picnicking and nature walks. Rt. 1 & Cheyney Rd. NewlinGristMill.org.
Glenmoore
Springton Manor Farm. The 19th-century manor house was the country estate of a prominent Philadelphia family and is now a demonstration farm where children meet animals in a petting area and learn about farming. Park open year-round. 860 Springton Rd. ChesCo.org/CCParks.
King of Prussia
Nor-View Farm Park. A real working farm with a plant nursery, mini farm and ice cream shop. Visit the farm and see the animals from spring to fall, shop in the nursery and take advantage of the well water available for purchase. 670 N. Henderson Rd. Facebook.com/NorViewFarmGardenCenter.
Newtown Square
Colonial Pennsylvania Plantation. See: "Day Trips & Outings."
Nottingham
Herr Foods, Inc. USA Today's 2016 Readers' Choice #1 Best Factory Tour—beating Hershey's Chocolate World, at #4! Factory tours show the real operation, with real workers and include secrets like how tortilla chips get their flavor. Tours end at the Snack Bar and Gift Shop. Reservations required. To schedule: 800-284-7488; or reserve tickets online: Herrs.com.
Oxford
The Village of Oxford celebrates its 250-plus-year history in a charming historic district. Try the Bridge Tour Walking Tour to enjoy shopping and refreshments in town or check out the 2nd Annual Connective Art & Music Festival on Aug. 3. For tours, coupons, guides and more, visit DowntownOxfordPA.org.
Perkiomenville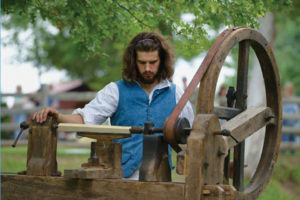 Goschenhoppen. One of the oldest continuously existing Pennsylvania German communities in America preserving the folk culture of this area's earliest immigrant settlers, known as the Pennsylvania Dutch. Today, the Goschenhoppen Historians, Inc. maintain museums, a library and offer educational and seasonal events such as the 53rd Annual Pennsylvania Dutch Folk Festival, Aug. 9–10, Henry Antes Plantation, 318 Colonial Rd. Goschenhoppen.org.
Pottstown
The Carousel at Pottstown. The second oldest operating Philadelphia Toboggan Company wooden carousel in the United States. Each custom carved figure took local artists over 250 hours to sand, paint and finish. 30 West King St. CarouselAtPottstown.org.
West Chester
QVC. A guided tour takes you through the broadcasting facility including a view from the Observation Deck where guests may be able to watch QVC programs in progress and catch a glimpse of a favorite host or guest. 1200 Wilson Dr. QVC.com.
DELAWARE
New Castle
The town of New Castle, established in 1651 and where William Penn landed in 1682, is a beautifully preserved Colonial town center on the Delaware River. Visit Immanuel Church and its churchyard (dating back to 1703), and the George Read II House, a grand Federal mansion surrounded by a handsome garden. NewCastleCity.Delaware.gov.
Odessa
Historic Houses of Odessa. An outstanding collection of period household furnishings, fine and decorative arts. Five distinctive properties are unique examples of the architectural heritage of Colonial Delaware and tell of Odessa's role in the Underground Railroad. Be sure to visit Sept. 7 for the 6th Annual Historic Odessa Brewfest with craft beer, live music, great food, vendors and more. OdessaBrewfest.com, HistoricOdessa.org.
Wilmington
Delaware Park Casino. Home to live thoroughbred racing on the track and slot machines and table games, live entertainment and dining choices for all tastes. There is even a world-class 18-hole championship golf course at the White Clay Creek Country Club. 777 Delaware Park Blvd. DelawarePark.com.
Amusement Parks & Family Fun
PENNSYLVANIA
Bird-In-Hand
US Hot Air Balloon Team. Choose a shared or private ride at your favorite location, select an available date and time that works best for you, then enjoy an experience of a lifetime. 2727 Old Philadelphia Pk. USHotAirBalloon.com.
Chester Springs
Above & Beyond Ballooning. Take a scenic ride above Chester, Berks and Montgomery counties and celebrate with a post-flight champagne toast. A memorable and unique experience for the whole family. USAHotAir.com.
Downingtown
Boulder Falls Miniature Golf. A 19-hole mini golf course featuring a cascading waterfall with winding streams flowing into fountain ponds.  The beautifully landscaped design provides relaxation and lots of fun. 1426 Marshallton Thorndale Rd. BoulderFallsMiniGolf.com.
Downingtown Playdium. Make it through the laser maze and reward yourself with some video arcade games. Don't forget to redeem your tickets for exciting prizes before you leave! 3949 Lincoln Hwy. W. DowningtownPlaydium.com.
Downingtown Rock Gym. This Rock Gym is for people of all ages and abilities. Beginners learn the basics and more experienced climbers test their skills in advanced climbing lessons or seek a new adventure on the outdoor rock-climbing area. 462 Acorn Ln. DowningtownRockGym.com.
Urban Air Trampoline & Adventure Park. From the obstacle course, balance beams, tubes, the runway tumble track and slam dunk zone and on and on. Great place on a rainy day or for a birthday party. 981 E. Lancaster Ave. Urban-AirTrampolinePark.com.
Exton
Round 1. There's fun for the entire family at this state-of-the-art entertainment arena. Mom and Dad can enjoy Happy Hour Specials of draft beers and wine while kids participate in activities like bowling, arcade games and karaoke. Exton Square Mall, 172 Exton Square Pkwy. Round-1USA.com.
Glen Mills
Oasis Family Fun Center. Safe, clean fun for the entire family including a Ballocity Arena, Soft Playground, Rock Climbing Wall, Laser Maze, Jumpshot Trampoline Basketball and Arcade Games plus a full service snack bar. 35 Lacrue Ave. OasisFamilyFun.com.
Sky Zone Trampoline Park. Literally bounce off the walls of this indoor trampoline park. Jump into the foam zone on the trampoline dodgeball court and slam dunk with hoops for kids of all sizes. 10 Conchester Rd. SkyZone.com/GlenMills.
Lancaster
Dutch Wonderland. Fun for kids, with over 30 rides—two coasters, Duke's Lagoon water play area and live entertainment shows. Rt. 30, 4 mi. E of Lancaster. DutchWonderland.com.
Malvern
Grand Slam USA. Keep the family active with over 30,000 square feet of athletic activities and sports for all ages plus unique attractions like Ninja Obstacle Course, Nerf Blaster Battle, Spaceball Trampoline and Human Foosball. 11 Lancaster Ave. GrandSlamMalvern.com.
Mortonville
Brandywine Outfitters. Enjoy a scenic canoe or kayak trip with the whole family down the Brandywine River. If you're looking for a whole weekend of fun, grab your sleeping bag and pitch a tent on the 26-acre private park in the heart of Chester County. 2096 Strasburg Rd. CanoePA.net.
Newtown Square
Jumpers Family Zone. Indoor playzone with Soft Playground, Safari Slide, Jungle Obstacles and Little Cub Play Area. Enjoy the fun any day of the week or host your next party—you can even create invitations on Jumper's website. Ridley Creek Plaza, 5117 West Chester Pk. FunAtJumpers.com.
Oaks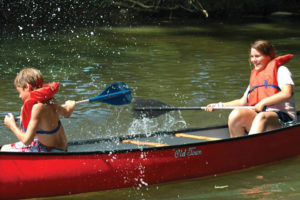 Arnold's Family Fun Center. An action-packed day riding go karts and other rides. Try both laser tag attractions, Black Light Mini Golf and bowling. Not only will the kids have fun, but parents can enjoy Arnold's Bistro & Bar while they play. 2200 West Dr. ArnoldsFFC.com.
West Chester
Northbrook Canoe Company. Cool off along the beautiful Brandywine River with a peaceful, self-guided canoe, kayak or tubing trip. Continue your fun with your favorite summer foods. Res. encouraged; walk-ins welcomed. Open daily, May through October with the first trip at 9 am, last one at 4 pm. NorthbrookCanoe.com.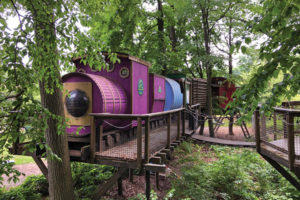 Treehouse World. A place to explore the newest and coolest treehouses around, to challenge yourself with their unique high adventure programs and a place to have a ton of fun. You can also take the Aerial Zipline Adventure Course with 3 ziplines and 8 bridge crossings that take you high above the headwaters of the Valley Creek. 1442 Phoenixville Pk. TreehouseWorld.com.
West Chester Railroad. Take a relaxing 90-minute ride through the scenic countryside between West Chester and Glen Mills. Pack a lunch or purchase one from their on-board snack bar to have during the stop at the Glen Mills train station picnic grove. The train can be chartered for special events and catering is available. Market St. Station, 230 E. Market St., 610-430-2233; WestChesterRR.net.
DELAWARE
Wilmington
Altitude Trampoline Park. Spend a day on the tumble tracks, foam pit and dodgeball court, or participate in group fitness classes. This high-energy indoor trampoline park is perfect for a rainy day or to burn off some energy. 510 Justison St. AltitudeWilmington.com.
Wilmington & Western Railroad. See: "Day Trips & Outings."
Selected Nature Centers, Parks and Public Gardens
PENNSYLVANIA
Audubon
John James Audubon Center at Mill Grove. See: "Day Trips & Outings."
Chestnut Hill/Philadelphia
Morris Arboretum. The official arboretum of PA. On its 92 public acres, thousands of rare plants (many of Philadelphia's oldest, rarest, largest trees) are set in a Victorian garden. Award-winning rose garden, English landscape park, loggia and hidden grotto, Japanese gardens and swan pond. Special events. 100 E. Northwestern Ave. Morris-Arboretum.org.
Coatesville
Hibernia County Park. The park consists of over 900 acres of trails, woodlands, meadows, open fields, play areas, pavilions, camping, picnic areas and popular fishing sites. 1 Park Rd. ChesCo.org/1743/Hibernia-Park.
Devon
Jenkins Arboretum. See: "Day Trips & Outings."
A 46-acre arboretum that emphasizes azaleas, rhododendrons and plants of local woodlands, including groundcovers and colorful wildflowers that bloom over a long season. It's also a vibrant classroom for people of all ages. From seed propagation workshops to story time in the Children's Garden, yoga practice to beekeeping demonstrations, there is always something new to learn, create, or experience at Jenkins! 631 Berwyn Baptist Rd. JenkinsArboretum.org.
Media
Tyler Arboretum. A 650-acre preserve originated with brothers Jacob and Minshall Painter. Mature plant collections are laid out in a natural setting, with 20 miles of marked trails. Education center, museum collections, library. 515 Painter Rd. TylerArboretum.org.
Newtown Square
Willistown Conservation Trust/Rushton Conservation Center.  The Trust program's focus encompasses 28,000 acres in Chester County and portions of Delaware County, and its mission is to preserve and manage the open land, rural character, scenic, recreational, historic, agricultural and natural resources of the area.
Rushton Farm is the centerpiece of the community farm, hosting a CSA, school groups, volunteer days and a "Share the Bounty" program that donates fresh food to local food cupboards. 925 Providence Rd. WCTrust.org.
Willistown's Okehocking Preserve. 180 acres of the 500-acre Okehocking Land Grant Historic District are likely the only known grant to an Indian tribe authorized by William Penn, conveyed in 1703. Includes meadowlands, upland hillsides and old-growth woodlands, with 5 miles of hiking and horse riding trails. 5316 West Chester Pk. Willistown.Pa.us.
Nottingham
Nottingham County Park. The 651-acre park offers nine pavilions, an 18-station fitness trail and three modern, handicapped accessible playgrounds. Dedicated in September 1963, Nottingham Park was the first Chester County park. 150 Park Rd. ChesCo.org/1743/Nottingham-Park.
Phoenixville
Black Rock Sanctuary. Consisting of 119 acres of wetlands, woodlands and meadows, Black Rock Sanctuary is dedicated to wildlife habitat and public use. The sky over Black Rock is a flyway, or air highway, for birds that migrate up and down the East Coast. 953 Black Rock Rd. ChesCo.org/1745/Black-Rock-Sanctuary.
Pottstown
Warwick County Park. Hardwood forests, meadows, wetlands and the French Creek are all jewels within Warwick Park's 535 acres. 191 County Park Rd. ChesCo.org/1743/Warwick-Park.
Welkinweir. This historic country estate is home to Green Valleys Watershed Association, a nonprofit dedicated to preserving the natural resources of northern Chester County. Nature walks and talks, summer camps and volunteer opportunities are offered on 219 permanently protected acres of forests, meadows and an arboretum overlooking multiple ponds. 1368 Prizer Rd. Welkinweir.org.
Swarthmore
Scott Arboretum of Swarthmore College. "A garden of suggestions," it's the college campus, covering 110 diverse acres. 500 College Ave. Scott Arboretum.org.
Wayne
Chanticleer. Chanticleer is one of the great gardens of the region. Once the Rosengarten estate, today's Chanticleer is a colorful, contemporary garden within an historic setting. 786 Church Rd. ChanticleerGarden.org.
West Chester
H. E. Myrick Conservation Center. A 300-acre landscape with vegetation and wildlife habitats. Part of the Brandywine Valley Assn., which has worked for over 50 years to protect the Brandywine Creek. Two marked self-guided nature trails—Hill and Stream Trail and Farm Path Trail. 1760 Unionville-Wawaset Rd. (Rt. 842). BrandywineRedClay.org.
DELAWARE
Hockessin
Ashland Nature Center. Headquarters of the DE Nature Society, 130 acres of meadows, forests, marshes, streams and ponds make an ideal setting for nature programs each year, geared to all ages and all levels of interest. Brackenville & Barley Mill Rds. DelawareNatureSociety.org.
Mt. Cuba Center. A botanical garden that inspires an appreciation for native plants and a commitment to protect the habitats that sustain them. 3120 Barley Mill Rd. MtCubaCenter.org.
Smyrna
Bombay Hook National Wildlife Refuge. This 16,000-acre refuge is one of the best places on the East Coast to view migrating and resident waterfowl, especially in spring and fall. 2591 Whitehall Neck Rd., Rt. 9, E of Smyrna. FWS.Gov/Refuge/Bombay_Hook.
The Marian Coffin Gardens at Gibraltar. The grounds of an 1844 restored estate listed on the National Register of Historic Places. The gardens are "rooms," each with unique character. 1405 Greenhill Ave. PreservationDE.org.
Nemours Mansion & Gardens. This is a 300-acre country estate with formal gardens and a classical French mansion with 105 rooms on five floors. 850 Alapocas Dr. NemoursEstate.org.
Historic Sites
PENNSYLVANIA
Birdsboro
Daniel Boone Homestead. Daniel Boone was born here in 1734 in a log house built between 1730–1779. Other buildings include a PA bank barn, blacksmith shop, sawmill, log house and visitors center. 400 Daniel Boone Rd. DanielBooneHomestead.org.
Broomall
Thomas Massey House. One of the oldest English Quaker homes in PA, built in 1696. Lawrence & Springhouse Rds. ThomasMasseyHouse.org.
Bryn Mawr
Harriton House. Home of Charles Thomson, Continental Congress secretary, furnished with 18th-C. antiques. Originally part of a 700-acre, 1700s plantation. 500 Harriton Rd. HarritonHouse.org.
Chadds Ford
Barns-Brinton House. Blacksmith William Barns foresaw the need for a tavern on "ye Great Road to Nottingham." So, in 1714, he built the spacious brick building that was to become a tavern. John Chads House. Built around 1725, and owned by John Chads from 1729 until his death in 1760. He operated a ferry across Brandywine Creek. The location became known as Chad's ford. 1736 Creek Rd. ChaddsFordHistory.org.
Chester Springs
The Mill at Anselma. On the Pickering Creek, the Mill is an extraordinary artifact of 250 years of Chester County's industrial heritage retaining its original Colonial-era power train, and multiple layers of industrial equipment. Demonstrations and hands-on activities. 1730 Conestoga Rd. AnselmaMill.org.
Historic Yellow Springs. Originally named by Native Americans for the iron-rich "yellow" spring water, this scenic village became the principal hospital for the Continental Army during the Valley Forge encampment and an 18th-century mineral water spa. Site of art, crafts and antique shows. Art School & Pikeland Rds. YellowSprings.org.
Ephrata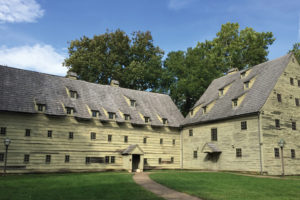 Ephrata Cloister. William Penn's colony of Pennsylvania was the first to offer freedom from religious persecution and Historic Ephrata Cloister is a wonderful example of this religious toleration. You'll experience a tranquility missing from today's hectic lifestyle while you explore Ephrata's unique architecture, music and artwork. Don't miss the museum store featuring specialty crafts by nationally recognized artisans. 632 W. Main St. EphrataCloister.org.
Geigertown
Joanna Furnace. Hay Creek Valley Historical Assn. supports local heritage and provides a living experience of Berks County's agricultural and technological past by demonstrating early American crafts and trades. The Hay Creek Festival, Sept. 6–8, features Early American crafts, antique toys, home crafts, children's hands-on activities, food and olde tyme music. Rt. 10. HayCreek.org.
Lancaster
Rock Ford Plantation. The 18th-C. Georgian-style home of Revolutionary War hero General Edward Hand. The estate includes the mansion, barn and Kauffman Museum of decorative arts. 881 Rockford Rd. RockFordPlantation.org.
Wheatland, LancasterHistory.org. See: "Day Trips & Outings."
Malvern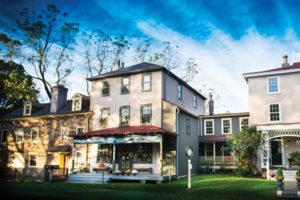 Historic Sugartown. Historic Sugartown provides a window on rural 19th-century life, with several preserved buildings, including a circa 1880 General Store, a Carriage Museum featuring Chester County carriages and sleighs, Bank Barn and Book Bindery. Take a bookbinding or scarf marbling workshop or visit for Shugart's Sunday on Sept. 15 with BBQ & Blues and country-style family festivities. Guided tours Sat.-Sun. Parking at 273 Boot Rd., Malvern. HistoricSugartown.org.
Morrisville
Pennsbury Manor. William Penn's beautiful country plantation on the Delaware River, rebuilt to look as it did in 1700. Jacobean-style furnishings include 17th-century antiques. 400 Pennsbury Memorial Rd. PennsburyManor.org.
Paoli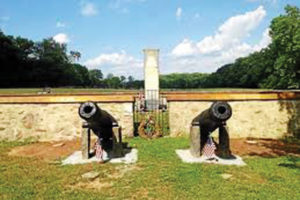 Paoli Battlefield. On the night of September 20, 1777, British Troops attacked Anthony Wayne's Pennsylvanians at this spot. This was the 9th bloodiest battle of the Revolutionary War and this battle was also called the Paoli Massacre.  Visit this spot where America's First Battle Cry of "Remember Paoli" was born and see the 2nd oldest revolutionary war monument in the United States. PBPFInc.org.
Pottstown
Pottsgrove Manor. Built in 1752, this is the historic home of John Potts, Colonial ironmaster and founder of Pottstown. Distinguished for its fine early Georgian architecture. Rt. 100 & W. King St. MontCoPA.org/HistoricSites.
Schwenksville
Pennypacker Mills. A Colonial revival mansion, this home of PA Governor Samuel W. Pennypacker was preserved as a country gentleman's estate. 5 Haldeman Rd. MontCoPA.org/HistoricSites.
Wayne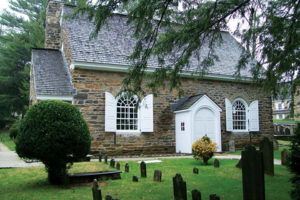 St. David's Episcopal Church. A stone wall encloses St. David's graveyard, memorialized in Longfellow's poem: "What an image of peace and rest is this little church among its graves …" This park-like setting is welcoming and serene, with an intimate stone church, a fine example of early Colonial architecture. 763 S. Valley Forge Rd. StDavidsChurch.org.
Willow Street
Hans Herr House. Oldest house in Lancaster County and oldest Mennonite Meeting House in America, built in 1719. Explore the main floor, the attic and cellar, plus farm museum and Colonial garden. 1849 Hans Herr Dr. HansHerr.org.
Worcester
Peter Wentz Farmstead. Colonial farmhouse used by George Washington before and after the battle of Germantown, restored to its 1777 state. Schultz Rd., off Rt. 73. MontCoPA.org/HistoricSites.
Museums
PENNSYLVANIA
Chadds Ford
Brandywine River Museum of Art. See: "Day Trips & Outings."
Christian Sanderson Museum. See: "Day Trips & Outings."
Coatesville
Lukens National Historic District Museums. Industrial history and architectural heritage are woven together so you can "Discover the Past, Explore the Future." Three mansions—Rebecca Lukens House (c. 1739); Terracina (1850-51) and Graystone Mansion (1889)—plus the National Iron and Steel Heritage Museum are the highlights when you visit. 50 S. First Ave. Coatesville. SteelMuseum.org.
Lancaster
DeMuth Museum. Describing itself as "National in scope, while reflecting the distinctive character of the Lancaster region," the Demuth Museum, located in the artist's former home, includes workrooms and gardens where artist Charles Demuth lived. 120 E. King St. Demuth.org.
West Chester
Chester Co. Historical Society Museum. See: "Day Trips & Outings."
DELAWARE
Wilmington
Delaware Art Museum. See: "Day Trips & Outings."
The Delaware Contemporary. A non-collecting contemporary art museum and gathering place for exploring new ideas in art, design and technology. 200 S. Madison St. DEContemporary.org.
Delaware Children's Museum. The big yellow building along the Riverfront focuses on science, math and technology and engages children in playful learning. 550 Justison St. DelawareChildrensMuseum.org.
Delaware History Museum. Originally a Woolworth's Department Store (1940), the building has been transformed into the Delaware History Museum and the Jane and Littleton Mitchell Center for African American Heritage. 504 N. Market St. DEHistory.org.
Delaware Museum of Natural History. See: "Day Trips & Outings."
Hagley Museum & Library. The former industrial site of the original black powder works of the DuPont Company, founded in 1802 and powered by the natural resources that surrounded it. Check website for events. 200 Hagley Creek Rd. Hagley.org.
Rockwood Museum. Designed in 1851 by English architect George Williams, an outstanding example of Rural Gothic architecture and gardenesque landscape design. 610 Shipley Rd. Rockwood.org.
Winterthur Museum & Gardens. See: "Day Trips & Outings."
Yorklyn
Marshall Steam Museum at Auburn Heights Preserve. Home to the world's largest collection of operating steam cars and a 1/8-size live steam railroad on the 250-acre grounds, which are part of the Delaware State Park system. Visit their website to find out about their special events such as, Evenings at the Museum, Steamin' Days, Auburn Heights Invitational Historic Auto Display and more. Open to the public for train and antique auto rides and private tours mid-March through December. 3000 Creek Rd. AuburnHeights.org.
Special Interest Museums
PENNSYLVANIA
Boyertown
Boyertown Museum of Historic Vehicles. Featuring vehicles of all types: gasoline, electric and horse-drawn, including carriages, wagons and sleighs. You'll see "high wheelers" and "safety bicycles," vehicle builder's tools and local historic roadside architecture. 85 S. Walnut St. BoyertownMuseum.org.
Columbia
The National Watch & Clock Museum. Featuring the treasures of time, from ancient timepieces to modern technologies, the museum captures the evolution of timekeeping over the centuries. 514 Poplar St. NAWCC.com.
Kennett Square
The Kennett Underground Railroad Center at the History Station. See: "Day Trips & Outings."
Lancaster
Landis Valley Museum. See: "Day Trips & Outings."
Hands-On House Children's Museum. Offer-ing interactive activities for kids and families, through self-directed exhibits and programming that stimulate curiosity and invite the joy of discovery for everyone. 721 Landis Valley Rd. Call for dates and hours. HandsonHouse.org.
Malvern
The Wharton Esherick Museum. The home and studio of renowned artist and sculptor Wharton Esherick, who inspired the Studio furniture movement. The Wharton Esherick Museum is a National Historic Landmark for Architecture, housing 50 years of work. Tours by reservation only. New in 2019, the campus now includes the Diamond Rock Schoolhouse, a one-room octagonal schoolhouse built in 1818 that served as the first "free" or public school in the area. 1520 Horseshoe Trail. WhartonEsherickMuseum.org.
Reading
Mid-Atlantic Air Museum. Story of aviation told by displays of restored classic and historic aircraft. Rt. 183 N, Reading Reg. Airport. MAAM.org.
Strasburg
The National Toy Train Museum. Railroad Museum of PA. Strasburg Rail Road. See: "Day Trips & Outings."
West Chester
The American Helicopter Museum & Education Center. The museum has an active schedule of public educational programs, exhibitions, events, air shows, workshops and publications designed to teach the principles of flight, celebrate the pioneers of aviation and encourage and inspire future generations. Helicopter rides are offered through the summer, check website for information. 1220 American Blvd., AmericanHelicopter.Museum.
The Antique Ice Tool Museum. Follow the "ice man" from the harvest of the first major winter freeze to the storage, transportation, delivery and consumption of the product that shaped the way of life in this country from 1803-1940. 1825 Sconnelltown Rd., AntiqueIceToolMuseum.org.
back to top