Day Trips and Outings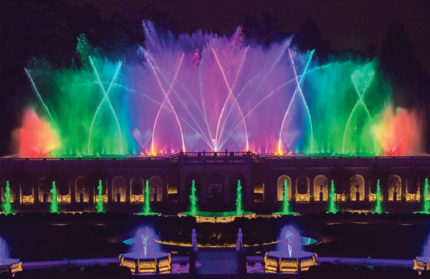 July Area Guide Intro PDF
Part 1 PDF
There's really no better place to start any guide to great day trips than with the three most popular local attractions—Longwood Gardens, Brandywine River Museum of Art, and Winterthur Museum, Garden and Library. People travel from around the world to visit them, so let's start there. Then we'll take you to other sights worth a quick stop or a leisurely tour.
Top Three Must-Sees
Longwood Gardens
First-time visitors may want to start with a guided tour of what's been called a "National Wonder" and one of "50 Places of a Lifetime." Pick the "Longwood Story Tour" for the Spark Notes overview to this 1,083-acre legacy of founder Pierre S. du Pont that attracts about a million-plus annual visitors. Then freestyle your way through the many gardens, fountains, entertainment options and more.
Summer is the best time to enjoy the Main Fountains at Longwood Gardens, especially during the "Festival of Fountains," the daily fountain shows featuring 1,719 jets of water. Catch the live music and special events with dancing fountains, light shows and five nights of fireworks (July 3 & 20, Aug. 10, Sept. 1 & 28). Fountain shows continue through September 29.
Garden fans can check the website link for "What's In Bloom" or enjoy wandering among the huge fanciful topiaries, formal gardens, conservatories and wooded walks.
For entertainment options—with 400 performances a year—choose from family-friendly shows and local talent, like the Brandywiners performing The Producers, July 25–27 and August 1–3. Classical music fans may choose The Philadelphia Orchestra's American composers and Beethoven concert on July 2.
Pack a picnic or enjoy the café, restaurant or beer garden on site. Open daily. Rts. 1 & 52, Kennett Square. LongwoodGardens.org.
Brandywine River Museum of Art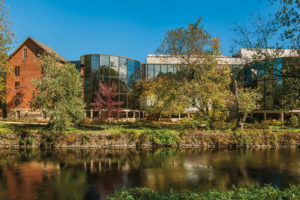 Discover the intersection of art and nature at the Brandywine River Museum of Art on the banks of the scenic Brandywine River. Extensive native plant gardens—studded with sculptures including a bronze pig—surround the converted 19th-century mill housing the museum. This is home to works by three generations of Wyeths—N.C., Andrew, Jamie—plus regional art, American landscapes, still-life paintings and illustrations.
You're in luck because this summer's special exhibit highlights 70 paintings and drawings by N.C. Wyeth in an in-depth examination of the entirety of his work. See "N. C. Wyeth: New Perspectives" from June 22 through September 15. While you're there, make sure to check out the permanent exhibits.
The site is also home to the Brandywine Conservancy, which conserves and protects the land, water, natural and cultural resources of the region, along with hosting events like the July 13 Tip-A-Canoe and Barbecue, Too outing, July 24 Summer Garden Walk and September 28 Bike the Brandywine ride. Open daily, Rt. 1, Chadds Ford. BrandywineMuseum.org.
Annual Tip: Planning to visit more than a few sights this summer? Then seriously consider this tip. The Brandywine Treasure Trail Passport admits you to 12 major sights for a flat fee ($45/adults, $95/families), VisitWilmingtonDe.com/Passport.
TIP: Watch for families in canoes and inner tubes floating along the Brandywine River during your visit. They may inspire you with another idea for summer fun.
Winterthur Museum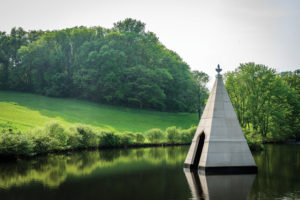 Just over the Delaware state line is the final stop for the Big 3. Winterthur Museum, Garden & Library is home to a world-class collection of American decorative arts displayed in a stunning mansion set in a 1,000-acre park, once the home of a different du Pont, Henry F. Superlatives apply on every level!
You've likely heard about this year's major attraction, "Costuming The Crown," featuring 40 costumes from the award-winning Netflix drama—through January 5, 2020. Imagine yourself wearing a royal gown and tiara …
Stretch your legs and tour the gardens to visit 13 amazing architectural follies—a tower, a tent, a faerie cottage and more fanciful structures dot the landscape. On view until January 5.
For the kiddos, there's the Enchanted Woods, a three-acre fairy-tale style garden, plus hands-on crafts and games on Terrific Tuesdays in July and August. You'll also find summer events including live music, a farm stand and scenic tram tours.  Open Tues.–Sun. 5105 Kennett Pk., Winterthur, DE. Winterthur.org.
back to top