It's Mom's Big Day, Too
Getting Wedding Ready: Mothers of the Bride & Groom Edition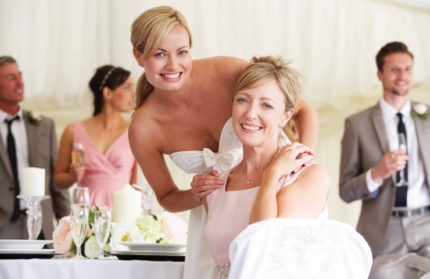 She's been there for you through it all. Helped you choose your dress, venue, flowers and favors. Brought the family together. And gave you her blessing. All for your big day.
But a wedding is a big day for mothers of the bride and groom, too. As she supports you at this milestone, your mom deserves to look and feel her best, both in person on the day of your wedding and in the photos she'll cherish for years.
Luckily our local salons and spas are here to pamper, beautify and rejuvenate your mom as she prepares to watch you walk down the aisle—and try not to ruin her makeup with tears.
Foundations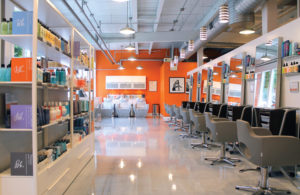 Glowing skin and a fresh face aren't important just to the bride! Mom will have her fair share of the limelight and will benefit from making sure her skin is in radiant condition.
First and foremost, owner and bridal coordinator Lindsey Kress of Luxe Salon & Spa advises getting on a skincare regimen a few months before the day. "This way you can get a head start on improving or correcting any concerns you have," she says.
For moms, their concerns might be a little different from their daughters'—from hyper-pigmentation and sunspots to dryness and fine lines—and their skincare regimens will likely look very different as well. Many spas are happy to offer individualized advice and product lines that will work for your mom's individual, specific needs.
For an in-spa treatment at Luxe's Lancaster or Lititz locations, Lindsey recommends a Zo Medical Skin Brightening Facial to help cleanse, exfoliate and brighten skin that may be uneven or blotchy. Their Ultra Hydration Facial is another option if dryness and sensitivity are an issue.
In the weeks and days leading up to the wedding, Joe Gaglioti of Joseph Anthony Retreat Spa & Salon of Glen Mills warns to stay away from heavy extractions or intense peels. Skin may be a bit tender or irritated after these more in-depth treatments, so it's best to go for something gentle, but still potent. Instead, he suggests their Hydrafacial or anti-aging, ingredient-packed Oxygen Facial for mom closer to the big day.
Camera Ready
Mom's gorgeous dress won't be complete without the hair and makeup to match. Her goal should be to look her best while still staying true to herself. After all, she'll be bombarded with countless family members and friends offering their congratulations, so comfort is key!
In preparation, esthetician and makeup artist Stephanie McCray of Jillian Grace Salon in West Grove recommends getting a hair cut and—if she uses it—color touch-up one to two weeks before the wedding. "This way the ends will look fresh whether she's wearing it up or down," says Stephanie, and her roots won't begin to grow in.
"For added shine, a service I encourage before a special event is a color glaze," she suggests. Whether mom is a regular hair-dyer or has never touched color in her life, the glaze will make hair glossier, smoother and appear healthier—all of which will bring out the beauty of any hairstyle. Natural looking highlights are another option to add dimension, especially in photos.
Stephanie advises mothers of the bride and groom—similarly to the bride—not to stray too far from their everyday look. "You really want to feel comfortable in your own skin," she stresses. And when working with a professional makeup artist and hair stylist, they will get a feel for Mom's best features, lifestyle and personality and know how best to enhance her beauty without changing it.
Relax In & Out of Town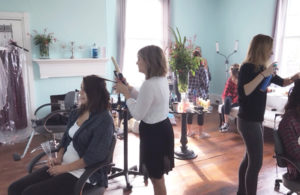 With all the hard work she does, Mom deserves a break! After spending innumerable non-billable hours prepping, advising and—most likely—worrying over the wedding details, a day of TLC is the perfect gift to show her your appreciation.
At Joseph Anthony Retreat Spa & Salon, "We really cater to mothers of the bride and groom," says Joe Gaglioti. "A stress-free day of massage combined with our unique soft pack body treatment is the ultimate treat."
Not sure what a soft pack treatment entails? One hour of pure euphoria, including a gentle body exfoliation, sumptuous soothing wrap and pressure-free float experience—so relaxing you'll want to book one yourself. Plus you can hang out together in the Brine Light Therapy Salt Room and let your wedding worries melt away.
Many spas like Luxe Salon & Spa offer custom packages with a little bit of everything. Their Half-Day Escape package with a 60-minute massage, 60-minute personalized facial and mani/pedi—complete with a complimentary lunch—may be just the thing to help your mom re-center in the days or weeks prior.
Others, like The Inn & Spa at Intercourse Village in Lancaster, have spa specials for guests at the Inn, perfect for out-of-town wedding guests in desperate need of relaxation after a long drive. Maybe treat both your parents—if Dad is willing!—to a Tranquility for Two spa day to let parents unwind and reconnect before the ceremony.
They'll be sure to thank you!
Mother-Daughter Time
Maybe Mom wants some company on her spa day escape? Especially if stress has left you both feeling more distant than usual. If so, a mother-daughter retreat is in order!
At Currie Hair Skin & Nails—with locations in West Chester, Glen Mills, Kennett Square and Wayne—try their Mom & Me package, perfect for brides-to-be and their moms. Enjoy mini facials, half-hour massages, French manicures, specialty pedicures and lunch while you catch up and de-stress. And with a range of other services available—including teeth whitening, acupuncture, hair removal and more—consider booking other treatments on your list while your mom is there for moral support.
Another thing you might want to book together is a makeup and hair trial run. "Trial runs aren't just for brides!" says Stephanie McCray of Jillian Grace Salon. No one else will give you a more honest opinion and Mom can feel confident about her look for the day as well.
When it comes time to get ready on the big day, you'll want all the support you can get. Privé Salon & Style Bar lets you pick where you want to do that—at their Newtown Square salon or on location at your venue—and offers a range of hair and makeup services for mothers of the bride and bridesmaids, in addition to the bride-to-be. Get the whole wedding party together—complete with your mom, your groom's mom, maid of honor, bridesmaids and flower girl—to beautify yourselves with the help of their pro stylists and spend that special girls' bonding time together.
Then you'll all be ready for your close-ups on the big day!
back to top