Like No Other
Photos by Asya Photography
Weddings today are as unique as the love stories behind them.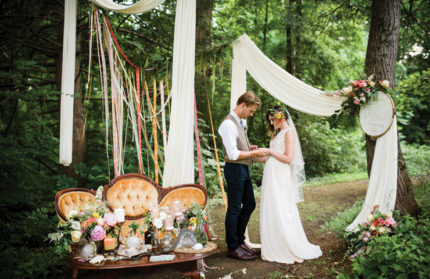 Last spring, two longtime sweethearts approached fine-art metal-smith Martin Moon with a challenge. They wanted wedding bands that were one-of-a-kind works of art, beautiful yet simple, expressing their one-of-a-kind relationship. Moon proposed bands hand-crafted using an ancient Japanese technique—mokume gane—of white gold and silver. Through engraving, the metal-smith exposed layers of silver and gold, thereby creating patterns that can't be duplicated. The couple's rings and their fall wedding—like the journey they began together—were like no others'.
Weddings today are thoughtfully designed events with elements that tell couples' unique love stories. Step aside, Cinderella—there are many more tales being celebrated in the Brandywine Valley.
Anything goes, from classic to crazy and sometimes both.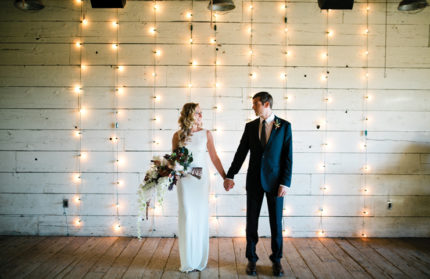 Setting the Stage
The Farmhouse at People's Light has seen exquisite weddings in which creativity has known no bounds. Jim Pyne, resident scenic designer at People's Light, helped two yoga instructors create their dream event by transforming a rectangular room into a circular space aglow with candles and colored glass lanterns, and adorned with colorful silk banners and Indian fabric pillows. Live sitar music enchanted guests, as did the bride's hot pink lace wedding gown and the groom's orange tie.
For another couple that loved gardening and herbs, The Farmhouse's onsite wedding coordinator arranged a beautiful garden wedding and reception with vegan cuisine. Decorations of flowers and vegetables included a cake draped with real carrots and carrot boutonnières. Each guest received a souvenir succulent plant.
There are still breathtaking fairy tale events—majestic all-white weddings with silk swags, twinkle lights and dresses fit for royalty—but many are tailored. "Taking cues from pop culture, couples are creating mash-ups," said Pyne. The results are magnificent, personal and meaningful. A marriage that brought together Italian and Mexican families featured a mariachi band. A meal celebrating the nuptials of a couple with Asian and European backgrounds included fortune cookies filled with messages from the bride and groom.
This spring, The Farmhouse unveils its new pavilion with hardwood floors, large windows and a cathedral entrance. The new design makes spaces for ballroom and garden weddings even more versatile.
Another venue with versatility and unsurpassed flair is Material Culture. Less than half an hour's drive from the Philadelphia airport, Center City and the Philadelphia Art Museum, the spectacular 60,000 square-foot arts and antiques emporium has been transformed into a palatial site for an Indian wedding and a memorable, intimate spot to stand under a chuppah.
At Material Culture the photo opportunities are nearly limitless: a funky outdoor gazebo for a nighttime stolen kiss, or, indoors, a bridal dance twirl on a magic carpet—captured from the second floor balcony. For candids, find a dazzling atmosphere of exotic architectural elements, Asian sculpture and eclectic chandeliers.
The Stone Barn was the romantic site for a day themed "lucky in love" for a bride who loved horses and met her groom as he mended a Chester County split rail fence. They used the section of the lucky fence as a backdrop for their vows, decorated with horseshoes and gorgeous flowers, and included horses in their wedding photos.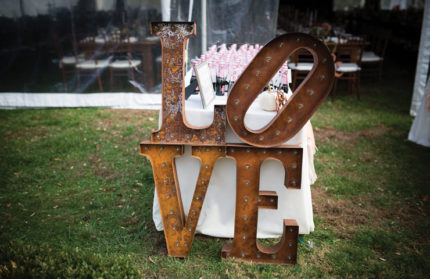 In the Mirror
Wedding attire and jewelry also reflect wedding themes, venues and interests. Brides are mixing and matching endless possibilities found on online idea garden Pinterest for their big day.
When it comes to wedding wear, "there are rules but no one follows them," says Sabrina Sigler, owner of Sabrina Ann Couture in West Chester. The year-old shop offers a curated collection of samples and never-worn bridal and evening gowns to fit a range of tastes and sizes. There are still many strapless, mermaid-style or ballroom gowns, Sigler continues, but there are now more influences from the 1960s—flowing dresses, bell sleeves and wreath headpieces.
"Wear the gown that feels right," Sigler says, whether it's ruffles on the beach or chiffon in the middle of winter. A recent customer to be married in an old bank bought a Casablanca brand 1920s style dress with a low back and beaded straps. Another chose layers of lace over champagne-colored fabric to wear at a romantic garden wedding at Faunbrook. Both were perfect.
Staff at Claire's Fashions in Wilmington concurs. They encourage members of a wedding party to try on a variety of styles with open minds. When the right dress is discovered, the wearer knows it by an overwhelmingly happy feeling.
With jewelry, too, rules are out and rings that express stories of joy and love are in. The week of Valentine's Day, Walter J. Cook Jeweler delivered a set of bands that spoke of generations of love. The groom asked the jeweler to add a new inscription—without disturbing the old—to his grandfather's wedding band. The bride received two bands—a simple yellow one to match her husband's heirloom ring and a second platinum and diamond band to match her engagement ring.
If they don't have a family ring, some couples search for unique vintage and estate pieces, jewelry with history and perhaps with romantic stories to tell. Art Deco and Victorian pieces are poplar now with millennials, says Craig Whitten, of Whitten's Fine Jewelers. Blue zircons (real gemstones, not to be confused with synthetic cubic zirconia) and antique diamonds (that have fewer facets than modern cuts) are also sought after. An antique ring will be unlike any other and at today's labor costs, something that can't be recreated—a world and century away from a familiar Tiffany solitaire.
Wedding flowers offer yet another outlet for personal style using heirlooms and meaningful colors. Brides may incorporate a favorite aunt's antique brooch into a bouquet or use a special handkerchief to wrap the flower stems, says Kate Delaney of Matlack Florist. A collection of milk glass containers honored a departed grandmother as each reception table used heirloom pieces to hold floral centerpieces.
Other personal touches appear in boutonnières that reflect a couple's love of beer, said Delaney who put Yard's bottle caps amid the flowers in the groomsmen's lapels. Floral color schemes may come from the college where the couple met—so that's orange and black for Princeton alums!
For a more informal feel, nearby farms and farmers' markets offer glorious seasonal flowers for exraordinary bouquets, boutonnieres and more. Find buckets of some of earth's most beautiful red poppies, purple larkspur and yellow stattice from Triple Tree Farm's stands at Rittenhouse and Clark Park farmers' markets. Pack a picnic and visit Carousel Lavender Farm for fresh or dried lavender blossoms to add romance to your ceremony.
Telling the Story
It doesn't have to be an epic fairy tale to be an inspiring love story.
Paper Moon, located within the Chester County Historical Society, helps couples relate their stories with unique invitations and wedding packets. One couple that wanted to do something good for the environment sent invitations printed on handmade paper embedded with flower seeds. They encouraged guests to plant the invitations after the celebration.
For the wedding of a photographer, each piece of stationery—invitation plus reception, response and place cards—featured pictures of the couple's favorite places.
Each wedding is a glimpse into a special love story. There are infinite ways for two people to say, "I do," and to start a new chapter together.
back to top