Local Heroes: The Chester County Food Bank
Ten years of mobilizing the community to help provide fresh, healthy food and more.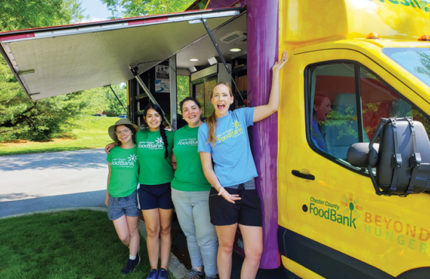 Fresh, healthy food—leafy greens, colorful veggies, ripe fruits. These are standard groceries in most Chester County households. But for more than 75,000 of our neighbors, these simple foods are a luxury many can't afford. Fortunately for our area, for the past ten years the Chester County Food Bank has been working to help these individuals and families.
A Ten-Year Legacy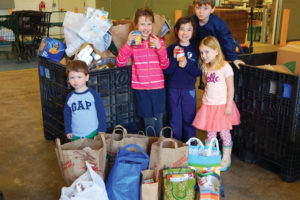 Nearly ten years ago and with only three full-time employees, the Chester County Food Bank opened their doors at a garage in Parkesburg. But today the Food Bank has grown to 32 employees and over 3,000 volunteers working at their 36,000-square-foot headquarters in Exton.
With a 2,500-square-foot commercial kitchen, 4,250-square-foot refrigeration and freezer space and warehouse, employees and volunteers work to combat food insecurity in Chester County by serving more than 120 food cupboards, meal sites and social service organizations throughout the County.
If you haven't heard the term food insecurity before, it means being without reliable access to enough healthy and affordable food. Not surprisingly the Food Bank was created in 2009 to tackle this escalating problem in Chester County caused by the economic recession.
"In the 2008–2009 time span, food insecurity in Chester County had risen 54% because of the recession," says Executive Director Larry Welsch.
And despite Chester County being the wealthiest county in Pennsylvania, food insecurity is still a serious issue for too many residents today. "Because we live in such an affluent area, there is greater disparity in affording the most basic needs," says Ricky Eller, Executive Administrator & Advocacy Coordinator.
The County's affluence creates a high cost of living so that some people need to work two or three jobs just to afford housing, making food a secondary priority. And for the past ten years, the Food Bank has worked to provide fresh, healthy food to the most vulnerable, while also working to fix the underlying causes of food insecurity.
What They Do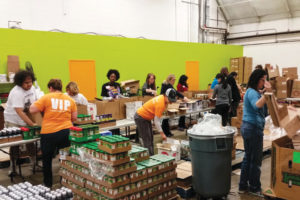 The Chester County Food Bank is unique because, using their strong network of volunteers and partner organizations, their mission goes beyond merely providing food. Their ambitious aim is to address the root causes of food insecurity for a longer term impact.
"The key for us when we started was, we were never going to be a traditional 'cans-in—cans-out' food bank," says Phoebe Kitson-Davis, Director of Agency & Community Partnerships. Kitson-Davis points out that the Food Bank currently has 150 partner organizations, which help families get out and stay out of poverty. These groups focus on finding families affordable housing, counseling, medical care, childcare, reliable transportation and more.
Thousands of volunteers help keep up the organization's momentum and help staff a variety of the Food Bank's programs. "There's a number of different roles we do as volunteers," says Ken Nakata, a Food Bank volunteer of 2½ years. "There's warehouse work, and we also do a lot of work in the kitchen, preparing fresh produce, to get it all packed and ready for the local church groups and local pantries."
Don't want to work in the warehouse? No problem. Other opportunities include helping out on the farms, working at one of the Fresh2You Mobile Market trucks, hosting a Taste It cooking demonstration, and packing backpacks full of food for school-aged children to have over the weekend.
Regardless of how you serve, volunteers provide the essential life blood for all that the Food Bank does. "We have over 3,000 unduplicated volunteers each year," says Kitson-Davis. "And this is because, number one, people care. And number two, we have strong partnerships with individuals, community groups, local businesses and corporations."
Volunteers come from many sources, but there's always a need for more.
Moving Forward
So where is the Food Bank headed in the next five to ten years? "Our new tagline is Beyond Hunger," says Ricky Eller. "Going forward, we really want to get below the surface of food insecurity."
That means helping to solve the underlying issues that cause and perpetuate poverty. And that approach is multi-faceted. For example, Executive Director Welsch envisions creating a one-stop-shop where clients can come to get affordable health care, youth services and public transportation help as well as food.
"It's rewarding watching a small group of people to see what they can become, and what they can do together," says Welsch.
How To Get Involved
If you're interested in volunteering at the Chester County Food Bank, you're in good company!
You can volunteer as an individual, or gather family members or friends and schedule a day to work on one of the farms or at the Exton headquarters. Need more ideas? Host a food drive—donated food is needed more than just for Thanksgiving and can be delivered to the Exton storehouse Mondays through Fridays from 8 a.m. to 5 p.m.
Financial donations are another option if you don't have the time or ability to volunteer. These donations allow the Food Bank to purchase bulk food and support their 15+ initiatives and programs.
With the help of our generous community, the Food Bank sees a better future beyond hunger for everyone in Chester County. And so we honor them as this year's Local Heroes.
To volunteer, donate or get more information, visit ChesterCountyFoodBank.org.
back to top